PRINT THIS ARTICLE
REVERSAL
---
Lennar's Diamond Top
03/04/03 01:52:47 PM
---
by David Penn
---
Housing bubble? Maybe not, but the stocks are in trouble.
Security:
LEN
Position:
N/A
If price action in the marketplace precedes "fundamental data," then the recent announcement by Federal Reserve board chairman Alan Greenspan that a cooling off of the housing market may be likely in 2003 only underscores the declines once-popular housing stocks have experienced since peaking out in 2002. Two of the major home-building stocks, Toll Brothers (TOLL) and D.R. Horton (DHI) are both down about 40% from their highs. Other stocks, such as KB Homes (KBH) and Centex (CTX) are down a little less than half as much from their highs reached in 2002. Those who believed that the laws of supply and demand exist as powerfully for homes in 2003 as they did for stocks in 2000 may see confirmation of their opinion in numbers like these.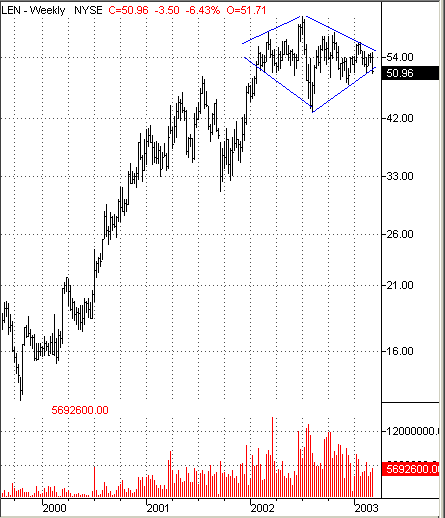 Figure 1. This weekly chart of Lennar highlights the diamond formation. Note the downtrend in volume.

And, perhaps, in charts like the one of homebuilder Lennar, as well. Lennar fits into that latter group of homebuilders, down about 20% from its peak in the summer of 2002. Actually, Lennar has been in a diamond-shaped consolidation range really for all of 2002, a range that includes the peak just shy of 64 in July 2002. While not breaking down in the manner of Toll Brothers or D.R. Horton--both of which are developing bearish descending triangle type formations--Lennar's current diamond top suggests that it too might suffer the same sort of declines others in the homebuilding cohort have experienced.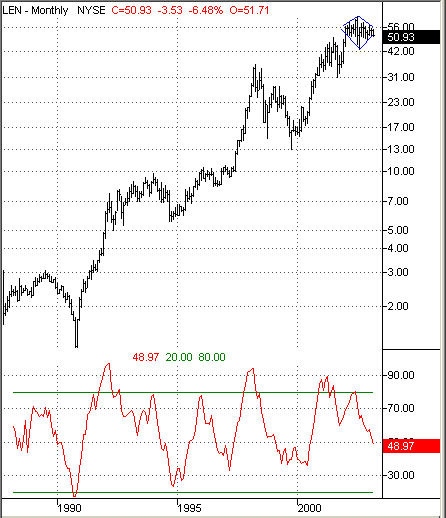 Figure 2. Dips below 80 in the Money Flow Indicator have historically anticipated declines for Lennar, as this monthly chart shows.
Graphic provided by: TradeStation.
Diamond formations can serve as continuations--consolidations that lead to a resumption of the trend. However, I think the diamond top is a more compelling possibility here than the diamond continuation for a variety of reasons. For one, shares of Lennar have enjoyed a secular bull market that extends back to the fall of 1990, suffering its only truly sharp declines during the dot.com bubble period from 1998-2000. Second, the fact that a number of like companies are already in clear downtrends--particularly Toll Brothers and D.R. Horton--suggests that Lennar might have a difficult enough time holding its current gains, to say nothing of moving appreciably higher. A third reason is that dips in the money flow indicator have historically anticipated declines in Lennar--and just such a dip in money flow has been in place since Lennar peaked last summer.


If the current diamond top is indeed a bearish portent for Lennar, then what sort of downside might be anticipated? The size of the diamond formation--measured by subtracting the value at the lowest point in the formation from the value at the highest point--is about 20 which, from a likely breakout point of 53 (where the two right side converging trendlines would meet), could take Lennar down to 33. As the chart in Figure 1 shows, this is an area of significant support from the lows established in the late summer/early autumn of 2001.


---
David Penn
Technical Writer for Technical Analysis of STOCKS & COMMODITIES magazine, Working-Money.com, and Traders.com Advantage.
---
Click here for more information about our publications!
Comments
Date:
 03/04/03
Rank:
 5
Comment:
PRINT THIS ARTICLE