PRINT THIS ARTICLE
BULL/BEAR MARKET
---
Brookfield Asset Management - Another Good Green Tech Bet?
04/13/20 12:58:38 PM
---
by Matt Blackman
---
March was a tough month in the markets, but some companies have come through the bear better than others. Here are two sustainable technology examples.
Security:
BMA, BEP
Position:
N/A
According to its website, Brookfield is "one of the world's largest investors in renewable power, with over 19,000 megawatts of generating capacity" with assets around the globe comprising operations in hydro, wind, utility-scale solar, distributed generation, storage and other renewable technologies. And as one of the Brookfield group of companies, Brookfield Asset Management Inc. (BAM) is certainly worth a look for both the passive investor and active trader.

As I wrote in January, Brookfield Energy Partners (BEP) belongs to an emerging group of stocks providing renewable energy for an expanding market around the globe that now employs more than 11 million workers and will experience investment of more than $8 trillion between now and 2050, according to Bloomberg New Energy Finance (see Suggested Reading below). Brookfield Asset Managers has been trading longer than BEP and offers similar attractive price appreciation potential and relatively low investment risk, especially for those looking for sustainable choices to add to their portfolios.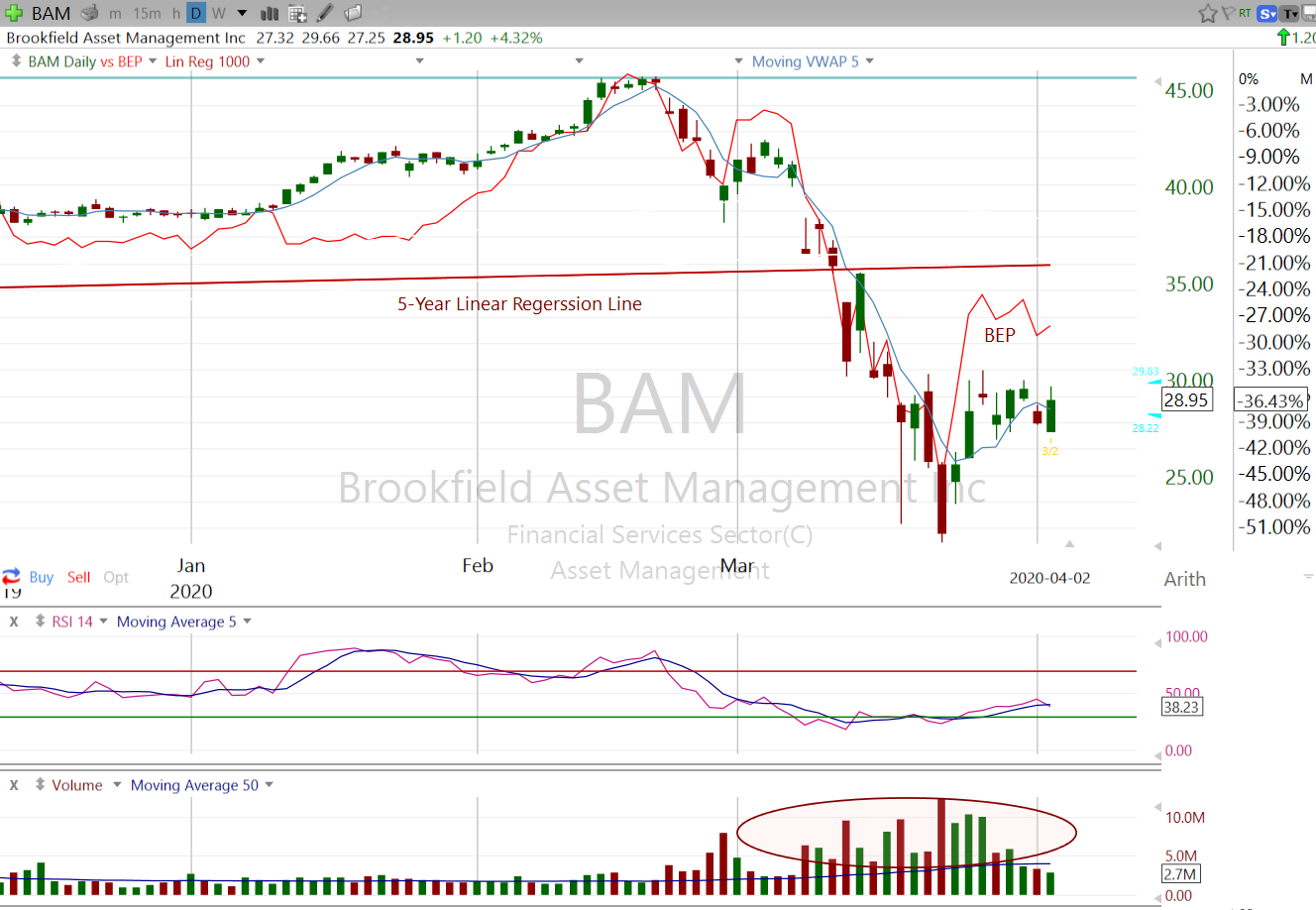 Figure 1 – Daily chart of Brookfield Asset Management Inc., showing how it performed in the last four months versus Brookfield Energy Partners Inc. Note volume which is well above its 50-day moving average, which can signal seller capitulation and a potential bottom.
Graphic provided by: Freestockcharts.com.
In researching "Fossil Fuels Vs. Clean Energy: Time to Shift Your Money?" I compared a group of 20+ fossil fuel companies to their clean energy counterparts between January 2014 and August 2019. On average fossil fuels lost 39% versus an average gain of 64% for the clean technology group. At the time Brookfield Renewable Energy Partners was up 34.6%. And even after the February-March market meltdown, BEP was still up 51% over the six years.

BAM gained 63.2% over the same period!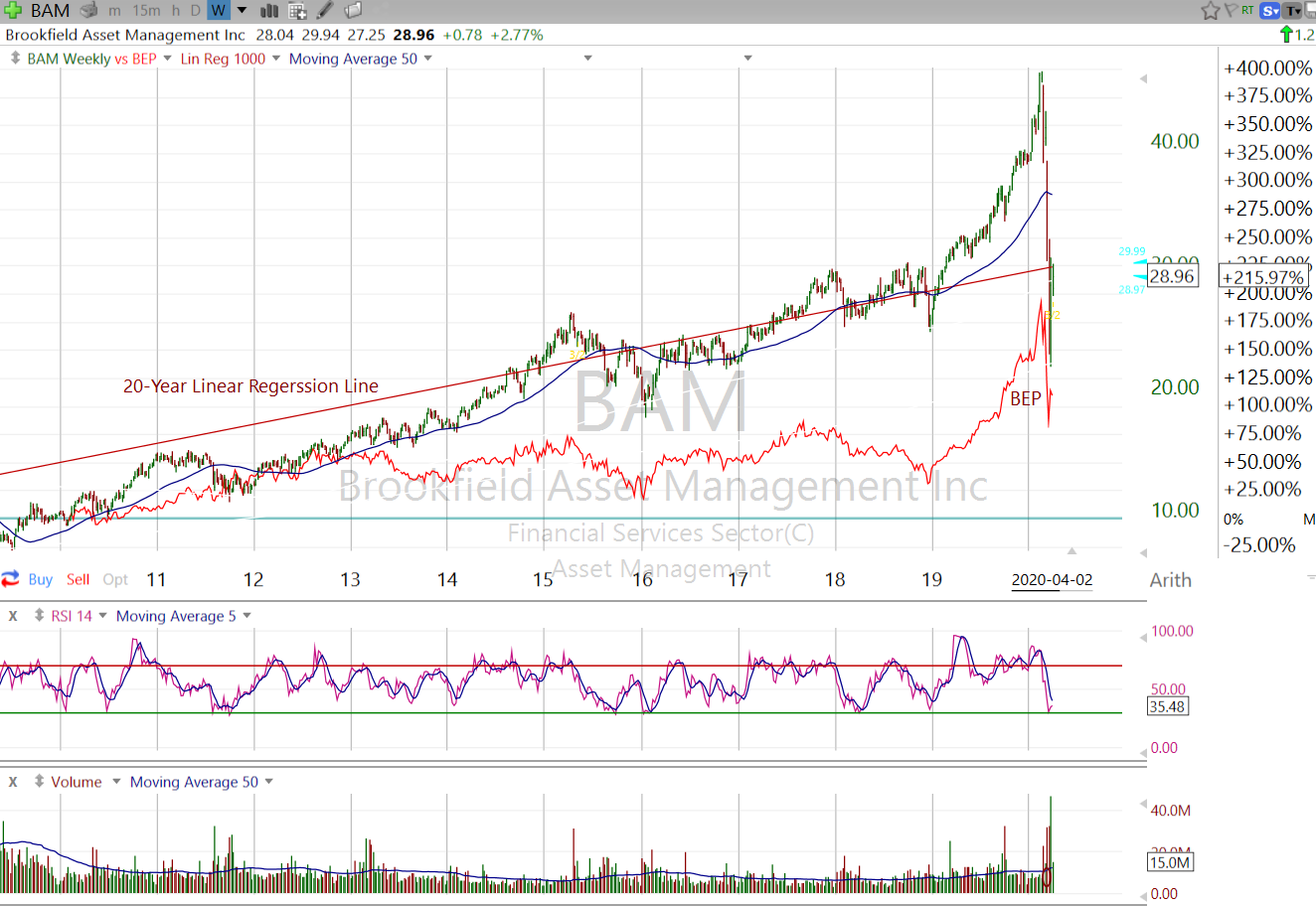 Figure 2 – Weekly chart comparing the performances of BAM and BEP since 2010.
Graphic provided by: Freestockcharts.com.
No one knows what the future holds for the global economy in the wake of the Covid-19 outbreak. It may take years for a full recovery. But one thing is clear — Green technology continues to drop in price visa-vie fossil fuels due to efficiency advantages. This combined with falling costs will help create a growing number of jobs and economic benefits to generate lasting and sustainable growth into the future. Companies like Brookfield Energy Partners and Brookfield Asset Management will help lead the way.

For a list of green technology companies, please see the Fossil Fuels Vs. Clean Energy article link below.


Suggested Reading:
Brookfield Renewable Partners LP - Trending Against The Odds
Fossil Fuels Vs. Clean Energy: Time To Shift Your Money?
Brookfield Group Website
---
Matt Blackman
Matt Blackman is a full-time technical and financial writer and trader. He produces corporate and financial newsletters, and assists clients in getting published in the mainstream media. Matt has earned the Chartered Market Technician (CMT) designation. Follow Matt on Twitter at www.twitter.com/RatioTrade
Title:
Author
Company:
TradeSystemGuru
Address:
Box 2589
Garibaldi Highlands, BC V0N1T0
Phone # for sales:
6048989069
E-mail address:
indextradermb@gmail.com

Traders' Resource Links

TradeSystemGuru has not added any product or service information to TRADERS' RESOURCE.
---
Click here for more information about our publications!
PRINT THIS ARTICLE