PRINT THIS ARTICLE
CHART ANALYSIS
---
Digital River Incorporated is Ready to Take a Plunge
09/19/02 01:40:21 PM
---
by Andrew Hetherington
---
A five-month head and shoulder formation signals a possible shorting opportunity for Digital River, Inc. (DRIV).
Security:
DRIV
Position:
N/A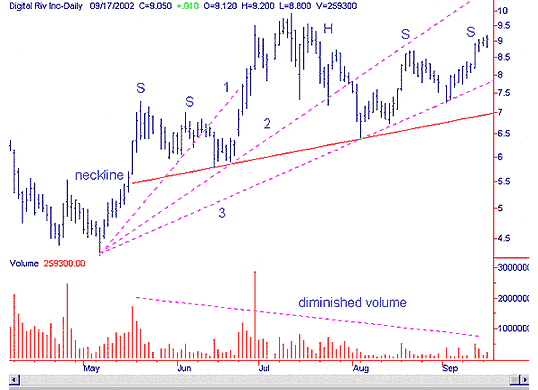 Figure 1: This daily chart for Digital River (DRIV) illustrates the ID (Impending Doom) to come.
Graphic provided by: SuperCharts.
Digital River's 5-month head and shoulders top has nicely diminished volume on the creation of the pattern. The upsloping neckline is in the $7.00 area and when this breaks we will have confirmation for this pattern. There is a third fan line break to come in the $7.90 area, which will give additional warning of the upcoming events. This pattern has multiple shoulders, with the second right shoulder moving slightly higher than the first right shoulder. This complex head and shoulders pattern will drop eventually. My initial target is for $5.00. After reaching this initial target it could go lower but this is a good exit position on your short. Although shorting any equity within the pattern has a higher degree of risk, I suggest you short it in the $9.00 area.

The volume has all but disappeared on this equity and there is no interest from the investment public. This is always a telltale sign of a loss in value. It's this lack of interest that creates the gaps in our supply and demand equation. As a failsafe measure I would watch the top of the head in the $9.94 area. It could surpass this area, but with the general market conditions as weak as they are, around $9.00 is a safe entry point. This trade is designed to try and catch the top of the right shoulder before the drop. If you are patient, I think you'll find it rewarding down the road.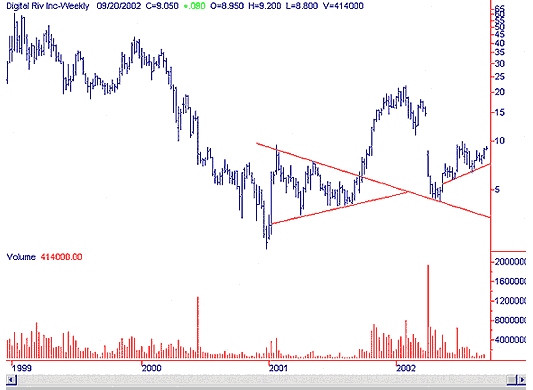 Figure 2: Weekly chart of DRIV.

The weekly chart illustrates how dependable this equity was on the way up after making a nice 1-year symmetrical triangle and busting higher from $4.00 to $20.00 at the end of 2001. I'm illustrating this point since equities that make good patterns are worth keeping an eye on for future investment opportunities.


---
Andrew Hetherington
Classic Dow Theorist who trades as a pure technician, using pattern recognition.

---
Click here for more information about our publications!
Comments
PRINT THIS ARTICLE