PRINT THIS ARTICLE
CHART ANALYSIS
---
Symmetrical Triangle & Fan Lines: What happened to Citigroup?
07/11/02 01:28:53 PM
---
by Andrew Hetherington
---
The best investment advice you will receive -- if a certain Prince is interested in buying long then you should be selling out your long position or shorting the equity!
Security:
C
Position:
N/A
I'm saying this facetiously, however there is a ring of truth to this notion. I recall this individual suggesting that he would always own Citigroup (C). This is a hard truth to face when you see a Dow component drop from $52.20 in January to the low $30.00 area when it's all done.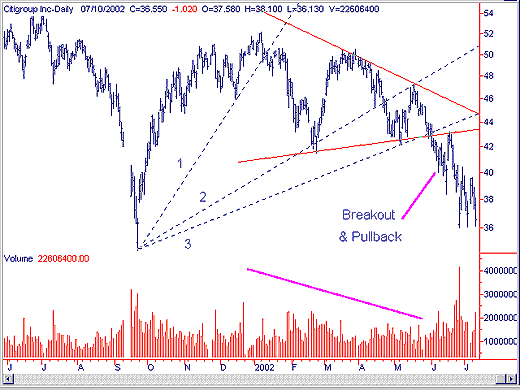 Figure 1: Daily chart of Citigroup.

Looking at the daily chart in Figure 1, we have a 5-month symmetrical triangle with diminished volume on the creation of the pattern. There is the usual pullback to the sell short position in the $43.00 area after the downside breakout. We have our dependable third fan line break to give confidence in taking a position on the pullback. The optimum time to buy back your short was on June 26, 2002. On this day there was a huge spike of 42 million shares and it closed above its opening. This signaled the temporary bottom was created. Although I think it will go lower to the low $30.00 area, this was a fast and easy profit and it should be banked when it happens. The options would have been very rewarding if taken on the pullback.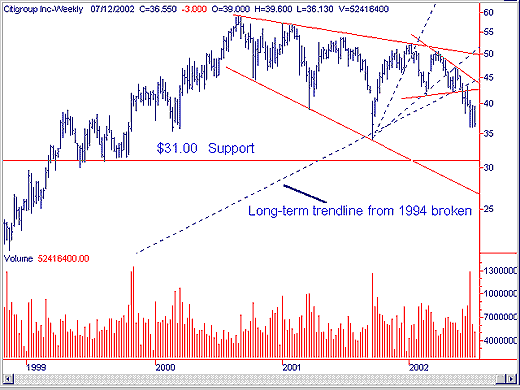 Figure 2: Weekly chart of Citigroup.
Graphic provided by: SuperCharts.
The weekly chart in Figure 2 shows our triangle with fan lines. The interesting piece of the puzzle is that the third fan line is also the long-term trendline from 1994. The breaking of this trend is significant.


---
Andrew Hetherington
Classic Dow Theorist who trades as a pure technician, using pattern recognition.

---
Click here for more information about our publications!
Comments
Date:
 07/13/02
Rank:
 5
Comment:
PRINT THIS ARTICLE