PRINT THIS ARTICLE
CHART ANALYSIS
---
A Rectangle & Fan Lines Show Alcoa Running Out of Steam
07/05/02 01:32:40 PM
---
by Andrew Hetherington
---
Over the past two years most publicly traded companies have seen their equity price drop substantially. On the other hand Alcoa (AA) has survived and even thrived in hard times.
Security:
AA
Position:
N/A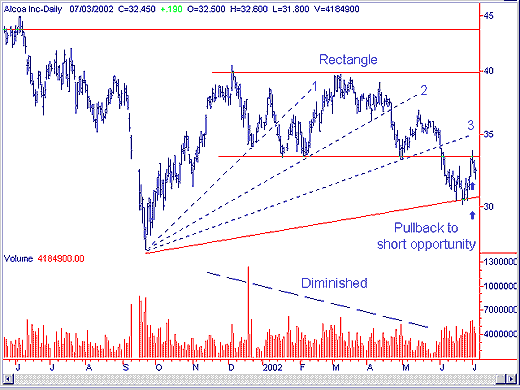 Figure 1: Daily chart of Alcoa.



Figure 1 shows the daily chart of Alcoa with the creation of a 7-month rectangle. This pattern has the required diminished volume during the creation of the pattern as well as the two tops and bottoms at a similar juncture on the chart, thus allowing us to draw horizontal lines. Although rectangles have no tendency to guide us along for the inevitable breakout, in this scenario we have a third fan line break prior to the downside breakout. This weakness on the third fan line is in the $34.15 area, well ahead of the breakout in the $33.40 area. From there the stock promptly dropped to a low of $30.40 in eleven days. This hard drop of approximately 10% was a safe shorting opportunity.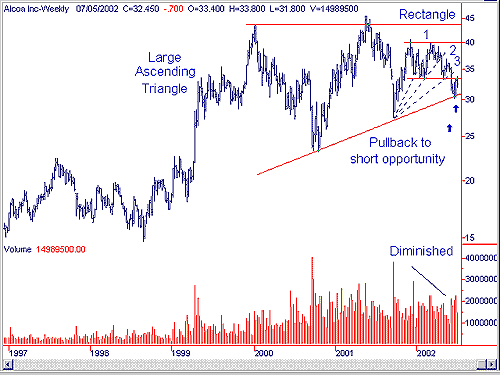 Figure 2: Six-year chart of Alcoa.
Graphic provided by: SuperCharts.
Currently, AA has had the inevitable pullback to another shorting opportunity in the $33.80 area. This pullback breached the bottom of the rectangle but never broke topside. This tendency is common, and we must watch to see if it closes below the line or above the line. There is often exuberance that must be anticipated on these reactions. The next move is down and we'll have to watch our line in the $30.50 area to see if it holds. If it goes through this line then the larger ascending triangle will be the force and a downside move to at least $25.00 is likely. Naturally, this will take some time given that this equity is a slow mover and lacks appeal.


---
Andrew Hetherington
Classic Dow Theorist who trades as a pure technician, using pattern recognition.

---
Click here for more information about our publications!
PRINT THIS ARTICLE