PRINT THIS ARTICLE
SYMMETRICAL TRIANGLE
---
Triangles and Fan Lines in Network Appliance Inc. (NTAP)
05/03/02 10:18:45 AM
---
by Andrew Hetherington
---
Network Appliance Incorporated (NTAP) is ready to drop again.
Security:
NTAP
Position:
N/A
In an article posted on February 26, 2002 (Patterns Within Patterns), I discussed a small head and shoulders pattern that was not quite complete. I also discussed the breaking of the third fan line and showed how perfectly the volume fit onto this pattern -- all within the much larger head and shoulders pattern.


Now, two months later, that small head and shoulders pattern has formed a larger 6-month symmetrical triangle as shown in Figure 1.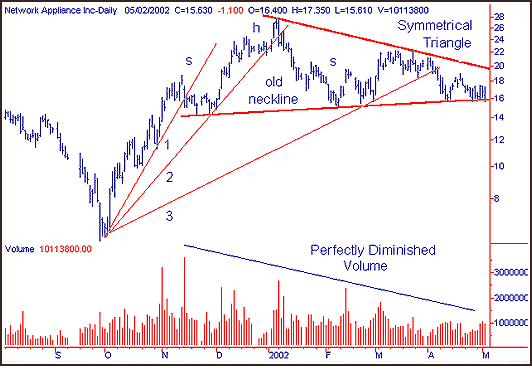 Graphic provided by: SuperCharts.
Also, the third fan line break that was anticipated didn't happen until April 5, 2002. It certainly was weak in February, but had a temporary up move. The volume increased on the breaking of the fan line, which has now been slightly adjusted after the past two months. The fan line adjustment is not of major significance in this scenario since I moved it so slightly. Why did it not complete the small head and shoulders pattern? The market condition was still somewhat positive at this juncture and, as with most equities, the general market trend is of the utmost importance. Once the general trend changed from up to down as has happened with my article titled "Island Reversal Patterns -- Will the Triple Q's Drop?" on April 23, 2002, most equities will follow the trend. Of course, there are exceptions to the rule, but most will follow.


Now the 6-month symmetrical triangle has a clear third fan line break, signaling a change in the temporary trend from up to down. When the bottom line on the symmetrical triangle breaks in the $15.75 area, we will see the down move that was anticipated. This move should bring us down to the $12.00 support eventually. However, when it drops hard this will be the appropriate time to buy back your short position regardless of the price. Keep in mind that shorting is safest when you reduce the risk of being squeezed with a possible market rally. This is a short-term, rather than a medium to long term, speculative shorting opportunity.


---
Andrew Hetherington
Classic Dow Theorist who trades as a pure technician, using pattern recognition.

---
Click here for more information about our publications!
Comments
Date:
 05/05/02
Rank:
 5
Comment:
PRINT THIS ARTICLE