PRINT THIS ARTICLE
STOCHASTICS
---
Drug Divergence Programs
10/28/04 02:55:55 PM
---
by David Penn
---
Stochastic divergences in the pharmaceutical HOLDRS suggest opportunities in the beaten-down drug sector.
Security:
PPH, AVE
Position:
N/A
According to Fidelity.com's handy "Sector Tracker," pharmaceutical stocks are down nearly 13.5% year-to-date. True, the blowup over Merck's Vioxx drug was the headline problem, but concerns over what a John Kerry administration might do to the sizable profits of pharmaceutical companies have also been proffered as a reason to look askance at the fortunes of the pharmaceutical stocks going forward.


But there is a technical argument for higher prices in these beaten-down names. Looking at the PPH or pharmaceutical HOLDRs, we can spot a running positive divergence between price and the 7,10 stochastic. For the PPH and similarly downtrodden drug stocks, this positive divergence may amount to little more than a bounce. But for those drug stocks that have been in sustained rallies above their intermediate-term moving averages, these bounces could actually be breakouts.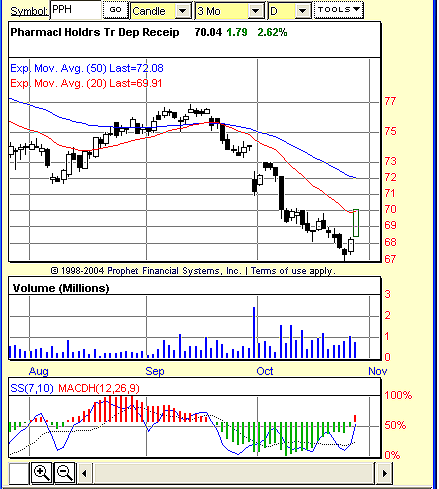 Figure 1: Pharmaceutical HOLDRs
Graphic provided by: Prophet Financial, Inc.
Note how the PPH has declined over the past six weeks since mid-September, when it broke beneath both the 20- and 50-day exponential moving averages (EMA). The positive stochastic divergences began by mid-October as the 7,10 stochastic formed successively higher troughs. However, the first positive stochastic divergence did not result in a rebound in PPH. More recently, a second positive stochastic divergence has developed, this time based on the mid-October and end of October pivot lows in the PPH and the corresponding troughs in the stochastic. Again, as price moved lower, the stochastic moved higher.


Already this appears to be producing a bounce in PPH, as the HOLDRS rally into resistance at the 20-day EMA. Some drug stocks have followed suit. Stocks like Abbott Labs (ABT) and Allergan (AGN) look exceptionally like PPH, rallying into moving average resistance. However, if a rising tide is lifting all drug stocks, then why not look for those drugs stocks that have "taken on less water" than the Abbott Labs and Allergans of the pharmaceutical world?


For example, instead of bottom-fishing with PPH, how about a look at a drug stock like Aventis ADR (AVE) or Biovail Corp. (BVF)? In both instances, these stocks are trading above their intermediate-term moving averages, and have pulled back from recent highs (52-week highs in the case of AVE).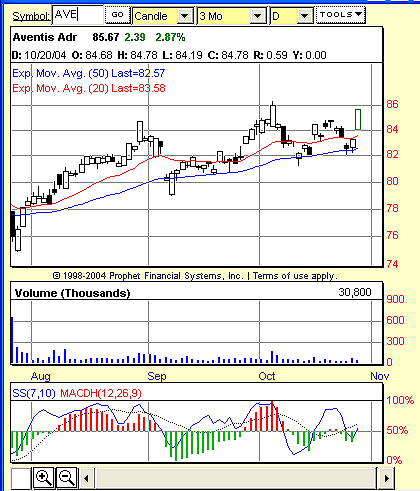 Figure 2: Aventis


---
David Penn
Technical Writer for Technical Analysis of STOCKS & COMMODITIES magazine, Working-Money.com, and Traders.com Advantage.
---
Click here for more information about our publications!
Comments
Date:
 11/04/04
Rank:
 3
Comment:
PRINT THIS ARTICLE