PRINT THIS ARTICLE
CHART ANALYSIS
---
Merck and Company (MRK). . . What's Happened?
08/20/04 01:13:24 PM
---
by Andrew Hetherington
---
The long-term trend for Merck and Company has been in jeopardy since it broke through its support line in December of 2001. What is the new outlook for this company?
Security:
MRK
Position:
N/A
Since 2001, when its long-term trendline broke, Merck has been in a slow but steady fall from the $96.00 area. It bottomed out on November 28, 2003 in the $41.00 area. The necessary consolidation has taken place since then and it has now formed a 9-month ascending triangle.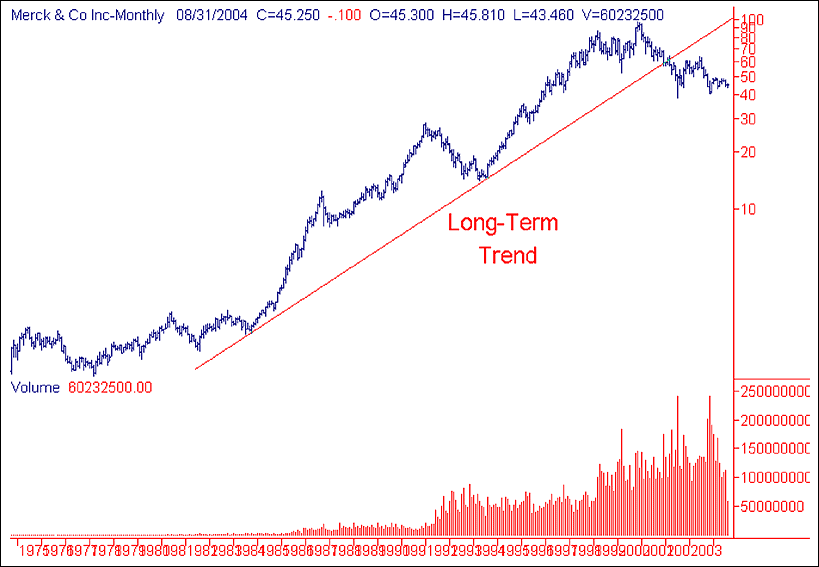 Figure 1: Long-term look at Merck and Company.
Graphic provided by: SuperCharts.
This triangle has near perfect volume on the creation of the pattern. It diminishes slowly from left to right. Although this type of triangle has a bullish tendency, it has broken to the downside. This breakout occurred at the appropriate point in the triangle -- two thirds of the way through the creation of the triangle. The general market conditions were much improved over this same period of 2004 and this equity stayed in a tight range from $42.00 - $48.00. This was another indication of the future direction.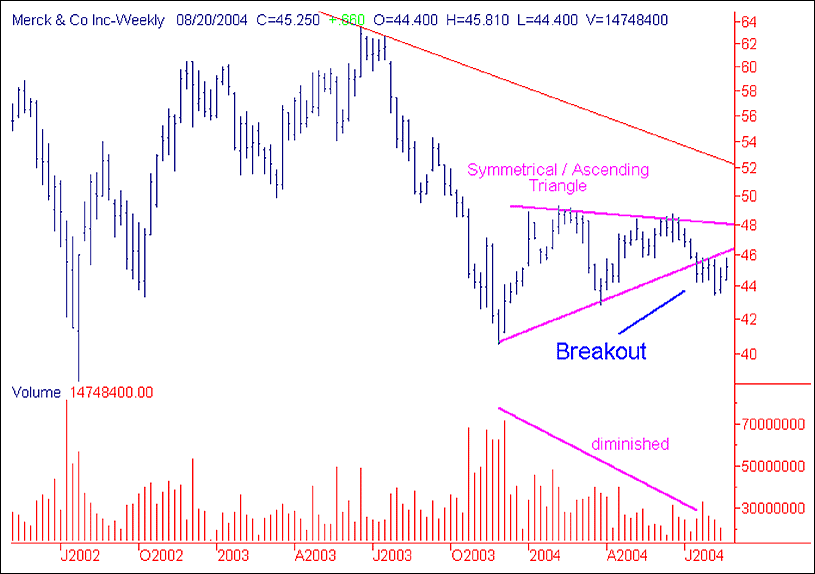 Figure 2: Weekly chart of MRK.

The inevitable pullback up towards the breakout line in the $46.00 - $47.00 has now occurred and the next move will be downwards especially when we consider that the general trend is short as well. This is not a good long prospect but a fairly safe short opportunity.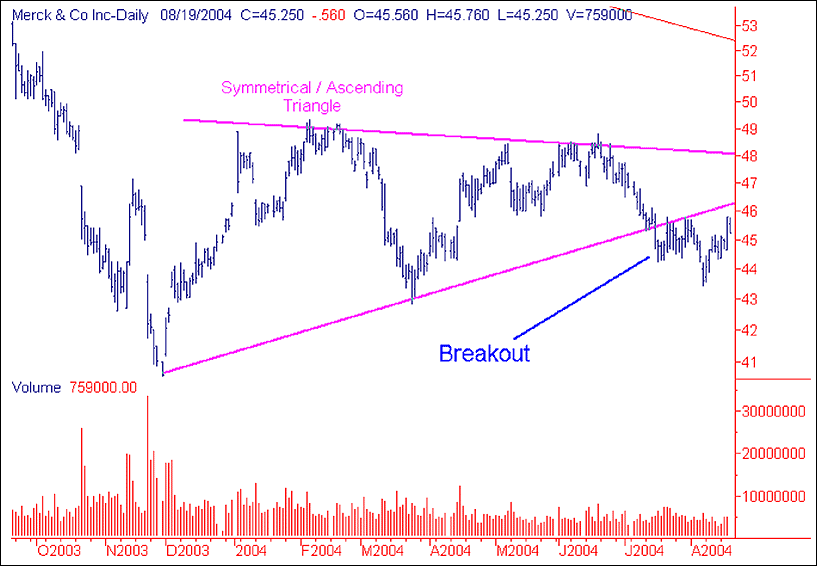 Figure 3: Daily chart of MRK.

The first stop will be in the support area of $41.00. It may hesitate here for a while but it looks like it will fulfill its destiny and move towards the next support in the $38.50 area. Although this is not a huge move, trading it short in the $46.00 area and buying it back in the $39.00 area will be a 15% return. As always, move out of your short positions on any hard and fast down days with big volumes. This is usually the temporary bottom.


---
Andrew Hetherington
Classic Dow Theorist who trades as a pure technician, using pattern recognition.

---
Click here for more information about our publications!
Comments
Date:
 08/24/04
Rank:
 5
Comment:
PRINT THIS ARTICLE