PRINT THIS ARTICLE
ELLIOTT WAVE
---
Banks Poised To Resume The Uptrend
06/25/04 03:01:06 PM
---
by Arthur Hill
---
Here is the banking index with a wave 5 projection.
Security:
DJUSBK
Position:
Buy
The DJ Banking Index has been trending higher since October 2002 and looks to have started the fifth and final wave.


The weekly chart shows a distinct 5-wave pattern and rising price channel. Wave 1 peaked in Jan-03 (382), wave 2 bottomed in March 2003 (326), wave 4 peaked in March 2004 (492) and wave 4 bottomed in May 2004 (433). As is normally the case, wave 3 was the longest in both price appreciation and duration.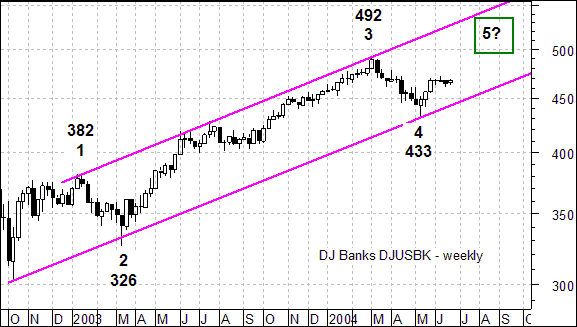 Weekly chart for the banking index.
Graphic provided by: MetaStock.
The daily chart provides evidence that the prior downtrend has ended (wave 4) and a new uptrend has begun (wave 5). First, the decline (March to May) formed a falling price channel and the index broke above the upper trendline with a strong advance the last three weeks of May. Second, the index exceeded 460, a resistance level confirmed with reaction highs in late April and early May (gray arrows). The index has since formed consolidation that looks like a flat flag of sorts. Watch 472 for an upside breakout and broken resistance (turned support) at 460 for downside break.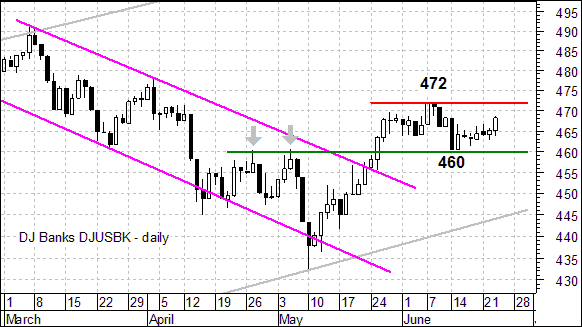 Daily chart for the banking index.


Should the index break consolidation resistance at 472, wave 5 would be further affirmed and traders can start to think of upside targets. Turning back to the weekly chart, the upper trendline of the rising price channel extends to around 550 over the next 2-3 months. In addition, wave 5 is often a Fibonacci portion of wave 3. This means that wave 5 could be 38.2% to 61.8% of wave 3 and would imply an upside target range between 496 and 536 (green box).

Calculations: (492 - 326 = 166, 166 x .382 = 63.41, 166 x .618 = 102.59) and (433 + 63.41 = 596.41, 433 + 102.59 = 535.59).


---
Arthur Hill
Arthur Hill is currently editor of TDTrader.com, a website specializing in trading strategies, sector/industry specific breadth stats and overall technical analysis. He passed the Society of Technical Analysts (STA London) diploma exam with distinction is a Certified Financial Technician (CFTe). Prior to TD Trader, he was the Chief Technical Analyst for Stockcharts.com and the main contributor to the ChartSchool.
Title:
Editor
Company:
TDTrader.com
Address:
Willem Geetsstraat 17
Mechelen, B2800
Phone # for sales:
3215345465
Website:
www.tdtrader.com
E-mail address:
arthurh@tdtrader.com

Traders' Resource Links

TDTrader.com has not added any product or service information to TRADERS' RESOURCE.
---
Click here for more information about our publications!
PRINT THIS ARTICLE