PRINT THIS ARTICLE
TECHNICAL ANALYSIS
---
Airlines Ready To Fly
04/09/04 10:24:43 AM
---
by Arthur Hill
---
Despite an overshoot on the way down, the DJ Airline Index (DJUSAR) recovered just in time for a fairly normal retracement and price channel breakout.
Security:
DJUSAR
Position:
Buy
The decline in the Dow Jones Airline Index was dramatic, but still within the boundaries of a normal retracement. Technical analysis is a little "art" and a little "science". The science side states that a retracement or normal correction should be between 38.2% and 61.8%, both Fibonacci numbers. However, the art side of the equation allows room for leeway. Even though DJUSAR retraced over 62%, the index found support from the May low and the sharpness of the bounce from 97.02 suggests that this was an overshoot. Markets are driven by fear and greed, emotions that make overshooting part of the game.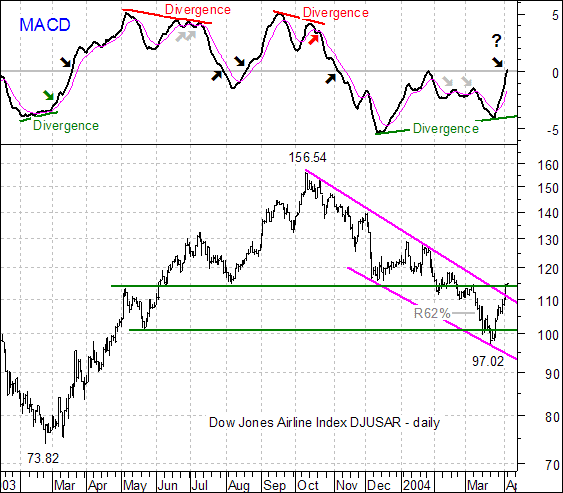 Graphic provided by: MetaStock.
In addition to the May low, MACD pointed to potential support and even a reversal. There are three possible signals from MACD: a signal line crossover, a divergence and a move into positive territory. Signal line crosses are quite frequent and can result in whipsaws. A divergence and subsequent signal line crossover carries more weight, but these signals are also prone to whipsaw (see June/July and Feb/Mar - gray arrows). There were two good divergence/crossover signals in Mar-03 (green arrow) and Oct-03 (red arrow), and one so-so signal in July.


The final MACD signal, a cross into positive or negative territory, represents a true change in momentum. A rising MACD in negative territory shows less downside momentum, but downside (negative) momentum all the same. Similarly, a falling MACD in positive territory shows less buying pressure, but upside (positive) momentum all the same. The zero line crosses (black arrows) produced some pretty good signals in Mar-03, Aug-03 and Nov-03. There was a whipsaw in Jul-03.


It is all coming together for the bulls. First, the index managed a sharp recovery near the 62% retracement mark. Second, the index broke above the trendline extending down from 156.54. Third, MACD forged a divergence/signal line crossover signal and looks poised to break into positive territory for the first time since early November. Broken support (turned resistance) at 115 is the next hurdle, but the reversal looks robust and here to stay.


---
Arthur Hill
Arthur Hill is currently editor of TDTrader.com, a website specializing in trading strategies, sector/industry specific breadth stats and overall technical analysis. He passed the Society of Technical Analysts (STA London) diploma exam with distinction is a Certified Financial Technician (CFTe). Prior to TD Trader, he was the Chief Technical Analyst for Stockcharts.com and the main contributor to the ChartSchool.
Title:
Editor
Company:
TDTrader.com
Address:
Willem Geetsstraat 17
Mechelen, B2800
Phone # for sales:
3215345465
Website:
www.tdtrader.com
E-mail address:
arthurh@tdtrader.com

Traders' Resource Links

TDTrader.com has not added any product or service information to TRADERS' RESOURCE.
---
Click here for more information about our publications!
Comments
Date:
 04/13/04
Rank:
 4
Comment:
Date:
 04/13/04
Rank:
 3
Comment:
PRINT THIS ARTICLE