PRINT THIS ARTICLE
TECHNICAL ANALYSIS
---
Novellus Declines To Key Support
10/09/03 10:35:01 AM
---
by Arthur Hill
---
The current trend for NVLS is up, but the stock reached an important long-term retracement with a potentially bearish pattern taking shape.
Security:
NVLS
Position:
N/A
The semiconductor group is an important part of the Nasdaq and Novellus (NVLS) is an important part of the semiconductor group. Semiconductor stocks are quite homogeneous in that they often move as a group. By extension, what happens to NVLS is likely to filter through to the rest of the group and then on to the tech-laden Nasdaq.


Sharp price movements are often followed by corrective or countertrend moves that recoup a portion, but not all, of the prior move. After a sharp decline, a corrective advance will retrace part of the decline. After a sharp advance, a decline or correction will retrace part of the advance. Fibonacci numbers are employed to predict the retracement with .382 (38%) and .618 (62%) two of the most popular numbers.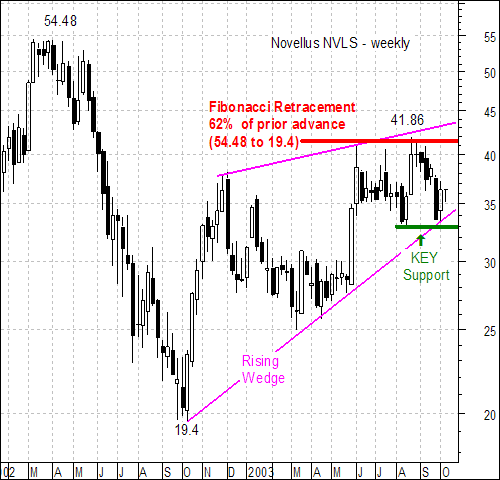 Figure 1: NVLS is showing a bearish rising wedge formation while reaching a Fibonacci resistance level.
Graphic provided by: MetaStock.
With the advance to 41.86, NVLS retraced 62% of the prior decline (54.48 to 19.4). The decline was sharp and the advance zigzagged higher. The stock surpassed 40 as early as June and the 62% retracement mark at 41.5 served as a resistance alert. The stock tried to break above 40 again in July, August and September, but to no avail thus far.


In addition to resistance, the stock formed a rising wedge over the last few months. These are classic patterns for reaction or countertrend rallies. In other words, the decline is part of the larger trend and the advance is just a corrective move or retracement. As long as the lower trendline holds, the bulls still have the upper hand. However, a move below the lower trendline and key support at 33 would signal a resumption of the prior decline and turn the long-term trend bearish. Such a move would bode ill for the semiconductor group, the Nasdaqs and techs in general.


---
Arthur Hill
Arthur Hill is currently editor of TDTrader.com, a website specializing in trading strategies, sector/industry specific breadth stats and overall technical analysis. He passed the Society of Technical Analysts (STA London) diploma exam with distinction is a Certified Financial Technician (CFTe). Prior to TD Trader, he was the Chief Technical Analyst for Stockcharts.com and the main contributor to the ChartSchool.
Title:
Editor
Company:
TDTrader.com
Address:
Willem Geetsstraat 17
Mechelen, B2800
Phone # for sales:
3215345465
Website:
www.tdtrader.com
E-mail address:
arthurh@tdtrader.com

Traders' Resource Links

TDTrader.com has not added any product or service information to TRADERS' RESOURCE.
---
Click here for more information about our publications!
PRINT THIS ARTICLE