PRINT THIS ARTICLE
CHART ANALYSIS
---
CMGI Begins Its Breakout
07/15/03 01:03:37 PM
---
by Andrew Hetherington
---
As many as three different patterns can be found on CMGI's chart, all pointing to a sizeable move up.
Security:
CMGI
Position:
Buy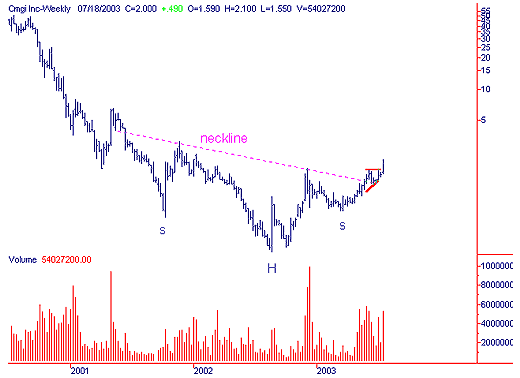 Figure 1: CMGI's weekly chart.

This is a beautiful and powerful chart. The weekly chart illustrates the power behind this recent activity. There is a 2-year head and shoulders bottom reversal pattern with excellent volume on the creation of the pattern. There was dumping on the left shoulder on the way down, then the inevitable small up-move on increased activity. Slowly but surely, there is more dumping towards the head but in a diminished style, finally petering out with the volume at the base of the head. There was a noticeable increase in activity to complete the neckline and then the diminished style once again on the descent of the right shoulder. Finally, there is big volume coming in from the base of the right shoulder until it finally has no alternative but to "pop" and break out. The increased volumes on the right side of the pattern give the early warning of the upcoming breakout.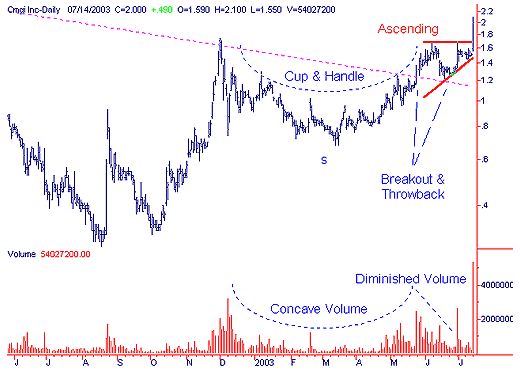 Figure 2: CMGI's daily chart.
Graphic provided by: SuperCharts.
On the daily chart we see more early evidence of the up-move. The right shoulder is a cup and handle. This often-misdiagnosed pattern has the required concave price movement and volume as well as the diminished volume on the handle. The handle is formed on the breakout, which then becomes a small 1-month ascending triangle. The neckline for the much larger head and shoulders gives the support in the $1.20 area and allows the trader to have confidence when taking a position on such a tricky pattern as the cup and handle. It was only a matter of time before the inevitable journey north. A prognostication of $3.00 in the short to medium term and $6.00 longer term seems likely.


---
Andrew Hetherington
Classic Dow Theorist who trades as a pure technician, using pattern recognition.

---
Click here for more information about our publications!
Comments
Date:
 07/15/03
Rank:
 4
Comment:
Date:
 07/15/03
Rank:
 5
Comment:
Date:
 07/18/03
Rank:
 5
Comment:
Date:
 07/22/03
Rank:
 4
Comment:
PRINT THIS ARTICLE