With all of the metals in correction mode in June, attention turns to those specific technical signals that can point to specific opportunities with different metals in different contract months. Having already discussed some of the bearishness apparent in copper futures ("The Return of Copper Tops," Traders.com Advantage, June 11, 2003), it appears as if the bears are similarly circling around the platinum pits.


Platinum's most recent major bottom was in the fall of 2001. Since that time, platinum futures have been in a dedicated bull market, rallying from just over 360 (basis continuous futures) to about 550 in a year, and moving from this level in October 2002 to recent highs north of 670. Most recently--as in year-to-date 2003--July platinum has corrected from contract highs of 694 in late February to a late April low around 590, and is now rallying from these lows--so much so that, at 684, July platinum had almost retraced the entirety of its February-to-April correction.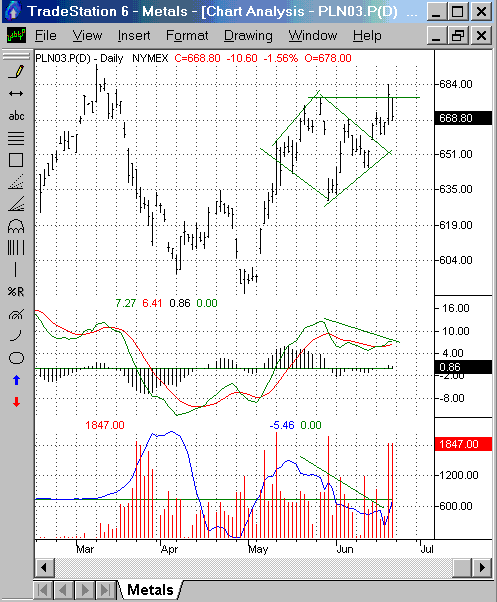 A declining MACD and volume oscillator conspire with a successful 2B test of top to suggest that lower prices may be in store for July platinum.
Graphic provided by: TradeStation.
Higher or lower? The case for lower prices for platinum futures is based in part on a declining moving average convergence divergence indicator. Note how the MACD made a lower peak in mid-June compared to the peak in late May. At the same time, price action in July platinum was marking a higher peak in mid-June compared to the peak in late May. This divergence is one signal that the higher peak in mid-June may not lead to continued higher highs.


The case for a 2B test of top is related to the divergence between the MACD indicator and price action in July platinum. Recall that the 2B test of top occurs when prices make a high, pull back and then make a higher high. If there is follow-through to the upside on the higher high, then the test is said to be unsuccessful and the risk is tilted in the direction of higher prices. If, however, there is no follow-through on the higher high, then the test is said to be successful and risk is tilted in the direction of lower prices. Here, in the case of July platinum, the higher high of June 19th was followed by an equally high-volume selling day on June 20th. This lack of follow-through to the upside suggests that the test of top was likely successful and that July platinum should not trade above the high of June 19th for the intermediate future.


Lastly, I initially considered the late May rally in July platinum to form half of a diamond consolidation pattern, with the price action in the second half of May and first half of June completing the pattern. Whether or not other observers agree with the diamond pattern, consider the fact that prices have broken out from the diamond pattern as I see it, yet prices have found resistance near the top of the formation. If the diamond pattern is valid, then this would further underscore the bearishness in platinum futures. Thomas Bulkowski, in his book "Encyclopedia of Chart Patterns", makes the point that often resistance and support from diamond breakouts can be particularly long-lasting. Those looking for opportunities in platinum futures may do themselves a favor by keeping this in mind, as well.