In his book, Principles of Professional Speculation, trader Vic Sperandeo points out another reversal oriented set-up (previous reversal set-ups from Sperandeo's work have included the 2B test of top/bottom and the 1-2-3 trend reversal). This newer reversal set-up is especially worth learning about in the wake of the rapid reversal the markets experienced in mid-March 2003. As you may recall, the markets--particularly the blue chip members of the S&P 500--were suffering through an intermediate-term downswing that began in the wake of the late November 2002 highs. While more and more investors, traders and observers became increasingly obsessed with the notion of testing the lows from October and July, the markets abruptly stopped on March 10th and began a near-vertical climb. In the case of the S&P 500, the market rallied almost 10% in less than five days.

What strategy might have helped a trader catch this sudden move up from the lows? While many have pointed to oversold indicators, as well as sentiment indicators that suggested extreme bearishness right before the market turned, Sperandeo's Principles of Professional Speculation notes another method that can be quite effective in catching markets just as they appear to be losing momentum. His method, put simply, begins with a mature trened--something Sperandeo admits is relatively subjective. Indicators such as ADX, as well as moving average pairs, trendlines and time/price studies, can all be used to determine a mature trend. Once the trend is mature, traders should look for four or more consecutive pro-trend days. In other words, in an uptrend, look for four or more up days in a row. In a downtrend, look for a sequence of four or more down days in a row.

The signal comes when these four or more, pro-trend days are interrupted by an anti- or countertrend day. Sperandeo's "Four Day Corollary" as it is referred to in his book, calls for taking a countertrend position on the day immediately following the countertrend day. Sperandeo refers to his set-up as the "Four Day Corollary" (there is a "Four Day Rule" to which this set-up is related). Yet, it appears that the set-up could also be referred to as the "Four Bar Corollary," using bars of durations other than days instead of just daily bars. Everything else about the "Four Day Corollary" applies to the "Four Bar Corollary."



Figure 1. After a 60+ bar decline of more than 7%, this trend could be considered mature on a short-term basis.

Here is an example of using the "Four Bar Corollary" with 60-minute bars in the S&P 500. The S&P 500 broke out of a short-term (10-day) trading range between 853 and 827 in early March. Looking at the hourly chart, we note that the S&P 500 moved down on the 3rd and 4th of March, then fell into a range on the 5th, 6th and 7th before resuming its downtrend an additional two days (the 10th and the 11th). This was a nine-day (60+ bar) move that saw the S&P 500 lose close to 7% and, when coupled with the fact that the down move had at least three different legs (a downswing, a consolidation and another downswing) allows me to consider this nine-day, 60+ hour trend to be mature--for a short-term trend.

As such, what should be looked for is a series of four or more down bars in a row in the second downleg. Just such a sequence is spotted late on March 11th at the 5th hourly bar. After this down bar, the S&P 500 had six consecutive down hourly bars continuing to the 4th hourly bar on March 12th. The 5th hourly bar on March 12, however, was an up bar and--in the Four Bar Corollary methodology--provides a signal for a possible reversal in trend. As it turns out, this 5th hourly bar was part of the three-hour bottom that preceded the quick, sharp reversal that saw the S&P 500 ramp up by almost 10% in a little over four days.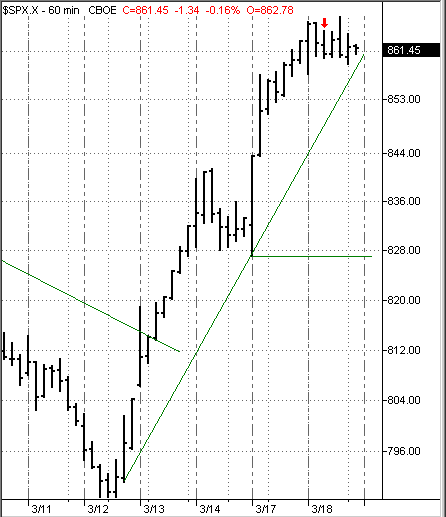 Figure 2. Another four-bar reversal opportunity looms at the top of this five-day rally.
Graphic provided by: TradeStation.
There is another four-bar reversal opportunity in the making on an hourly basis that will be worth watching. This one comes later in March as a short-term mature trend from the lows of March 12th gains almost 10% en route to the highs of March 18th. Like the downtrend previously mentioned, this uptrend also has three distinct components--an initial upleg, a consolidation, and then another upleg--which also supports the notion of short-term maturity. The four-plus bar sequence takes place on March 17th, beginning with the fifth hourly bar and continuing to the first hourly bar on March 18th. The countertrend bar is the second hourly bar on March 18th, which would suggest a short opportunity exists with the open of the third hourly bar at about 862. For loss protection, a chandelier stop (in this case, three times the average true range added to the value at the lowest low since entry) would mean exiting the position if the S&P 500 rose to 878.55 or higher. With the market most recently closing at 866.45, a short position based on the most recent "Four Bar Corollary" set-up would still be in play, if currently underwater by a small amount.