The S&P 500 isn't the only major market average to develop a multi-year head and shoulders top as the bull market ended in the spring of 2000. The Dow Jones Utilities Average, which has been bleeding investors dry since the fall of 2000, also appears to have formed a multi-year head and shoulders top beginning back in the spring of 1998. In fact, from a peak of about 419 in the summer of 2000, the Dow Jones Utilities Average has lost more than half its value to date, finding itself just below 200 in early March 2003. Utilities' historical role as a safe investment haven for widows and nervous investors has perhaps made these massive losses even harder to take. Those utilities funds burdened with telecommunications stocks have suffered the worst with some down 64% over the past three years. But other, more traditional utilities funds have also performed horribly (three-year negative returns in excess of 35% are commonplace).


So why even discuss a universe of stocks that has spent the past three years burning through investors' money like so much paper in a gas-powered fireplace? One reason is because if the multi-year head and shoulders formation actually reaches its downside objective, there could be a lot more pain in store for utilities shareholders.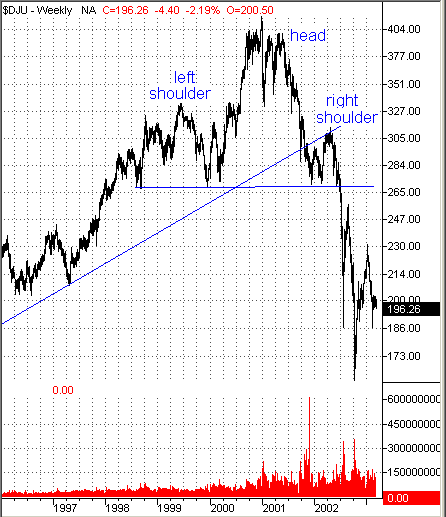 This head and shoulders top in the DJUA includes a downside break of a trendline that extends back to a 1994 low.
Graphic provided by: TradeStation.
The head and shoulders top in the Dow Jones Utilities Average begins with a left shoulder from mid-1998 to late 1999, a head that began in 2000 and ended late in 2001, and a right shoulder that lasted from late 2001 to the summer of 2002. After this point, the DJUA literally crashed. In four weeks, the DJUA went from a neckline level around 270 to an intraweek low of about 186. The DJUA bounced from these extreme levels, but was not able to make much of a test of the neckline level--instead peaking out in the late summer of 2002 at about 257. From this point, the DJUA crashed again, falling from 257 down to lows not seen since 1987--as in, October 1987. Truly, the term "crashed" is not used lightly with regard to utilities investments since the bear market began in 2000.


The problem for utilities bulls--bloodied, but perhaps not yet beaten--is that the measurement rules for head and shoulders tops state that the distance from the price peak to the neckline area of support must be subtracted from the value at the neckline area of support. This is also consistent with what Stan Weinstein refers to as the "swing rule," which suggests that areas of long-term support often serve as a sort of "hinge" around which price action to the upside can swing around to the downside. In short, this rule states that, based around an area of strong support, price action to the upside will be equaled on the downside in the event of a bearish price break.


Using both the measurement rule (see Thomas Bulkowski's Encyclopedia of Chart Patterns for more on chart pattern measurement rules) as well as Weinstein's swing rule points to even darker days ahead for those clinging to utilities stocks. The DJUA peaked at about 419 in mid-2000 and the neckline area of support (a support area that has stopped significant downturns at least six times since the spring of 1988) is at 268. This means that, from the 268 level, prices should be expected to decline by another 151 points. Such a decline would take the Dow Utilities down to about 117, levels not seen since the early 1980s. In fact, the DJUA last closed beneath 120 on December 31, 1982.