With more and more attention being given to what analyst Doug Noland refers to as the "Great Mortgage Finance Bubble," traders may be wise to grant more and more attention to stocks that relate to this sector. In a recent piece, I suggested that homebuilders--in spite of still-strong fundamental data pointing to record numbers of new home starts--are increasingly seeing investors abandon their shares (see my "Lennar's Diamond Top," Traders.com Advantage, March 4, 2003). However, it appears that the troubles are already expanding beyond the homebuilders.


Federal Reserve Bank of St. Louis president William Poole recently suggested that Fannie Mae and Freddie Mac, two companies that purchase mortgages from lenders in order to improve the liquidity of the mortgage finance industry, increase their capital requirements. Although officials from both organizations insisted that these comments from Poole were "nothing new", it should be pointed out that the only reason to encourage Fannie Mae and Freddie Mac to increase their capital requirements would be to protect against what is believed by some to be excessive exposure in the event of an economic shock such as a serious recession. Regardless of what Fannie Mae and Freddie Mac officials have said about the soundness of their corporations, traders were in a risk-averse mood with regard to mortgage finance. By mid-day, shares of Fannie Mae and Freddie Mac had lost more than six percent.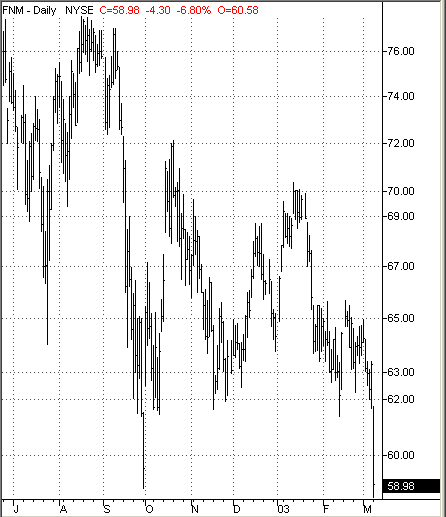 Figure 1: An important test of the autumn lows is in store for mortgage finance, titan, Fannie Mae.
Graphic provided by: TradeStation.
This is a major, one-day loss. The fact that these losses are occuring in the one sector in which many investors have sought haven--homebuilding and the mortgage finance industry--is all the more ominous. From a technical perspective, these sizable losses in both Fannie Mae and Freddie Mac have set up significant tests of recent lows--the late September 2002 lows in the case of Fannie Mae and the July 2002 lows in the case of Freddie Mac.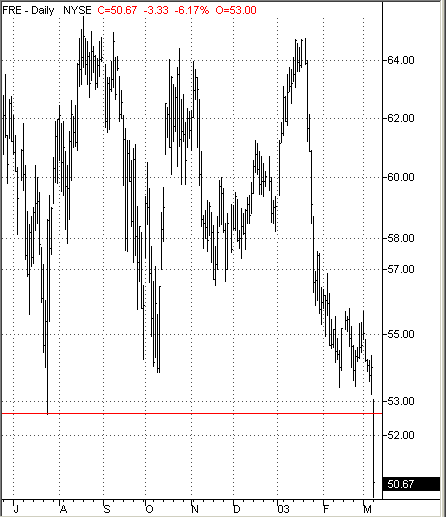 Figure 2: Freddie Mac plunges through both its July and October 2002 lows.

My favorite methodology for dealing with tests of significant lows is Victor Sperandeo's 2B test. Deceptively simply, the 2B test of bottom (or top) states that whenever prices make a new low (or high) and then proceed to make a lower low (or higher high), the speculator should wait to see if there is significant follow-through on the lower low (or higher high). If the follow-through does not come--if the lower low is not, in essence, confirmed by subsequent lower prices--then the chance for a reversal is significant. As you might imagine, if there is price action follow-through, then the speculator could prudently take a pro-trend position.


There is no telling whether or not Fannie Mae or Freddie Mac will successfully test their previous lows and rebound--though the way Freddie Mac broke through support just shy of 53 was particularly NOT bullish. Nevertheless, it is the subsequent follow-through (or lack thereof) that will be more decisive than the initial break or test of support. If there is a break to the downside, then long-term support exists at about 48 for Fannie Mae and 37 for Freddie Mac. This support, in both cases, comes from low established during a cyclical bear market from late 1998 to about mid-2000. While it is far too early to call a top in either of these stocks, their long-term charts might remind more than a few technical traders of the sort of price action typically observed when bull markets end and bear markets begin.