Back in December, I suggested in a Traders.com Advantage piece ("Two Takes on March Sugar's Top," December 9, 2002), that sugar futures appeared to have topped. I used a pair of strategies that I have come to find both relatively easy to use and highly accurate when attempting to pick tops and bottoms in trending markets. The first strategy was the 1-2-3 trend reversal methodology which uses a trendline break and then a failure to resume the trend on pullback as a signal of a possible trend reversal.


With regard to March sugar, I noted that the upward trendline from late August was broken sharply with the declines of early November. At the time of the trendline break, March sugar had climbed from a trendline low of about 5.60 to a peak of about 7.60--a 36% gain. That seemed to me to be a relatively sizable gain in a relatively short period of time and, combined with the trendline break, suggested that a top may have been in the making.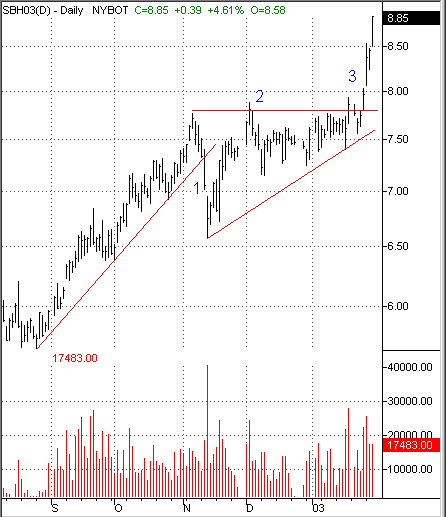 A trendline break (1) and failed 2B test of top (2) pointed to lower sugar prices. But the ascending triangle that developed--and the subsequent upside break (3)--would have none of it.
Graphic provided by: TradeStation.
The second strategy I used was the 2B test of top. This approach uses a failure to follow-through in the direction of a new high or low as a signal that the new high or low may be a bull or bear trap, and that the trend, again, was ripe for reversal. In the case of March sugar, prices rallied following the early November trendline break to indeed make a new contract high early in December. However, prices retreated rather sharply for two days in a row following that new contract high. This I took as an indication that a 2B top was likely and that prices were headed downward. Prices did indeed fall for an additional two days. However March sugar then stabilized and fell into a trading range between, roughly, 7.15 and 7.75. This trading range prevailed throughout the rest of December and through January, where it eventually developed into a sort of ascending triangle--a triangle from which March sugar appears to have broken out on the upside at the end of January.


This ascending triangle begins at the bottom of that very same trendline breaking decline in mid-November that appeared to be quite bearish for sugar futures--a low of about 6.60. The top of the ascending triangle is the range mentioned above-- of about 7.75. This provides for a formation size of 1.15 which, when added to the value at the horizontal top of the triangle, gives a minimum upside target of 8.9. March sugar broke out on the upside on January 24th and, by the 29th, was closing in on that upside target price.


Victor Sperandeo, the trader who introduced both the 1-2-3 reversal and the 2B test, noted that one of the hardest things to do in trading was to close a position with a loss and go in the opposite direction. Many traders advise against this strategy altogether. Yet it seems that if your methodology involves picking tops and bottoms, the willingness to cut a trade off (a trade that was, essentially, going against the trend by predicting the "bend at the end") and open a new trade in the opposite direction (in this instance, going with the trend) is vital. This is why I don't fault either the 1-2-3 reversal or the 2B strategy for calling a top in March sugar in the fall of 2002. A short position taken at the top of the aforementioned range (7.15 to 7.75) would have been stopped out on the late January breakout--but only for a small loss. The willingness to then open a long trade in the opposite direction--based on both the ascending triangle noted above and the incorrect original analysis--would have provided ample opportunity to turn a small loss into, potentially, a significant gain.