PRINT THIS ARTICLE
CHART ANALYSIS
---
Wrong Way For Right Management Consultants Inc.?
01/16/03 08:33:55 AM
---
by Gary Grosschadl
---
A bullish pattern contained in a larger bearish one suggests that this could be traded successfully but may have limited upside.
Security:
RHT (NYSE)
Position:
Hold
In the past eight months this stock's value has been virtually cut in half. This drop has taken the shape of a descending triangle, a bearish formation. Normally volume contracts in these formations and this has been the case here, so much so that it can be considered a thin trader at times. Support lies at $12 and should this be violated, considerably more downside may lie ahead.


However, a closer look at the chart below reveals a smaller bullish formation contained within the ascending triangle - a bullish falling wedge. This tells the shorter term, higher risk trader that the chance of an upside test may be a short-term trading opportunity. The aggressive play here would be to go long on the next close above $13 which is nearby resistance. A move up to test the wedge's top trendline may ensue and it could go further to test the 200-day EMA, currently at $14.25. A vigorous move could even lead to a much bigger test-- that of the long term top trendline of the descending triangle.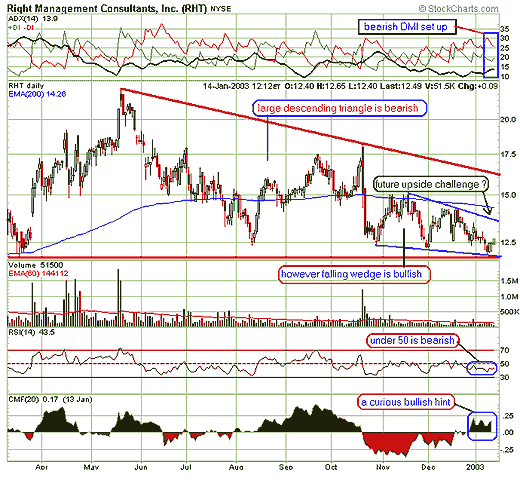 Graphic provided by: StockCharts.com.
A more prudent trading strategy would be to wait for a significant pattern break, either up or down. Failure at the bottom resistance line could be a shorting opportunity while a push past the falling wedge pattern (on good volume) could be a good opportunity for traders taking long positions.


Looking at the indicators, only one has a hint of bullish promise. The Chaikin Money Flow oscillator generates bullish signals by indicating that a security is under accumulation. After two months of bearish signals, this indicator has risen into bullish territory, probably as other traders anticipated a bounce off longer term support.


So in summary, we have a possibility of a move up to test overhead resistance for a riskier shorter term trade. The more patient and prudent trader may be better served to wait for a pattern break either below $12 support or above $13.50 where the wedge trendline lies. If that upside move happens, beware any sudden reversal at the 200-day EMA line.


---
Gary Grosschadl
Independent Canadian equities trader and technical analyst based in Peterborough
Ontario, Canada.
---
Click here for more information about our publications!
PRINT THIS ARTICLE