PRINT THIS ARTICLE
TREND-CHANNEL
---
Fossil Fuels Vs Green Technology - What A Difference Two Years Makes!
04/08/21 04:09:31 PM
---
by Matt Blackman
---
Articles about divesting out of fossil fuels and into clean technology are everywhere. But what are stocks telling us?
Security:
ENPH, TSLA
Position:
N/A
It's a challenge to get through a week of financial news without seeing the term 'divestment.' Case in point, an article appeared in mid-March that announced that banks are saying they are committed to climate change, but then proffer the excuse that "ties to the oil and gas industry run deep." Economic damage from Covid-19 has been extensive sparing few industries and sectors. And one sector that really took it on the chin was fossil fuels. At one point in March 2020, oil prices actually went negative for the first time in history!

In my February 2020 TASC article "Fossil Fuels Vs Clean Energy: Time to Shift Your Money" written before the term 'covid' became ubiquitous, I compared a basket of 21 large fossil fuel companies versus a similar basket of established clean tech companies between 2014 and mid-2019. The difference in stock market returns between the two baskets was significant. While fossil fuel companies lost an average of 39.06% over the 5+ year period, clean techs gained an average 64.04% (see article link below).

Nearly two years later and one year into a global pandemic, what has changed? As it turns out, quite a bit.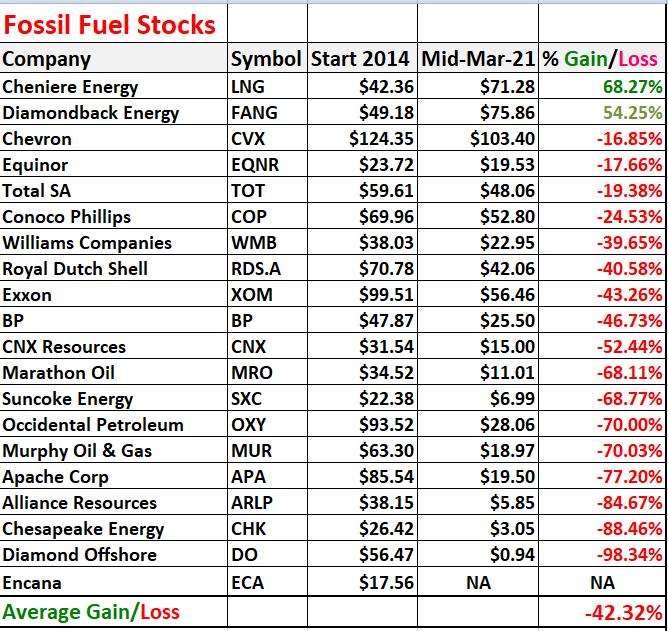 Figure 1. Table of 21 Fossil Fuel companies showing stock returns between January 2014 and mid-March 2021.
Graphic provided by: Freestockcharts.com.
As we see from the table in Figure 1, Encana that traded in 2019 no longer exists after being reorganized and rebranded as Ovintiv which began trading on the NYSE January 27, 2020 under the symbol (OVV). The average loss up to March 19, 2021 for the basket of stocks over the 7+ years from 2014 widened to 42.32%.

By comparison performances for clean technology companies were nothing short of spectacular. As we see from Figure 2, the basket of 21 stocks had a combined average return of 545.6% after taking out Pattern Energy and Avx Corp which had merged with other companies. Solar module manufacturer Enphase Energy gained 2118% and Tesla (TSLA) was up 2080% after a 5:1 stock split since 2014. On average this basket was up more than 540% even after suffering a correction in February and early March 2021.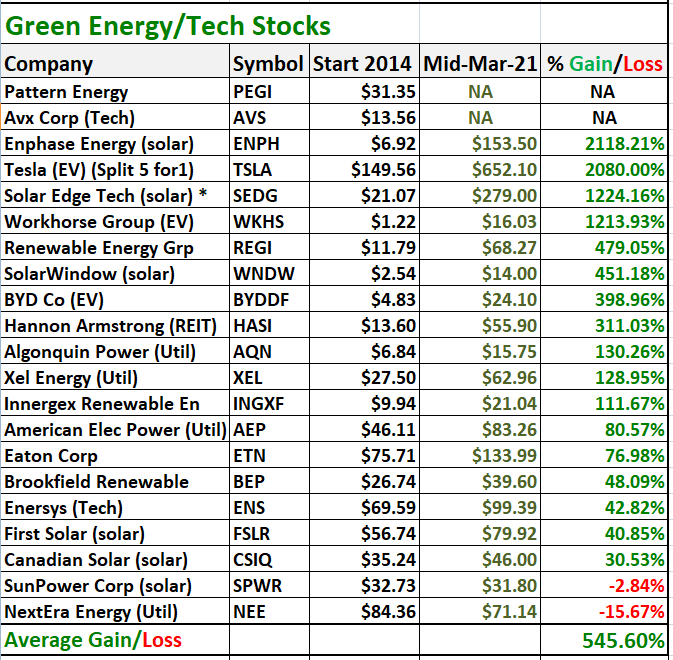 Figure 2. Table showing a basket of 21 clean tech companies between January 2014 and mid-March 2021. Vive le difference!
Graphic provided by: Freestockcharts.com.
At the risk of stating the obvious, smart money looks to be rushing into technologies of the clean and green variety — a trend which has only strengthened since the Biden Administration took the presidency.

So what about the $3.8 trillion which the world's 60 largest banks have plowed into fossil fuels since 2016 (see article below)? I can't imagine shareholders are too happy if Figure 1 is any indication. Certainly a number of large funds like Blackrock are taking note as pressure mounts from politicians and the public to make the switch!


Suggested Reading:

Blackman, Matt (2020) "Fossil Fuels Vs. Clean Energy: Time to Make the Switch?" Technical Analysis of Stocks & Commodities, Volume 38: February

60 largest banks in the world have invested $3.8 trillion in fossil fuels since the Paris Agreement

Despite calls for change, Canada's RBC is one of world's top bankers to fossil fuel industry


---
Matt Blackman
Matt Blackman is a full-time technical and financial writer and trader. He produces corporate and financial newsletters, and assists clients in getting published in the mainstream media. Matt has earned the Chartered Market Technician (CMT) designation. Follow Matt on Twitter at www.twitter.com/RatioTrade
Title:
Author
Company:
TradeSystemGuru
Address:
Box 2589
Garibaldi Highlands, BC V0N1T0
Phone # for sales:
6048989069
E-mail address:
indextradermb@gmail.com

Traders' Resource Links

TradeSystemGuru has not added any product or service information to TRADERS' RESOURCE.
---
Click here for more information about our publications!
Comments
Date:
 04/14/21
Rank:
 5
Comment:
PRINT THIS ARTICLE