When I wrote this report on Friday, October 9, the precious metal was rallying alongside equity markets and risk-sensitive currencies. Among these rallying currencies was the Chinese yuan, which has been boosted on the back of China's accelerating economic recovery and rising odds for a Joe Biden presidency in the US. The buck denominated precious metal was therefore benefitting from both a weaker US dollar and also a stronger yuan — with the latter helping to make gold relatively inexpensive for China, one of the largest gold consumers in the world. Investors were betting that the rising possibility of a Joe Biden victory would make the US administration more friendly towards Beijing compared to Donald Trump. Hopes that a fiscal stimulus package in the US would be signed soon was also supporting risk assets.


But one of the key risks facing gold is that in event of a sharp economic recovery, bond yields will likely rebound from their historic low levels. This could reduce the appeal of the noninterest-bearing assets such as gold and silver.

Another risk is if the US dollar were to come back strongly. This may happen if, for example, the likes of the euro and pound were to slump again owing to increased risks of further lockdowns in Europe amid the second wave of coronavirus there. So far, governments have resisted the pressure for widespread lockdowns, choosing instead to opt for local lockdowns and other measures. But if the death rates start climbing sharply again then this could potentially trigger lockdowns again, causing European currencies and stocks to drop. That, in turn, might pressure dollar-denominated gold and silver prices, like we saw in March.



That said, the current trend is bullish from a technical point of view. So, currently, the buyers seem to have taken back control of price action after the bears had a few unsuccessful attempts to push it down. The precious metal has now broken above this key descending trendline: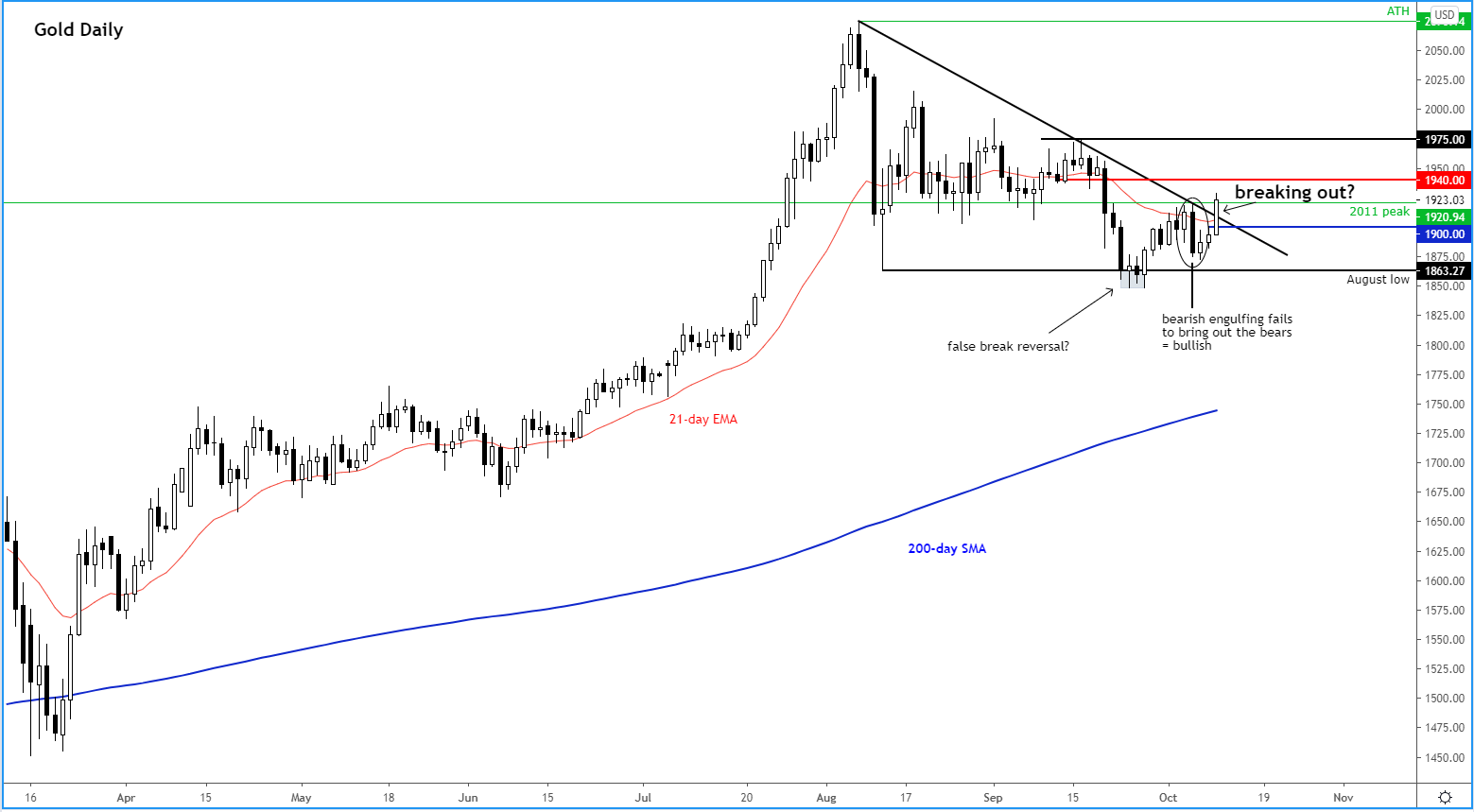 Figure 1. Gold Daily Chart.
Graphic provided by: TradingView.
In doing so, gold has climbed back above the 2011 peak of $1920/1, a level around which the metal has proven to be very sensitive around given its historic relevance.

So, what I am looking for from a bullish point of view now is a close above this level, while a decisive break back below here could be a bearish development, as it would point to pattern failure.

Among other bullish signs we have seen on gold are: (1) the potential false break reversal pattern gold created below the August low, towards the end of September, and (2) the large bearish engulfing candle that was formed on Tuesday, October 6, which turned out to be a bear trap as prices refused to fall.


As the sellers seem to be getting trapped, price action on gold is thus turning bullish again, potentially suggesting that the long-term uptrend may have resumed. If gold can now hold its own above support around $1920ish then $1940, a prior support, could then be the next immediate target for the bulls. Ideally, what the bulls want to see next is a break above the most recent high at $1975, for that would create a higher high.

However, a potential break back below $1920 could pave the way for a drop to the next support at $1900, below which there is nothing significant until that August low at $1863ish.