PRINT THIS ARTICLE
HEAD & SHOULDERS
---
SolarWindow - Will Their Power-Generating Technology Translate To Real Profits?
07/30/20 04:11:25 PM
---
by Matt Blackman
---
It's been a long road to get their products to market but the potential is exciting if they can deliver.
Security:
WNDW
Position:
N/A
SolarWindow Technologies Inc. (WNDW - Pink Sheet OTC) is "developing first-of-their-kind electricity-generating see-through windows and products for America's 85 million detached homes and commercial buildings," according to its website. The stock began trading in February 2010 but more than decade later still calls itself a development company. It has yet to commercialize its SolarWindow products, which the company claims "produce extraordinary amounts of clean electricity."

But on July 22, a one minute and 28 second video released July 20 entitled "Look Through Our Most Transparent Electricity-Generating SolarWindow(TM), Ever" appears to have excited the market. Although disclosing little new information other than to tease about their most transparent window yet, the stock soared 74% in one day and in the process posted a compelling buy pattern.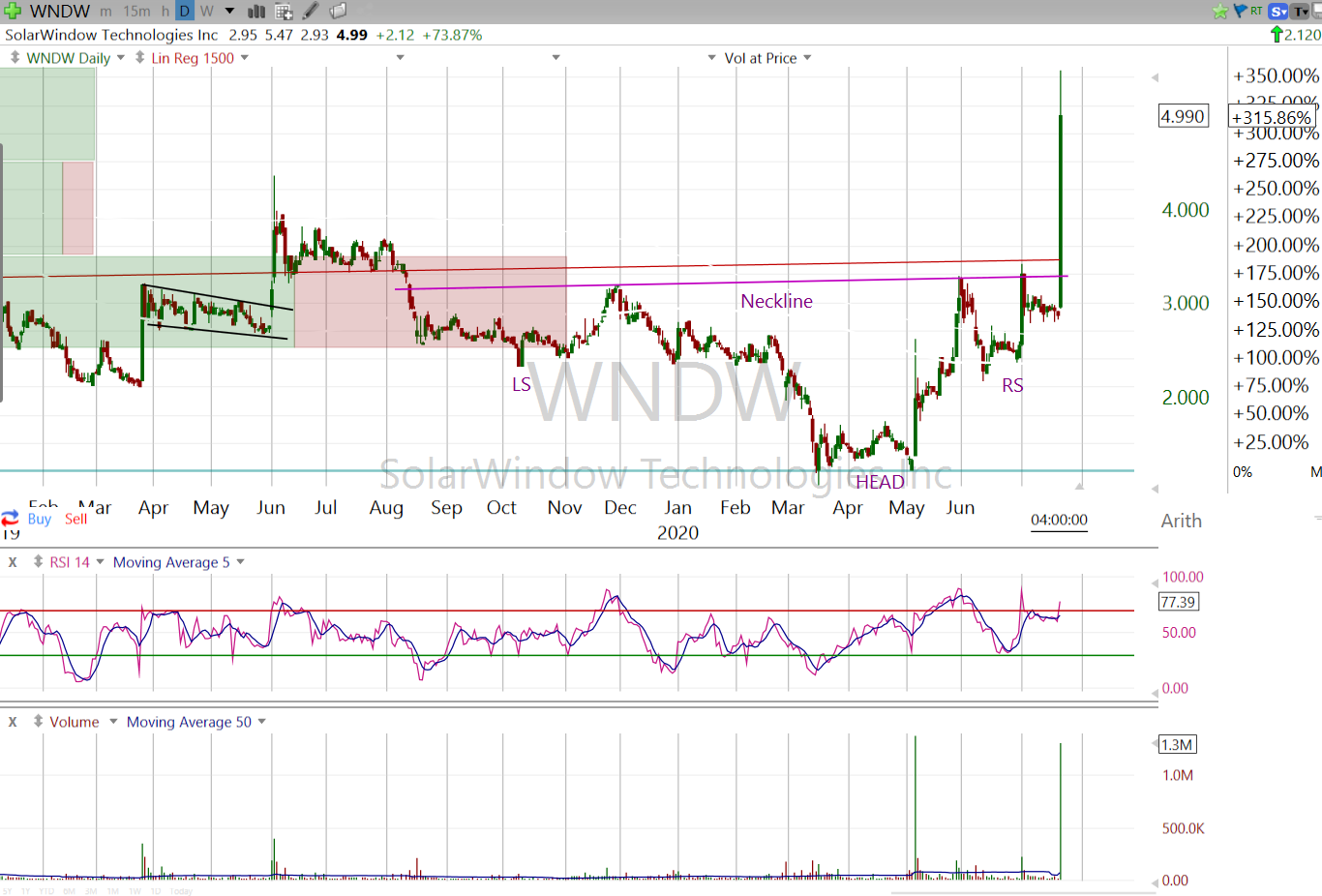 Figure 1. Daily chart of SolarWindow Technologies showing the inverse Head & Shoulders pattern and massive breakout above the neckline July 22 together with the long-term linear regression "fair value" line (red).
Graphic provided by: Freestockcharts.com.
It is clear from the SolarWindow.com website that the company has big plans. One corporate video opens with the quote, "...SolarWindow could give our cities the ability to harvest their own energy needs." Chairman of the Board Harmel Rayat explains that, "Every single week the energy produced by coal, natural gas and oil is generated by the sun. Every single week."

SolarWindow has a lofty goal, to turn windows on buildings into inexpensive solar generators. This is achieved through a coating applied to windows to generate power at very low cost claiming a payback of under one year and "Engineered to outperform rooftop solar by 50-fold" This is a bold claim considering that the payback for solar photo voltaic panels can range from five to ten or more years depending on latitude, shading and orientation. SolarWindow does so through a window coating made of abundant organic materials.

So where is the company now? SolarWindow posted a net loss $987,417 or $ 0.019 per common share for the quarter ending May 31, 2020 up from a loss of $987,342 for the same period a year ago according to SEC filings. The filing showed no revenue.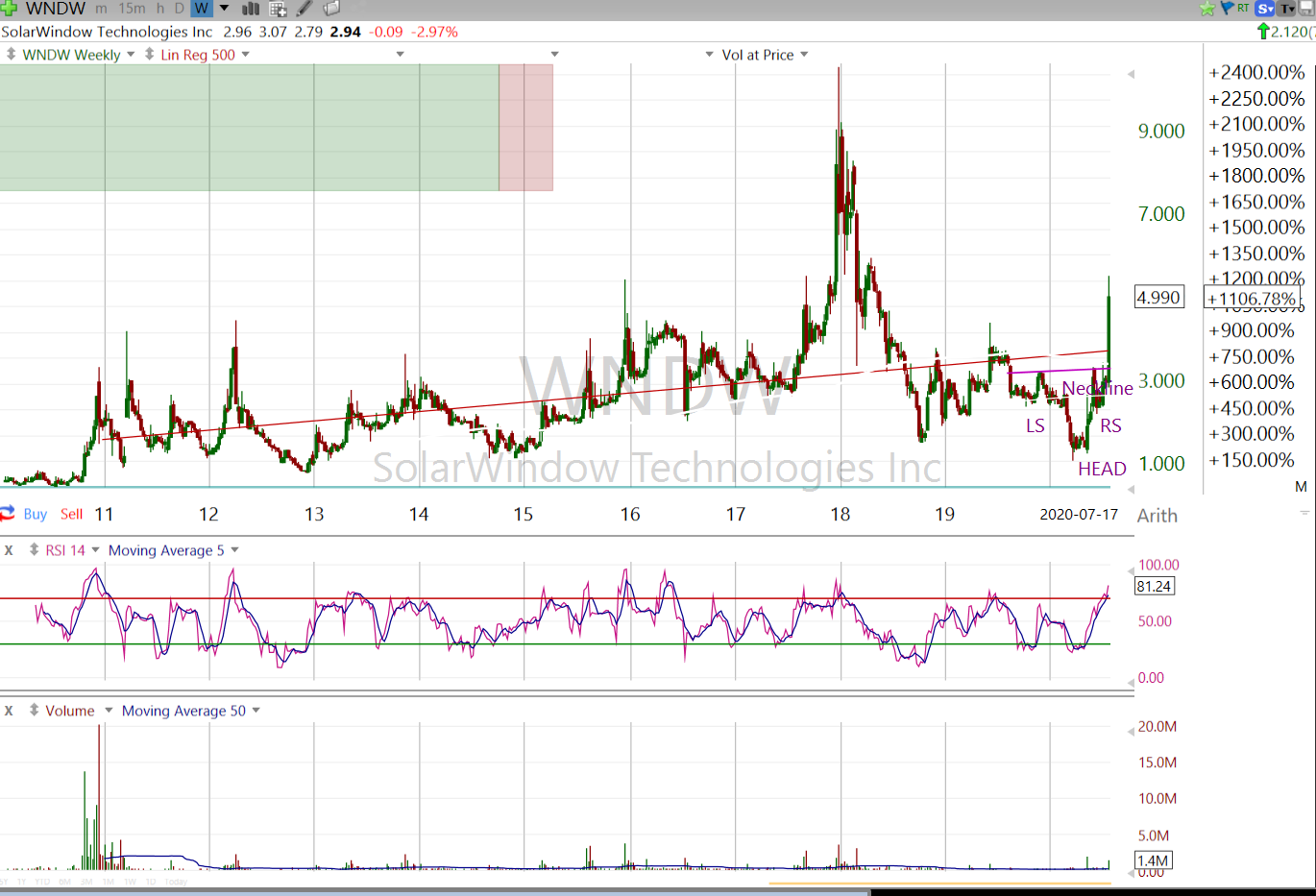 Figure 2. Weekly WNDW chart from when it began trading on the Pink Sheets OTC showing the July 22 spike in perspective.
Graphic provided by: Freestockcharts.com.
There are a myriad of hurdles to bringing new energy technology to market. Utilities are regional in nature with very different policies. Some allow customers to produce their own energy and even sell it back to the grid through various Net Metering programs so that the regulatory roadblocks can be substantial and take years to overcome. Technologically, the power from solar energy must be tied to existing circuits, which in the case of a high-rise would be thousands of new wiring connections back to power panels. It would be far less complicated to incorporate this technology into new construction.

Technically speaking, this stock got my attention because it posted a compelling inverse Head & Shoulders pattern which was confirmed with the huge 70+% one-day rally up through the neckline at $3.23. It gave back 16% the following day but the pattern remains valid as long as the neckline holds.

Given that SolarWindow trades on the Pinks and has experienced huge price swings combined with the unknowns regarding when it will start to market their windows, WNDW must be considered highly risky. Low priced stocks don't often lend themselves to reliable technical analysis so it remains to be seen where it goes from here. Before the July 22 rally, the 50-day moving average of volume was just 44,256 shares. Volume on July 21 was just 15,100 so getting in and out with a narrow bid-ask price spread could be challenging.

I have been watching this company for more than two years and do not own it. It bears watching from here to see if the company can deliver on its vision. If so, the sky is the limit as to where the stock could go. As always, best to wait for the next confirmed buying signal and insure that stops are in place to protect profits.


Suggested Reading:
New Video: Look Through Our Most Transparent Electricity-Generating SolarWindow(TM), Ever
SolarWindow Technology page
SolarWindow SEC Form 10-Q Financial Report May 31, 2020
---
Matt Blackman
Matt Blackman is a full-time technical and financial writer and trader. He produces corporate and financial newsletters, and assists clients in getting published in the mainstream media. Matt has earned the Chartered Market Technician (CMT) designation. Follow Matt on Twitter at www.twitter.com/RatioTrade
Title:
Author
Company:
TradeSystemGuru
Address:
Box 2589
Garibaldi Highlands, BC V0N1T0
Phone # for sales:
6048989069
E-mail address:
indextradermb@gmail.com

Traders' Resource Links

TradeSystemGuru has not added any product or service information to TRADERS' RESOURCE.
---
Click here for more information about our publications!
PRINT THIS ARTICLE