PRINT THIS ARTICLE
HIST. VOLATILITY
---
Ballard Power - Hydrogen Fuel Poster Child?
07/23/20 04:46:33 PM
---
by Matt Blackman
---
This company has a 41 year history developing hydrogen power. Its stock chart speaks volumes.
Security:
BLDP
Position:
N/A
Hydrogen fuel-cell technology company Ballard Power Systems (BLDP) has a vision to "deliver fuel cell power for a sustainable planet," according to its website. On June 13, 2020, the stock opened just shy $21. It was the first time it had traded north of $20 since June 2002.

First launched on the Nasdaq in 1995, BLPD surged above $20 in 1998, briefly flirting north of $100 in 2000-1. It then began a jagged but protracted decline that would ultimately take the stock down to near $1.00/share in 2015 before staging a number of rallies which finally took the stock back above $15 in mid-2020.

But even after more than 40 years in business, earnings have proven persistently elusive. In its most recent financial filing, Ballard posted an annual earnings loss of $13.7 million or $0.02/share on sales of $118.6 million.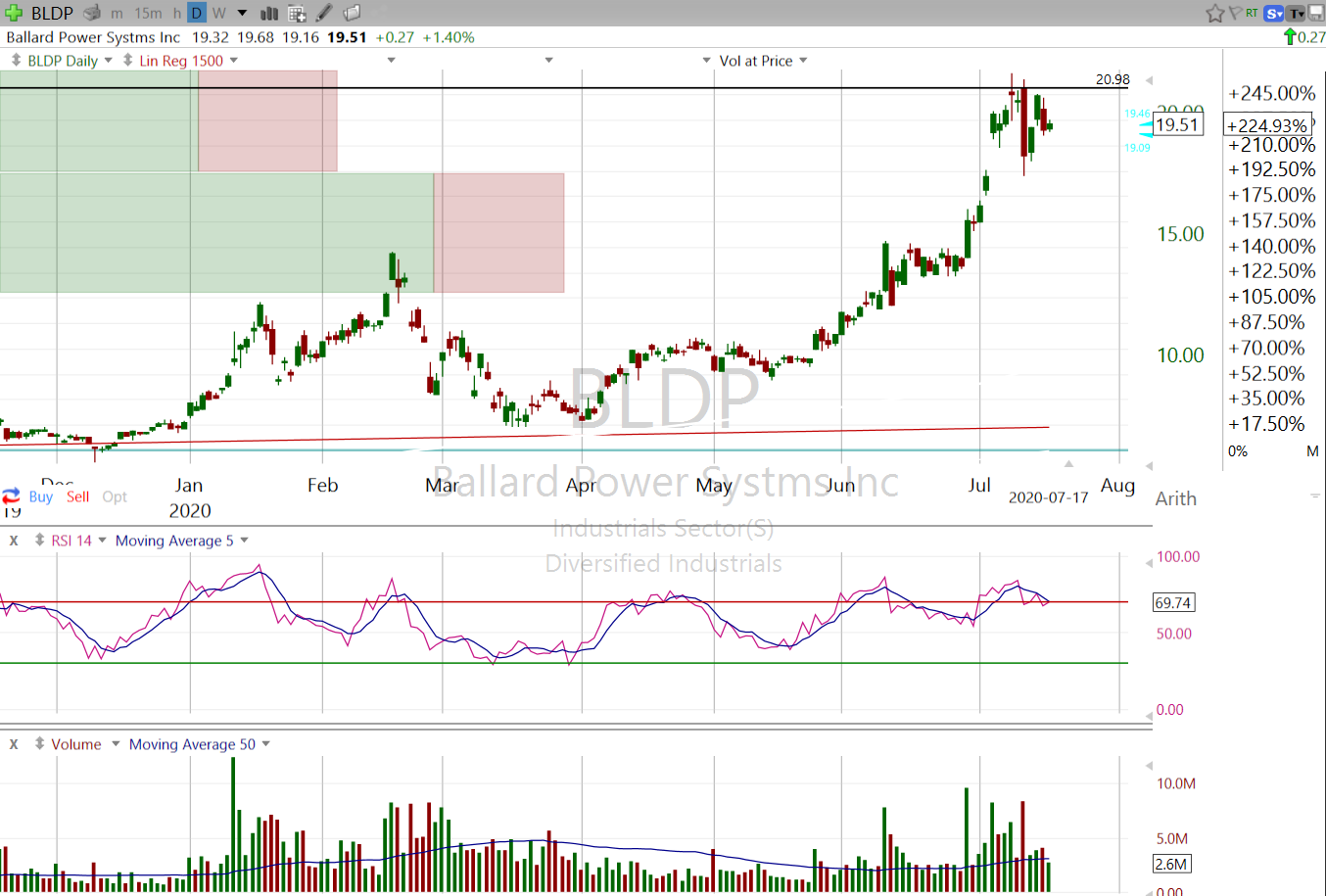 Figure 1. Daily chart of Ballard Power showing the July 2020 run above $20 together with the long-term linear regression "fair value" line (red) at $6.98.
Graphic provided by: Freestockcharts.com.
As outlined in Nicola Corp - Where To Next? (see link below), there are a number of technical and market challenges to bringing renewable hydrogen to mass market that have yet to be solved - the biggest is that more than 99% of hydrogen available today is from expensive non-renewable fossil fuel sources.

However, as the rally of a number of stocks in this space attest, hope springs eternal. A recent article (see link below) detailed how renewable (green) hydrogen could become cost competitive with fossil-fuel derived hydrogen by 2030 using electricity from solar and wind. There is also growing hope that clean hydrogen could be generated from non-productive and abandoned oil and gas wells to produce the gas while leaving CO2 in the ground for a fraction of the cost that grey fossil-fuel generated hydrogen costs today (see link below). Interestingly, a technology being developed by Canadian company Proton Technologies is included in a blog on the Ballard.com website. Could Proton become a Ballard acquisition or joint-venture target?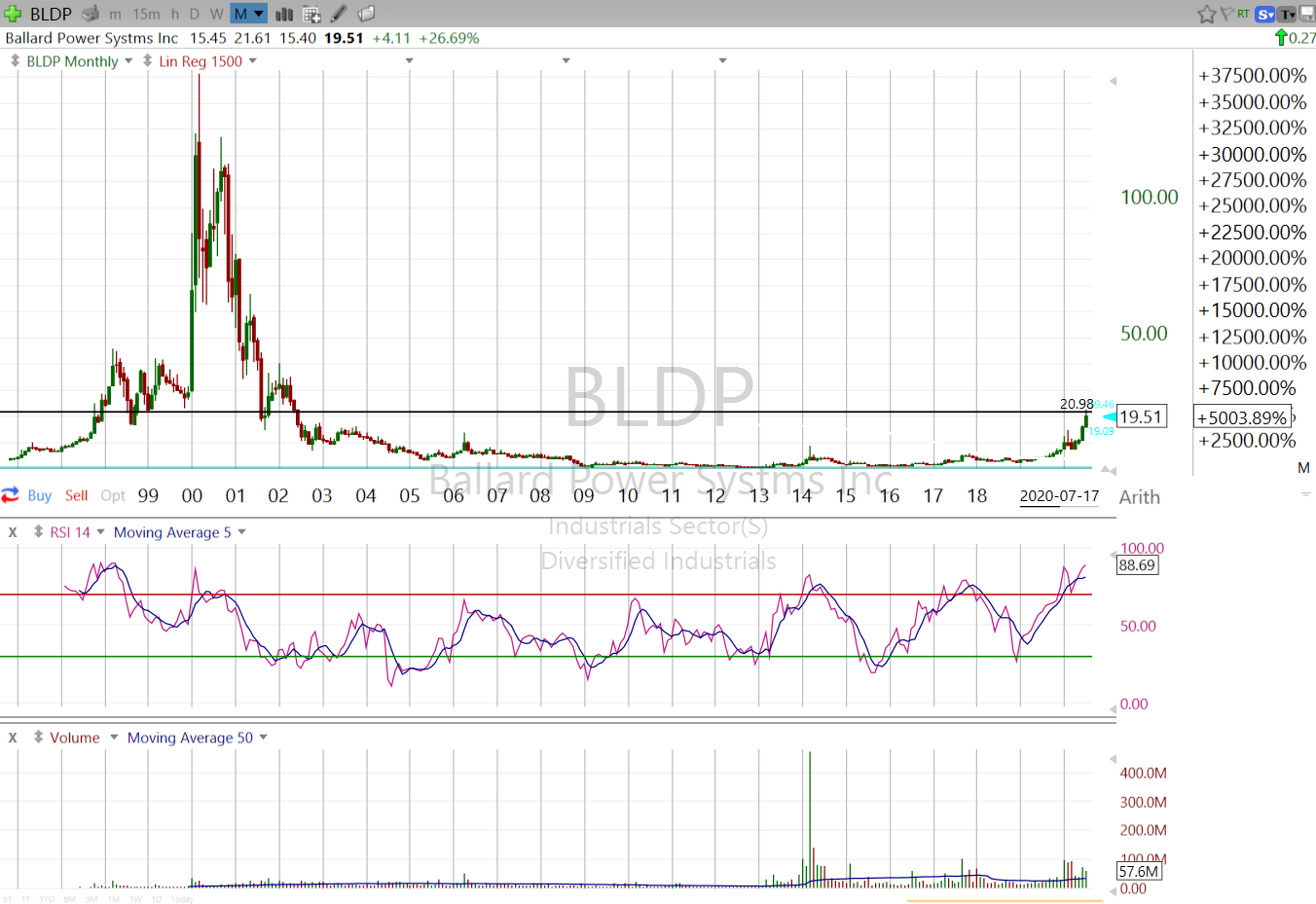 Figure 2. Monthly chart of Ballard Power Systems from Nasdaq launch to mid-July 2020 showing the huge run-up in early 2000 and subsequent moribund performance leading up to 2020.
Graphic provided by: Freestockcharts.com.
As the 1500-day linear regression line shows (Figure 1), BLDP has been engaged in a long-term, albeit slow, uptrend over the last decade with a number of false starts and is overvalued using current linear regression price of $6.95 as "fair value." And given the myriad of technical, financial and market challenges facing companies in this space and clean hydrogen fuel adoption in general over the next decade I would expect yet another price retracement and better buying opportunity.

But a nagging question remains. How much more euphoric could investors get in the mean time given the rising hydrogen energy optimism as evidenced by the frothy stock action in Ballard, Nicola Inc and other companies in this space?


Suggested Reading
Ballard Power - Our Vision
Nicola Corp - Where To Next? (07/16/20)
Hydrogen from Renewable Energy Could Be Cost Competitive By 2030
Scientists extract hydrogen gas from oil and bitumen, giving potential pollution-free energy
Transforming Oil Wells Into Carbon Free Hydrogen Sources (Ballard Blog)
---
Matt Blackman
Matt Blackman is a full-time technical and financial writer and trader. He produces corporate and financial newsletters, and assists clients in getting published in the mainstream media. Matt has earned the Chartered Market Technician (CMT) designation. Follow Matt on Twitter at www.twitter.com/RatioTrade
Title:
Author
Company:
TradeSystemGuru
Address:
Box 2589
Garibaldi Highlands, BC V0N1T0
Phone # for sales:
6048989069
E-mail address:
indextradermb@gmail.com

Traders' Resource Links

TradeSystemGuru has not added any product or service information to TRADERS' RESOURCE.
---
Click here for more information about our publications!
Comments
Date:
 08/02/20
Rank:
 4
Comment:
PRINT THIS ARTICLE