PRINT THIS ARTICLE
ACCELERATION
---
BlackRock - New Financial Sector Leader?
06/12/20 04:51:01 PM
---
by Matt Blackman
---
It's been a tough year for financial stocks, especially banks — the sector dropped 48% between January and the third week in March.
Security:
BLK
Position:
N/A
As of the first week in June, banks were still down 25%. Meanwhile Blackrock Incorporated (BLK), the world's biggest fund manager, was up slightly on the year, which may not seem like much but compared to the bank sector, that's rock star performance. While the Asset Management industry gained 12% from the March bottom (see purple line in Figure 2), industry member Blackrock jumped 71% over the same period.

Why the outperformance? One reason could be that back in January, Blackrock CEO Larry Fink publicly declared that the "evidence of climate risk is compelling investors to reassess core assumptions about modern finance" and warned that "there would be a significant reallocation of capital." He announced that Blackrock would remove companies that generate more than 25% of their revenues from coal from it's actively managed portfolios. This fossil fuel divestment move is a "fantastic start" according to the Sunrise Project manager, and is significant given that BLK handles approximately $7 trillion on behalf of investors, one-quarter of which are actively managed according to NPR.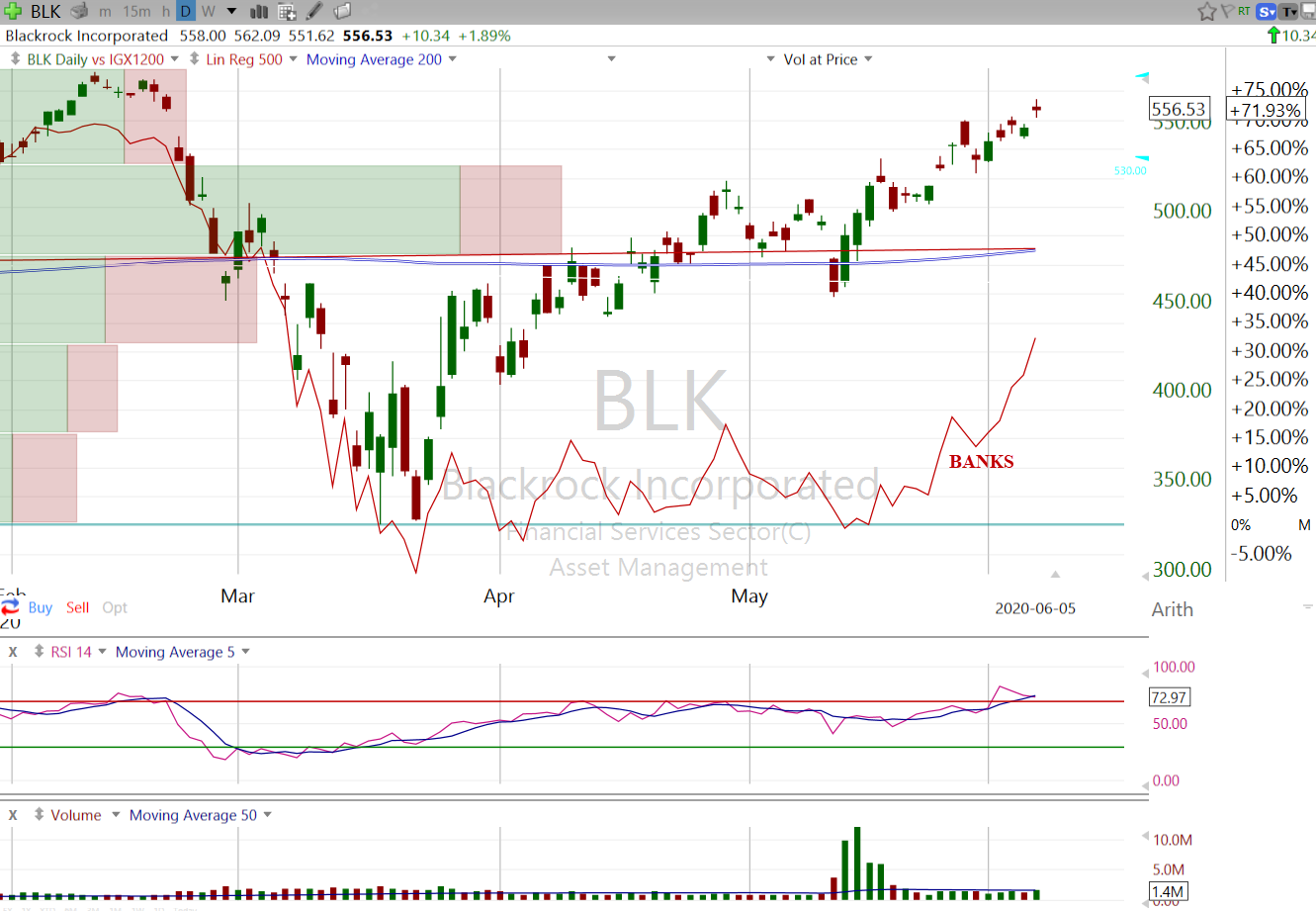 Figure 1. Daily chart of Blackrock Incorporated compared to the Banking sector and 1500 period linear regression line.
Graphic provided by: Freestockcharts.com.
His timing could not have been better. Little more than three months later, crude oil prices dropped below zero for the first time in history. But was this just a lucky guess? Probably not.

"Two thirds of the value of the world's oil and gas reserves — totalling $25trn — could be wiped out as the energy transition disrupts the entire fossil-fuel system, with profound ramifications for financial markets and geopolitics," according to a June 4 article that discussed a Carbon Tracker recent report.

Report author Kingsmill Bond was quoted as saying, "We are witnessing the decline and fall of the fossil fuel economy. Technological innovation and policy support is driving peak fossil fuel demand in sector after sector and country after country, and the Covid-19 pandemic has accelerated this. We may now have seen peak fossil fuel demand as a whole."

"This is a huge opportunity for countries that import fossil fuels which can save trillions of dollars by switching to a clean energy economy in line with the Paris Agreement. Now is the time to plan an orderly wind-down of fossil-fuel assets and manage the impact on the global economy rather than try to sustain the unsustainable."

Influencers like Ken Fink appear focused on getting ahead of the investment curve.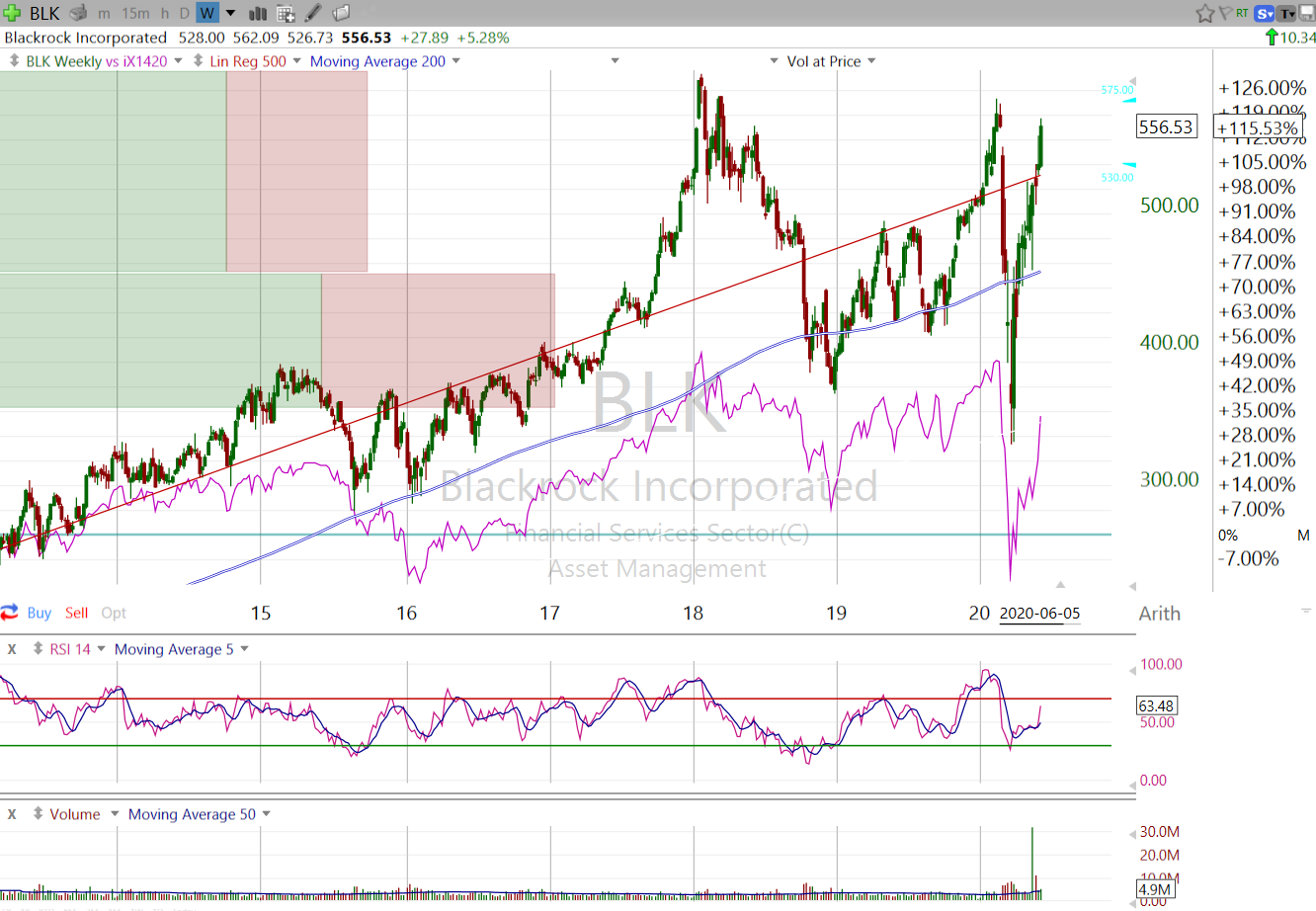 Figure 2. Weekly chart of BLK together with its Asset Management industry (purple line) over the last eight years. The red linear regression line shows long-term fair value.
Graphic provided by: Freestockcharts.com.
Fundamentally, BLK paid a dividend of $3.63 to shareholders of record as of 06/05/20 and began trading ex-dividend on 06/04/20. It saw earnings per share rise 43% in the latest quarter, up nearly 7% over the last year. More than 83% of BLK shares are held by insiders.

From a technical perspective, BLK has put in a strong V-type recovery and looks on course to post new 2020 highs. Active investors and traders can look to buy weakness if there is any and use bullish chart patterns to add to positions. As always, a well-written trading plan that includes pre-determined stop losses and profit targets is essential to long-term success.


Suggested Reading
Fossil Fuels Vs. Clean Energy: Time To Shift Your Money?
World's Largest Asset Manager Puts Climate At The Center Of Its Investment Strategy
Energy transition 'to wipe $25trn off the value of fossil-fuel reserves'
BlackRock is the new king of Wall Street as banks get pummeled
Clean Technology Growth And Yield
https://finance.yahoo.com/quote/BLK/profile?p=BLK
https://finance.yahoo.com/news/hedge-funds-souring-blackrock-inc-205308608.html
---
Matt Blackman
Matt Blackman is a full-time technical and financial writer and trader. He produces corporate and financial newsletters, and assists clients in getting published in the mainstream media. Matt has earned the Chartered Market Technician (CMT) designation. Follow Matt on Twitter at www.twitter.com/RatioTrade
Title:
Author
Company:
TradeSystemGuru
Address:
Box 2589
Garibaldi Highlands, BC V0N1T0
Phone # for sales:
6048989069
E-mail address:
indextradermb@gmail.com

Traders' Resource Links

TradeSystemGuru has not added any product or service information to TRADERS' RESOURCE.
---
Click here for more information about our publications!
Comments
PRINT THIS ARTICLE