PRINT THIS ARTICLE
DIVIDEND YIELD
---
Clean Technology Growth And Yield
05/29/20 02:05:55 PM
---
by Matt Blackman
---
As investors increasingly search for sustainable Environmental Social Governance (ESG) companies, here's one that fits the bill, has great growth prospects and pays a dividend.
Security:
AY
Position:
N/A
In my continuing search for companies that are leading the 4th Industrial Clean Technology Revolution, the challenge with many is that they don't often pay dividends. Atlantica Yield Plc. (AY) currently pays a 6.98% annual yield so was therefore a welcome discovery.

According to the company's website, it is a "climate change solution company," that owns and manages renewable energy, efficient natural gas, transmission and transportation infrastructures and water assets. Projects produce 1,496 MW of aggregate renewable energy installed generation capacity, 343 MW of efficient natural gas-fired power generation capacity, 1,166 miles of electric transmission lines and 10.5 Mft3 per day of water desalination assets. Given that natural gas is not renewable, its list of assets includes just two gas-fired cogeneration facilities in a list of 25 operations, so a small portion of its overall energy assets. Its Accretive Growth Strategy outlines a number of new projects and acquisitions in the works for the company that will add to the bottom line (see corporate links below).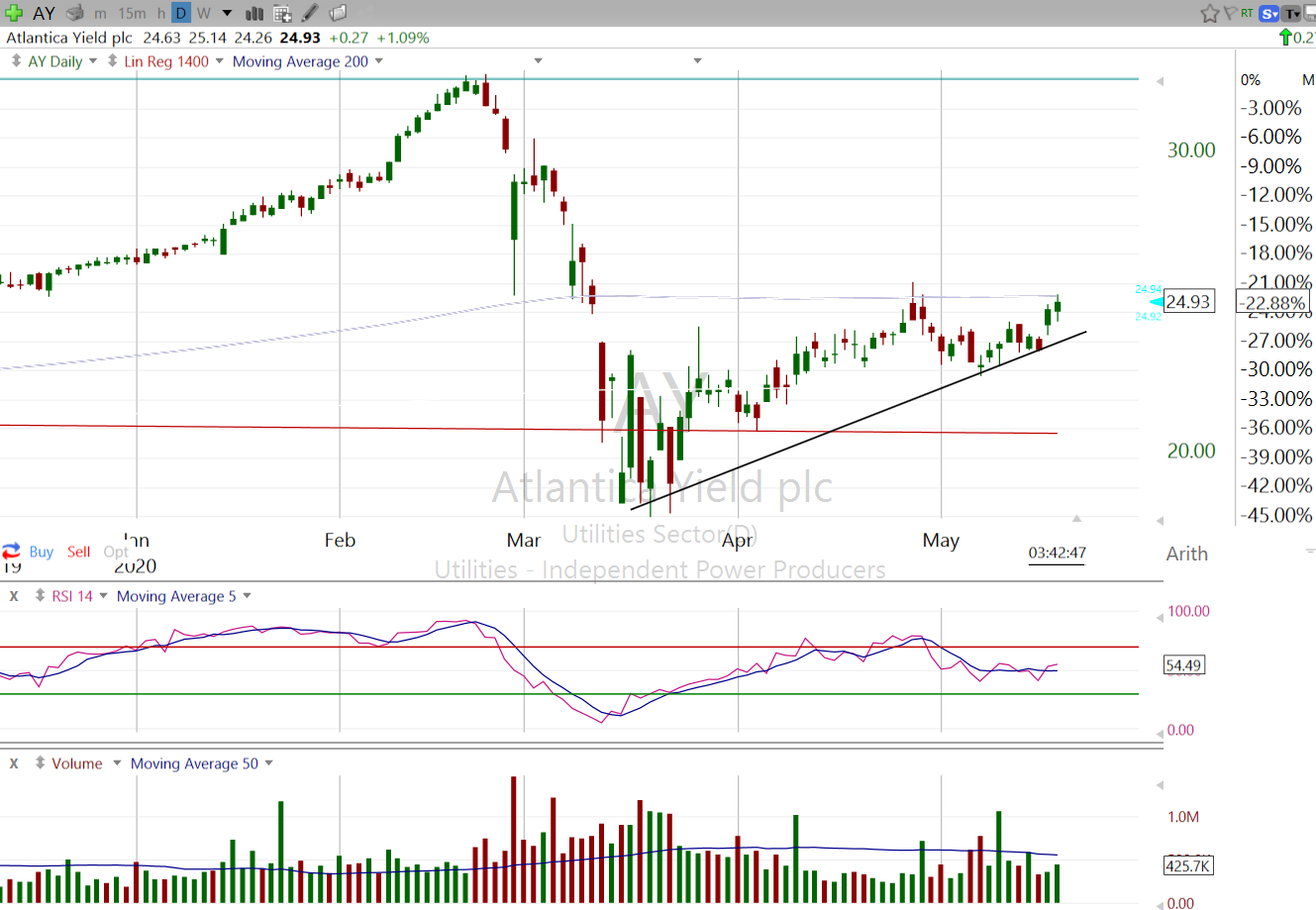 Figure 1. Daily chart of Atlantica Yield Plc. showing the 45% drop from its February highs then 50% retracement. As we see from the red almost horizontal 1400 period linear regression line, the stock is trading slightly above "fair price" on a long-term basis.
Graphic provided by: Freestockcharts.com.
Fundamentally, the company has total assets of $10.2 billion and $72.1 million total net income in the latest year with an impressive gross margin of 95.41% with more than 86% of shares owned by institutions. According to Q1-2020 financial report, AY declared a net loss for the quarter of $40.5 million, partly due to a drop in power production in Spain and South Africa, the latter due to a fire at the facility combined with currency translation losses.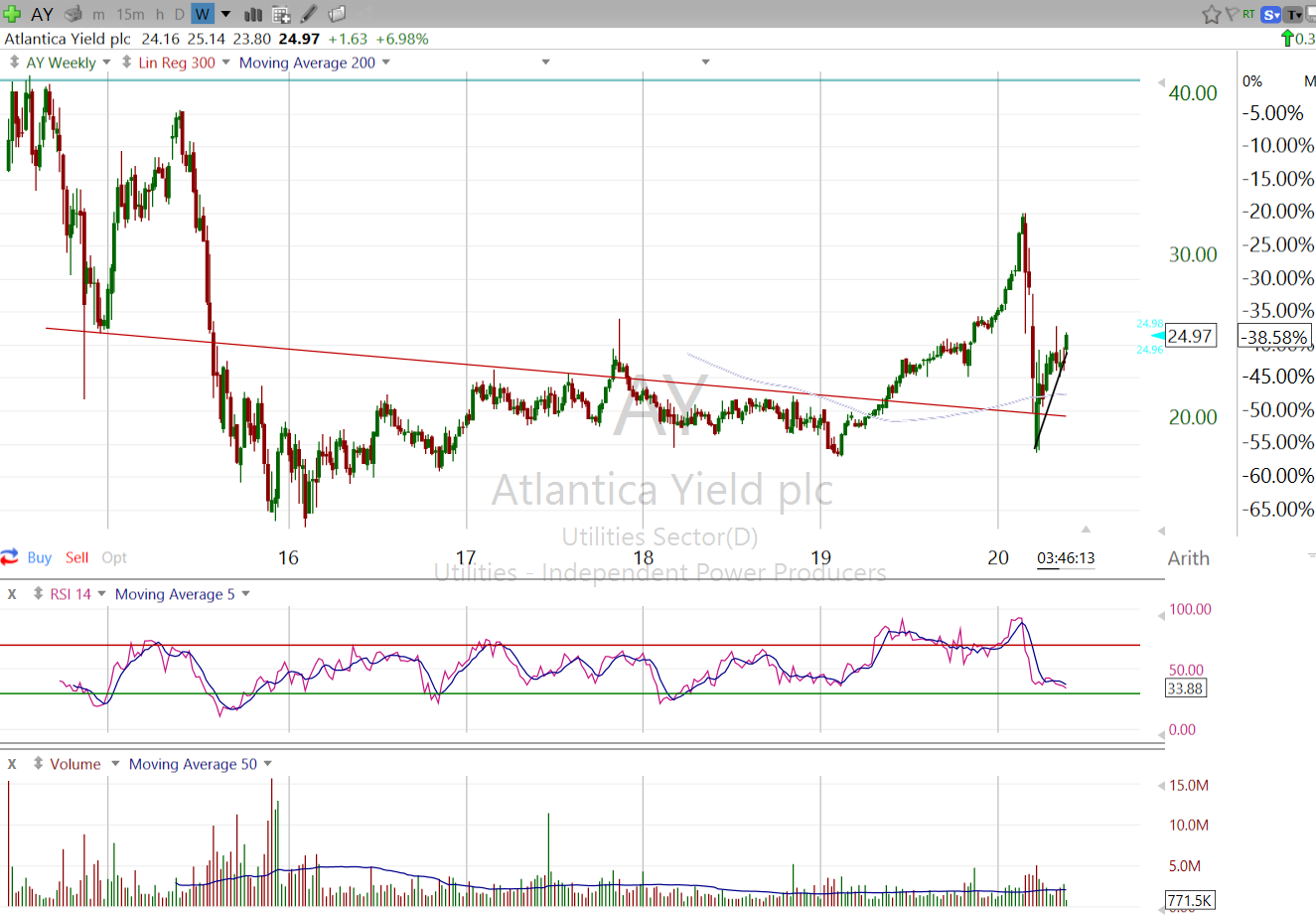 Figure 2. Weekly chart of AY showing long term performance.
Graphic provided by: Freestockcharts.com.
The big attraction for this clean tech company is that it currently pays a quarterly dividend of $0.41. And according to its latest financials, cash available for distribution increased by 5.4% year-over-year up to $47.6 million in Q1-2020.

Technically speaking AY looks to be building a slow and steady base from its March lows having retraced 50% of this drop as of mid-May. But the aspect of getting paid to wait is also attractive to traders looking for a longer-term hold. In short, here is an ESG company with the trifecta of strong, sustainable growth potential, is a defensive sector stock and one that pays you while you're waiting.

As always, it's essential no matter what your time horizon to have a carefully constructed trading plan with entries and exits that both maximize profit potential and protect principal.


Suggested Reading:
Fossil Fuels Vs. Clean Energy: Time To Shift Your Money?
Atlantica Yield Assets
Atlantica Yield 2020 Financial Results Summary
---
Matt Blackman
Matt Blackman is a full-time technical and financial writer and trader. He produces corporate and financial newsletters, and assists clients in getting published in the mainstream media. Matt has earned the Chartered Market Technician (CMT) designation. Follow Matt on Twitter at www.twitter.com/RatioTrade
Title:
Author
Company:
TradeSystemGuru
Address:
Box 2589
Garibaldi Highlands, BC V0N1T0
Phone # for sales:
6048989069
E-mail address:
indextradermb@gmail.com

Traders' Resource Links

TradeSystemGuru has not added any product or service information to TRADERS' RESOURCE.
---
Click here for more information about our publications!
PRINT THIS ARTICLE