PRINT THIS ARTICLE
VOLATILITY
---
Renewable Energy Group on a Tear
02/27/20 03:58:10 PM
---
by Matt Blackman
---
The stock suffered a big drop in 2019 but looks to be reaching for new highs.
Security:
REGI
Position:
N/A
There are three factors in the plus column for Renewable Energy Group (REGI). It is the largest biodiesel manufacturer in the US, with 14 bio-refineries and a feedstock processing facility. It is also an ESG (environmental, social, governance) company. ESG funds now have assets worth over $30 trillion under management across the globe, according to Nasdaq.com.

Finally, from a technical standpoint, the stock looks to be breaking out of bull flag pattern that started building in December 2019. It has been in a strong uptrend and is up an impressive 174% since its low in August 2019.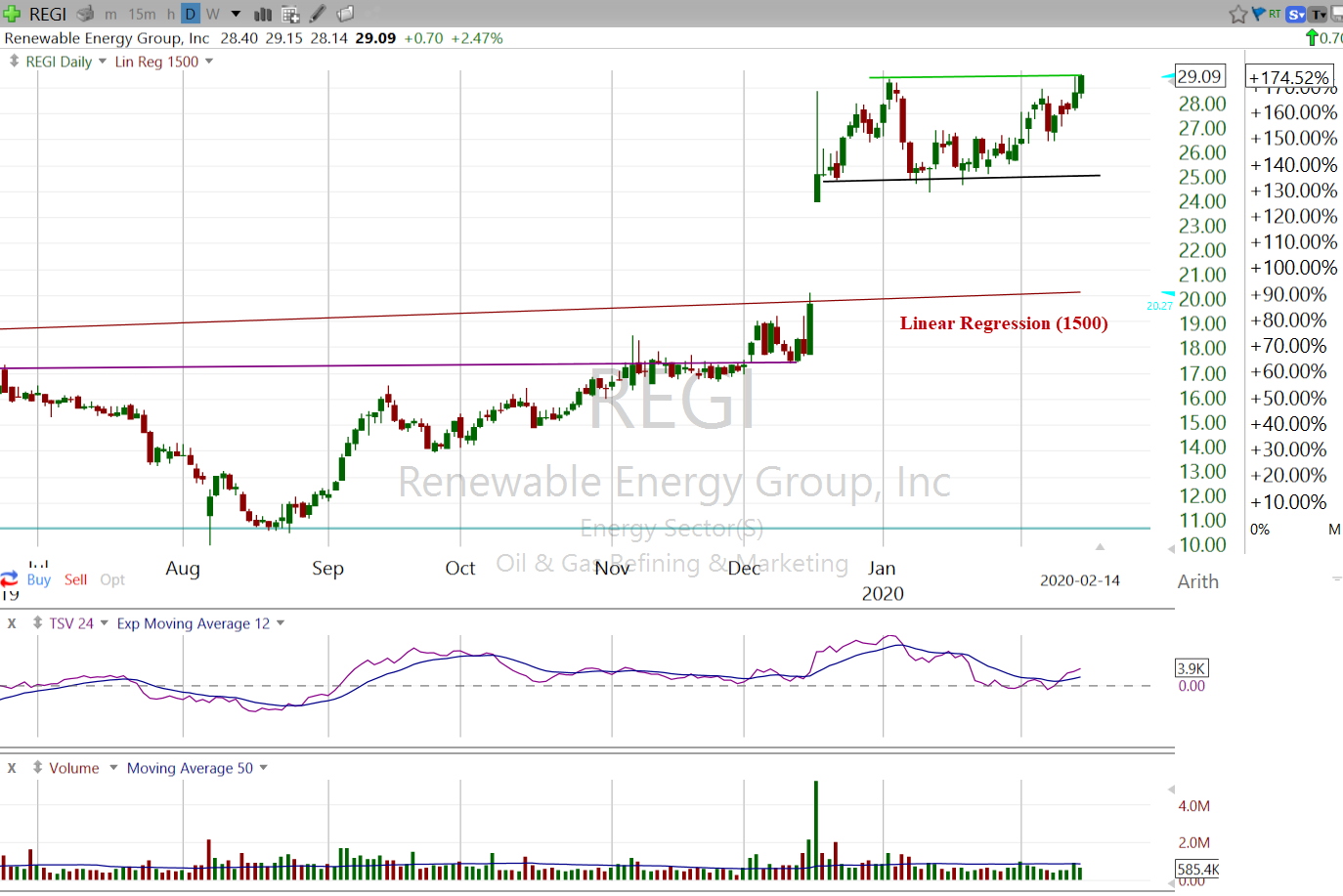 Figure 1. Daily chart of Renewable Energy Group (REGI) showing the bull flag pattern and 1500 period linear regression line (red).
Graphic provided by: Freestockcharts.com.
REGI was one of two ESG stocks discussed in a February 2 article at Nasdaq.com entitled "2 Environmentally Friendly Stocks to Buy as Climate Crisis Intensifies" that also referenced solar panel provider SunRun (RUN). Both companies had strong buy ratings.

Another interesting article on the topic, entitled "13 ESG Investing Trends to Watch for in 2020", appeared in Barron's January 30. First on the list was entitled "Climate becomes first among equals in ESG." It outlined how at this year's World Economic Forum held in Davos, all five top risks facing global economies and markets were identified as climate-related. Extreme weather risk earned top spot.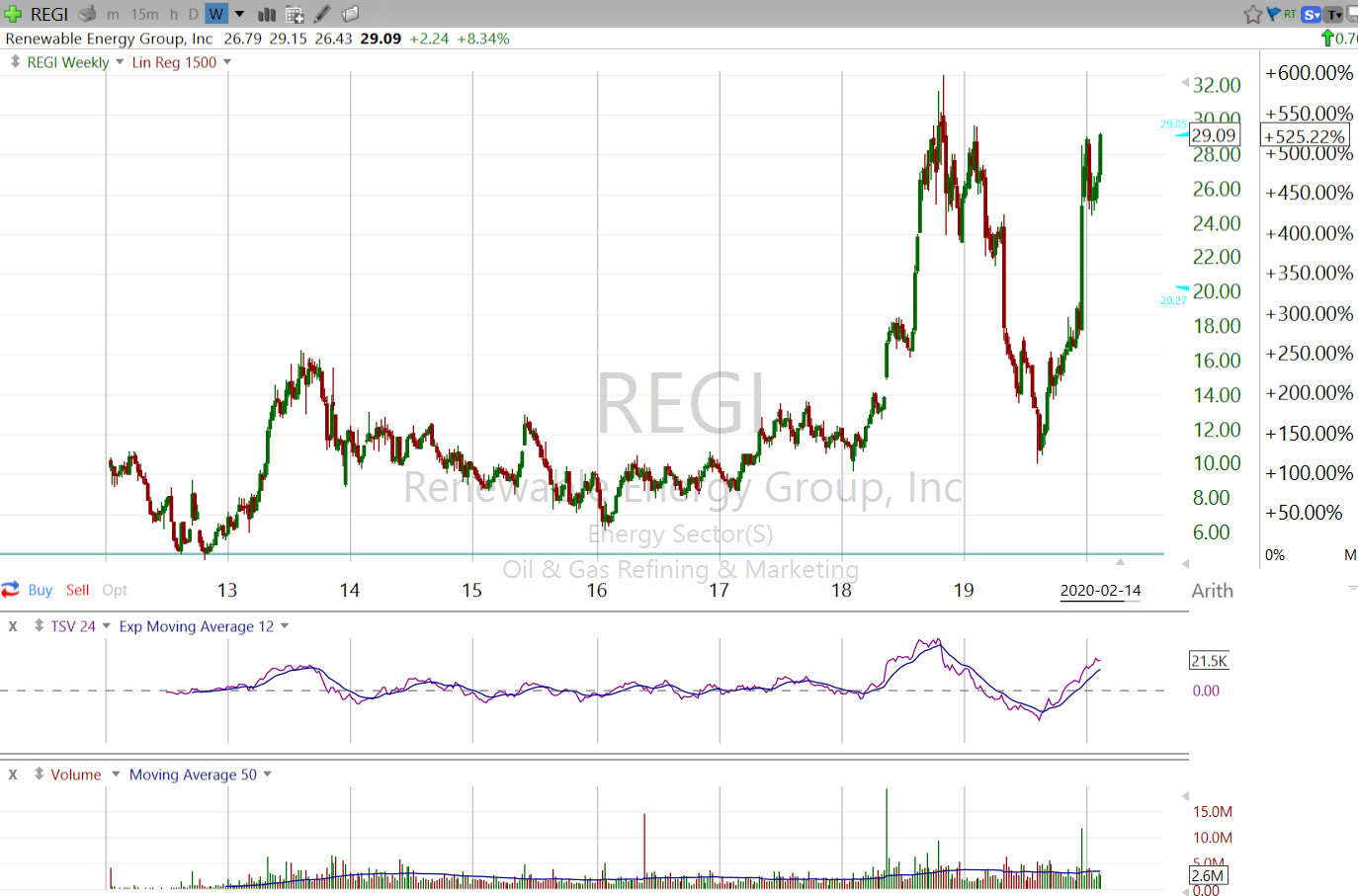 Figure 2. Weekly chart of REGI from its IPO in 2012 and strong, if somewhat volatile, performance since 2018.
Graphic provided by: Freestockcharts.com.
Anyone who thinks we are in a short-lived green investment bubble that will burst and markets will return to their former oil-loving glory, may be in for a big surprise.

Granted green stocks like Tesla have seen gargantuan rallies of late and are probably due for serious corrections at some point.

Yes, stocks in the 4th industrial revolution clean energy and technology space have experienced extreme volatility and will likely continue to do so, just like their internet counterparts in the late 1990s and early 2000s. But as occurred following that bubble, companies such as Amazon, Google, and Apple survived the mayhem and have done very well since it burst.

Only time will tell how well green stocks will do going forward, but one thing is clear &mdasg; The world is moving to cleaner, more efficient and less expensive forms of energy and transportation and that trend will most certainly continue to make savvy traders and investors money.


Recommended Reading:

Seasons in the Sun - Sourcing New Economy Winners and the Best Times to Trade Them

In Search of Fossil-Fuel Free Returns

2 Environmentally Friendly Stocks to Buy as Climate Crisis Intensifies

13 ESG Investing Trends to Watch for in 2020 (Subscription req)




---
Matt Blackman
Matt Blackman is a full-time technical and financial writer and trader. He produces corporate and financial newsletters, and assists clients in getting published in the mainstream media. Matt has earned the Chartered Market Technician (CMT) designation. Follow Matt on Twitter at www.twitter.com/RatioTrade
Title:
Author
Company:
TradeSystemGuru
Address:
Box 2589
Garibaldi Highlands, BC V0N1T0
Phone # for sales:
6048989069
E-mail address:
indextradermb@gmail.com

Traders' Resource Links

TradeSystemGuru has not added any product or service information to TRADERS' RESOURCE.
---
Click here for more information about our publications!
PRINT THIS ARTICLE