PRINT THIS ARTICLE
LINEAR REG CHANNEL
---
In Search of Fossil Free Returns
02/13/20 04:07:18 PM
---
by Matt Blackman
---
2019 will be remembered as the year that climate awareness moved to front of mind amid calls to reduce our collective carbon foot prints.
Security:
SPYX
Position:
N/A
It is difficult to read the news these days without hearing calls to reduce fossil fuel investments. And unlike in by gone days, we are now hearing more from the investment community.

On January 14, the "world's largest money manager" BlackRock CEO Larry Fink opined that "climate change has become a defining factor in companies' long-term prospects."

"Clients are now asking us more and more questions about climate change," he said.

Even ever-popular stock bull Jim Cramer has joined the fray January 31 commenting that he sees oil stocks in the "death knell phase." Both Exxon and Chevron had just reported disappointing earnings.

"I'm done with fossil fuels ... they're just done. We're starting to see divestment all over the world," Cramer said on CNBC's Squawk Box. "You're seeing divestiture by a lot of different funds. It's going to be a parade. It's going to be a parade that says, 'Look, these are tobacco and we're not going to own them.'"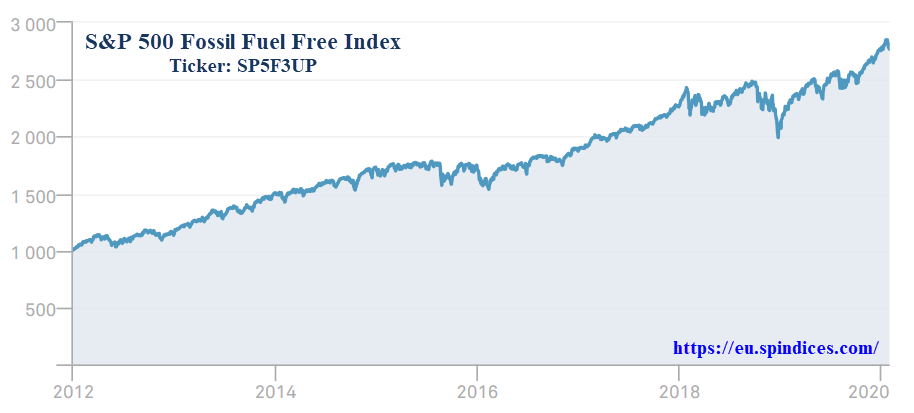 Figure 1. S&P 500 Fossil Fuel Free Index (SP5F3UP) which is up 277% since introduced at 1000 in December 2011.
Graphic provided by: https://eu.spindices.com.
In my latest TASC article, Fossil Fuels Versus Clean Energy: Time to Shift Your Money? I compared the long-term performance of twenty-something fossil fuel stocks versus a similar number of clean technology stocks between January 2014 and August 2019 that included a spreadsheet of stocks in the clean energy space.

Shortly after it was published, I received an email asking what exchange traded funds (ETFs) were available in the clean energy space. Currently, the list is short but it is growing and examples include ALPS Disruptive Technologies ETF (ALPS), Guggenheim Solar ETF (TAN), the iShares Global Clean Energy ETF (ICLN), the Invesco WilderHill Clean Energy ETF (PBW) and First Trust Nasdaq Clean Edge Green Energy ETF (QCLN).

Here is one of my favorites — the SPYDR S&P500 Fossil Free ETF (SPYX). Based on the the index of the same name introduced in December 2011 (above chart), the ETF began trading on December 1, 2015 at $50.29. It closed at 79.17 January 31, 2020 for an overall gain of 57.43% (see next chart).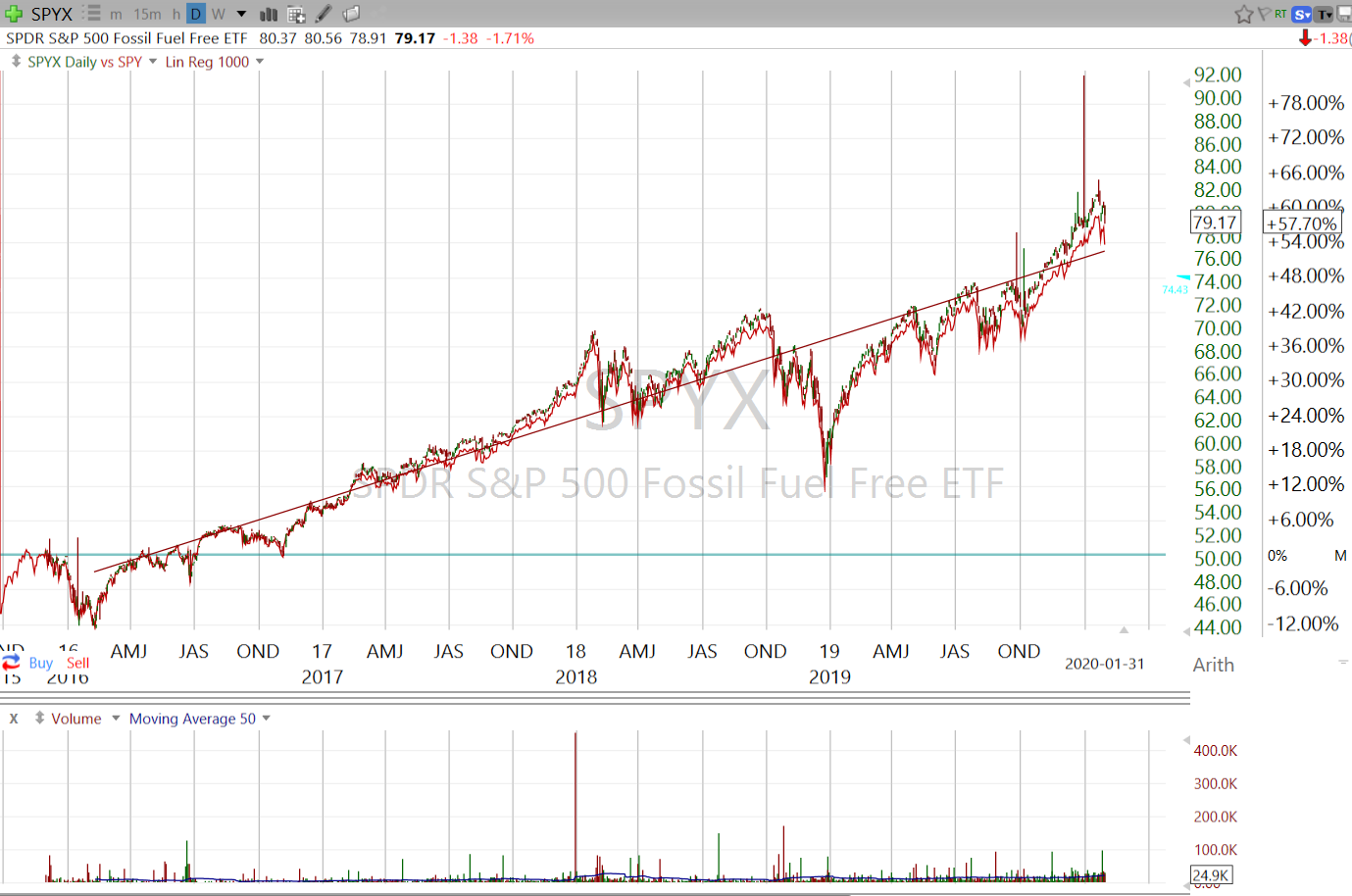 Figure 2. Daily chart of the SPDR S&P500 Fossil Free ETF (SPYX) compared to the S&P500 ETF (SPY).
Graphic provided by: Freestockcharts.com.
What is interesting is that SPYX not only performed as well as the S&P500 (SPY), it outperformed it if ever so marginally.

The obvious take-away is that investing in a fossil fuel-free portfolio of stocks or ETFs need not cost you money as some pundits have contended. This will be especially appealing to a growing number of traders and investors who sleep better at night in the knowledge that their investment dollars are working to reduce emissions while helping create new, more efficient technologies that are driving Industrial Revolution 4.0.



Suggested Reading:
Fossil Fuels Versus Clean Energy: Time to Shift Your Money?


Seasons in the Sun - Sourcing New Economy Winners and the Best Times to Trade Them


Here's how the world's largest money manager is overhauling its strategy because of climate change


Jim Cramer sees oil stocks in the 'death knell phase,' and says they are the new tobacco.
---
Matt Blackman
Matt Blackman is a full-time technical and financial writer and trader. He produces corporate and financial newsletters, and assists clients in getting published in the mainstream media. Matt has earned the Chartered Market Technician (CMT) designation. Follow Matt on Twitter at www.twitter.com/RatioTrade
Title:
Author
Company:
TradeSystemGuru
Address:
Box 2589
Garibaldi Highlands, BC V0N1T0
Phone # for sales:
6048989069
E-mail address:
indextradermb@gmail.com

Traders' Resource Links

TradeSystemGuru has not added any product or service information to TRADERS' RESOURCE.
---
Click here for more information about our publications!
PRINT THIS ARTICLE