As the chart shows, Cisco ran into a previous resistance level from last August and proceeded to make a small double top. The correction that followed more than fulfilled that topping formation by measurement (the double top to trough is about $1 vs. the $1.70 actual decline from the trough) as two previous gaps were filled. When a stock gets ahead of itself it often comes back down to fill previous gaps before resuming its advance.


By drawing the previous trendline that was broken to the upside by the last advance, we have a support target. So far this support area has held. Note that this trendline also coincides with CSCO's 50-day moving average, currently at 12.91. This combined support should be a significant level. This move back down to the trendline illustrates the principal of "what was resistance becomes support."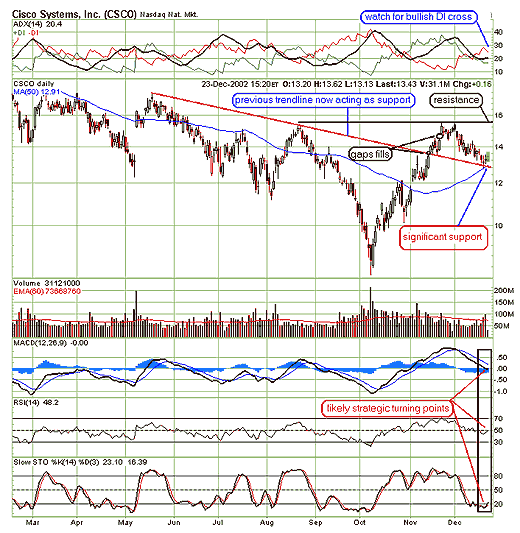 Graphic provided by: StockCharts.com.
The displayed indicators show the promise of support but need improvement reinforce this chart's bullish intent. The directional movement indicator ADX/DI shows an improving but still bearish setup: -DI is starting to weaken as +DI has stopped declining. If bullishness continues, these DIs will converge further and may eventually cross, adding additional bullish power. Meanwhile the MACD (moving average convergence/divergence) indicator shows the chance of a reversal at or near the zero line. Likewise the RSI index shows an uptick to the 50-percent level. A move above this 50-percent level would be bullish just as refusal to do so is bearish. This 50-percent level often marks turning points. The stochastics oscillator shows an attempt to move past an oversold situation. This indicator needs to build momentum past this 20-day level to reflect bullish improvement.


At this point Cisco is a buy for aggressive traders anticipating further bullishness as hinted by this chart. Resistance levels going forward from here are $14, gap resistance at $14.50, and finally the previous top that occured around $15.45.

Reversals at any of these points may lead to another test of the lower trendline. Two suggested "uncle" points for longs selling their positions on weakness would be a move under the 50-day moving average or a move below the red trendline, should this early bullishness fail. Otherwise short-term traders can target those upside resistance levels to consider locking in profits or simply ride the move up until signs of reversal are met.


Comments
Date:
 12/28/02
Rank:
 4
Comment:
Date:
 12/28/02
Rank:
 4
Comment:
Date:
 12/28/02
Rank:
Comment:
 I think this support will be broken He didn t show triple tops june ,ag, and november The key support level is +-12.25 If broken adjust by fibo retracement dgue@terra.com
Date:
 12/29/02
Rank:
 3
Comment:
Date:
 12/29/02
Rank:
Comment:
 You refer to the 50 day level in the RSI indicator(not index).Since this is a 14 day RSI I believe you mean the 50% level. I do agree with your analysis.
Date:
 12/29/02
Rank:
 5
Comment:
Date:
 01/06/03
Rank:
 5
Comment:
 I like articles that show and describe the analysis of an example chart. Very nice! Thanks!