PRINT THIS ARTICLE
CHART ANALYSIS
---
Weekly Nasdaq Engaged In A Trendline Test
12/12/02 01:11:33 PM
---
by Gary Grosschadl
---
The current hesitantcy in the markets is aptly represented by the Nasdaq's current battle with a multiyear trendline.
Security:
$COMPQ
Position:
N/A
Several weeks ago this index finally managed to surpass a 27-month trendline. Last week it was stopped abruptly with a bearish engulfing candlestick. It is not unusual for a support test shortly after an important line is breached, especially after such a strong multi-week run. Will this support zone hold as the Nasdaq takes a breather and tries to regain strength?


The directional movement indicator on this weekly chart is not giving a hopeful sign. It looked like it was headed for a bullish DI cross and then it refused to cross. This is often a very bearish sign when a cross is either a weak one that soon fails (as was done looking back at Nasdaq 2000) or a "refusal to cross" as this trend indicator is now showing. This shows bullish power has suddenly vanished and the bears once again begin to wrestle for control. Traders begin to feel that this run is overdone and smart money takes profits while others gladly resume short positions in the sectors that have run the hardest-- semi conductors for example.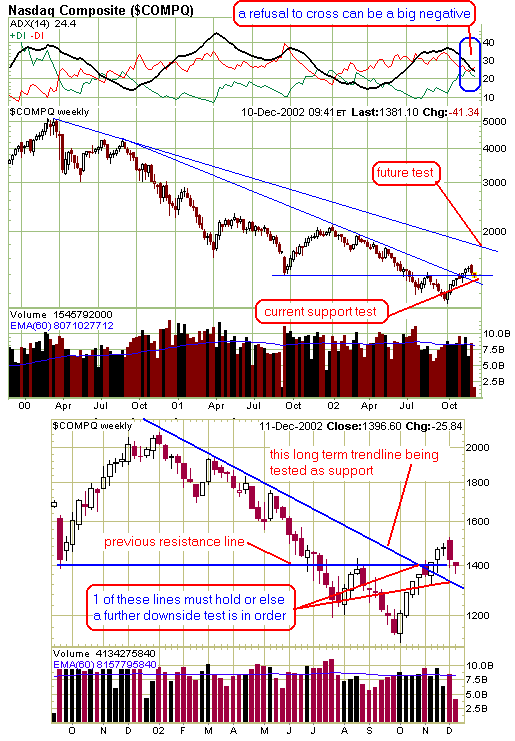 Graphic provided by: StockCharts.com.
At best we are headed for choppy action until this tug of war (no pun intended) between the bulls and bears is resolved - jerky sideways action tainted with uncertainty. At worst this may lead the market back down to re-test previous lows. If the truth lies in the middle, as the saying goes, then quite possibly this index goes down to successfully test support at 1200. Should the market decide to suddenly reverse again and resume a bullish run, then that upper trendline will most likely come into play. This level labelled "future test" is found at the slightly longer term trendline and lies around the 1900 level. Keep this level in mind when this index eventually finds the strength to resume the climb that has been suddenly halted.


---
Gary Grosschadl
Independent Canadian equities trader and technical analyst based in Peterborough
Ontario, Canada.
---
Click here for more information about our publications!
Comments
Date:
 12/12/02
Rank:
 5
Comment:
Date:
 12/12/02
Rank:
 4
Comment:
Date:
 12/17/02
Rank:
 2
Comment:
Date:
 01/01/03
Rank:
 1
Comment:
PRINT THIS ARTICLE