PRINT THIS ARTICLE
TECHNICAL ANALYSIS
---
Price Of Prescription
05/24/18 03:07:06 PM
---
by Koos van der Merwe
---
You are ill. Your Doctor has examined you and written a prescription. You shudder at the price of the medicine you need.
Security:
HDPPH, PFE, CVS
Position:
Sell
Pharmaceutical Companies spend years doing research to discover medicines to cure the health problem one may suffer. Their research is done by highly educated people who have spent a great deal of time and money achieving the knowledge they have. They do not come cheap. Then again, after years of research, the medication they have developed, when tested on volunteers may have side effects that send the medication back to the laboratory for further research. This is one of the reasons the cost of medication may be high. Looking to control the price may not be as easy as expected. Generics, where companies copy a medication after the patent expires, has reduced prices, but the wait for the patent to expire allows pharmaceutical companies to evolve a price for its medication that takes in the cost of the research plus the profit lost when generics reduce the price.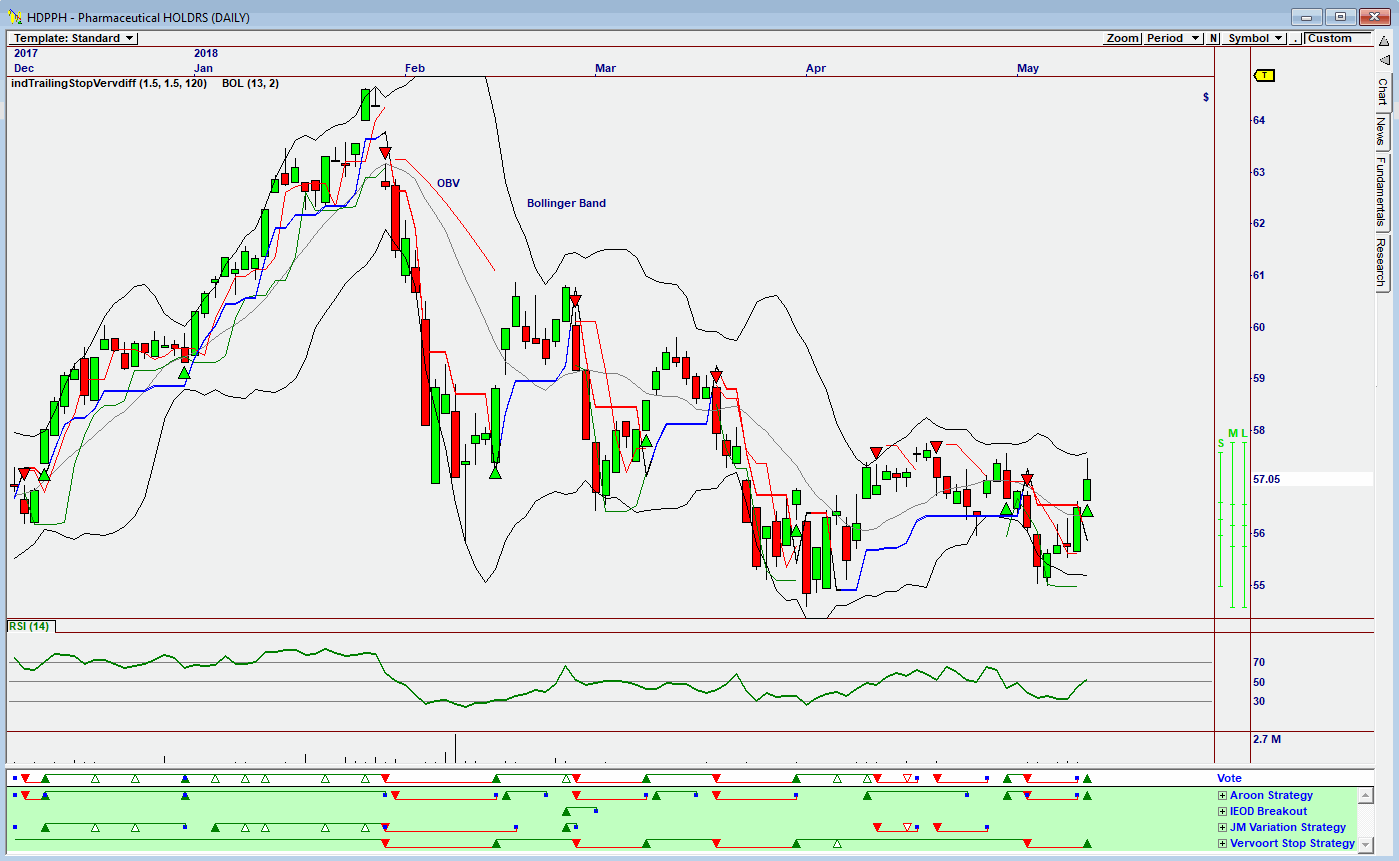 Figure 1. Pharmaceitical Holders Trust.
Graphic provided by: Omnitrader.
Pharmaceutical Holdrs Trust is based out of New York. Issued Depositary Receipts called Pharmaceutical HOLDRs representing undivided beneficial ownership in U.S.-traded common stock of a group of 20 specified companies that are involved in various segments of the pharmaceutical industry. A daily Omnitrader chart is presently suggesting a buy based on the Aroon and Vervoort stop strategies shown in green below the Vote line. The share price is close to testing the upper Bollinger Band suggesting that the price could fall before rising higher.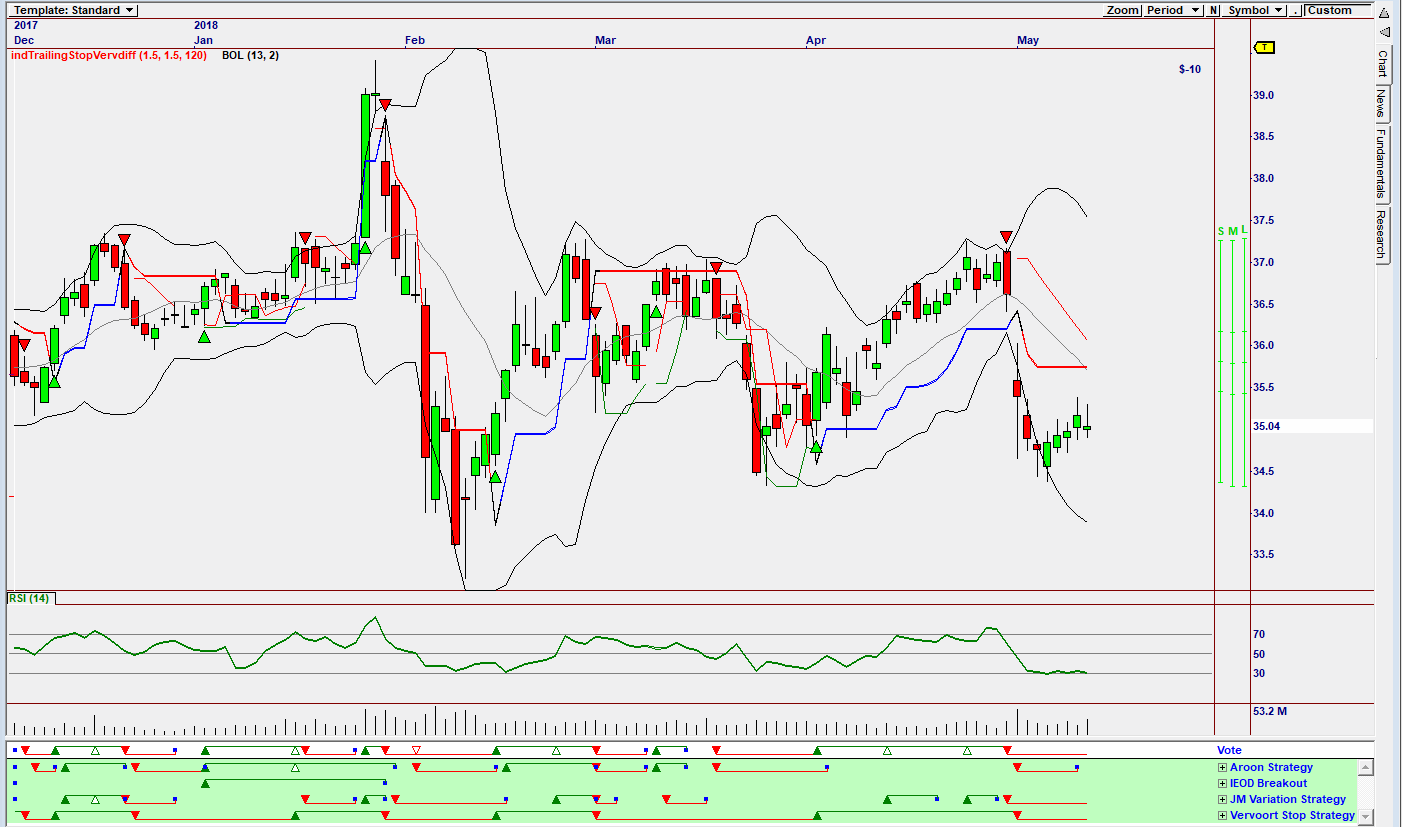 Figure 2. Pfizer Laboratories.
Graphic provided by: Omnitrader.
My chart in Figure 2 is a chart of Pfizer Laboratories. Pfizer is well known for is pharmaceutical research over the years. With the prospect of a lowering of drug prices in the United States of America, this is a company that will probably have to look at restructuring its research laboratories and reduce prices. The chart is still suggesting a sell given on April 30. The RSI Indicator is at oversold levels but has not suggested a buy.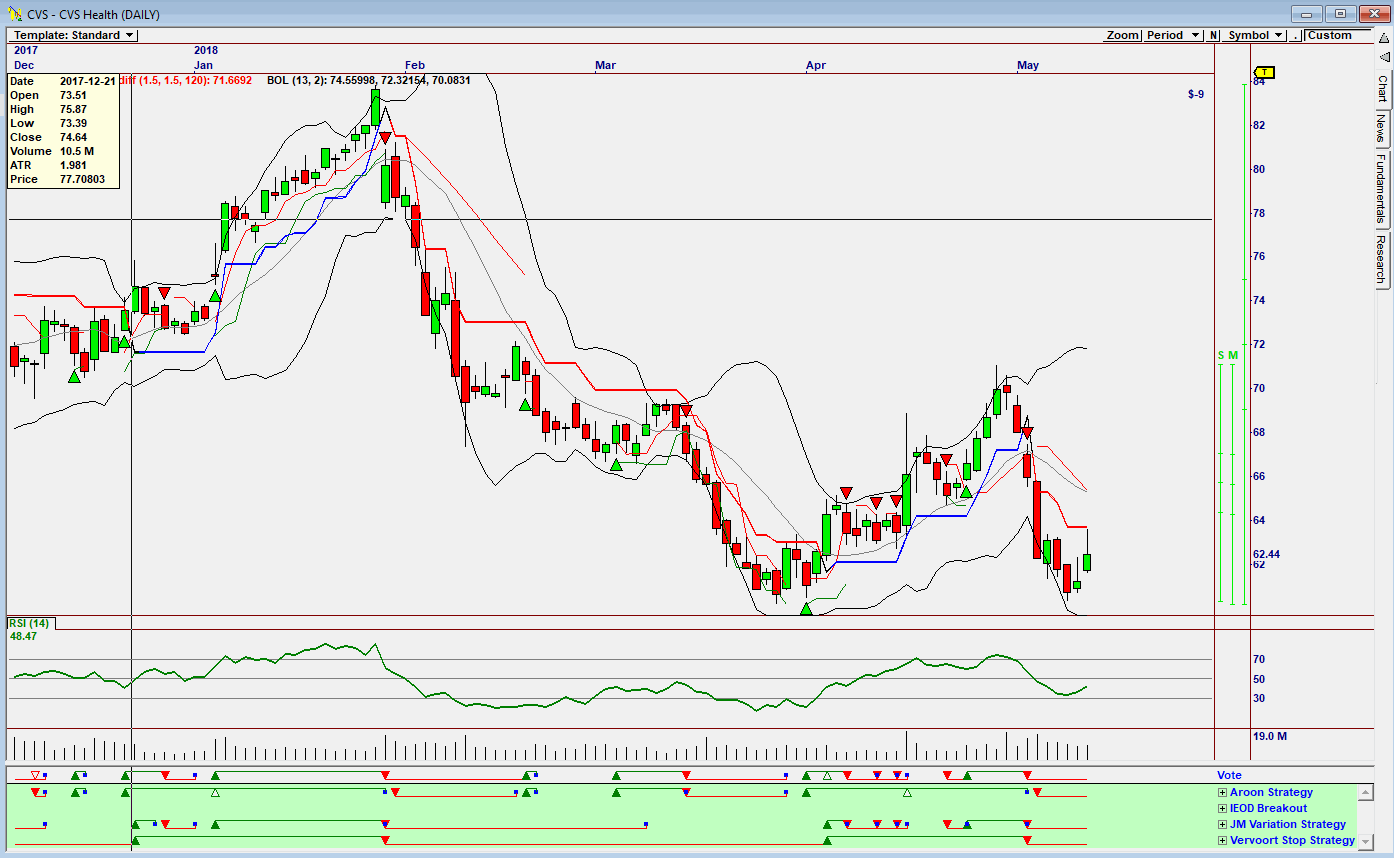 Figure 3. CVS Health.
Graphic provided by: Omnitrader.
The chart in Figure 3 is a chart of CVS Health, one of many generic companies. The Vote line is still suggesting a sell, with the RSI trending down.

With drug prices of prescriptions in Canada much lower than those of the USA, one can see why President Trump will call for legislation to reduce prices. A price reduction will probably slow research into new drugs by pharmaceutical companies, but to what extent depends on management cost control. Watching drug companies for a buy is on the cards.


---
Koos van der Merwe
Has been a technical analyst since 1969, and has worked as a futures and options trader with First Financial Futures in Johannesburg, South Africa.
| | |
| --- | --- |
| Address: | 3256 West 24th Ave |
| | Vancouver, BC |
| Phone # for sales: | 6042634214 |
| E-mail address: | petroosp@gmail.com |
---
Click here for more information about our publications!
PRINT THIS ARTICLE