PRINT THIS ARTICLE
TECHNICAL ANALYSIS
---
How Much is a Star Performer Worth?
03/15/18 04:38:46 PM
---
by Stella Osoba, CMT
---
With Tesla (TSLA) in the news because its shareholders are set to vote on a massive $2.6 billion compensation package to be paid to the company's part time Chief Executive Officer, Elon Musk, over the next decade, now seems like an opportune time to study the chart of this volatile stock.
Security:
TSLA
Position:
N/A
The question that deserves asking is, how much is this outsize pay packet likely to influence the future direction of the stock? How much is a star performer worth? Is such an outsize pay package truly dilutive of the stock as a large shareholder advisory service has said?


Technicals can help us answer some, though not all questions. The thing to remember about technical analysis is that it is merely a visual representation of the psychology and behavior of market participants. Also, remember that share prices are discounting mechanisms which means that news and anticipation of expected future events are reflected in the current price of the security.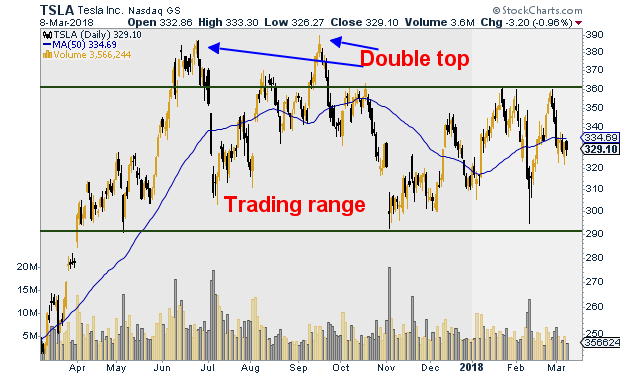 Figure 1. Daily chart for TSLA.
Graphic provided by: StockCharts.com.
A study of TSLA's most recent price action shows a stock locked in a trading range (see Figure 1). After forming a double top between June and September of 2017, TSLA has struggled to reach its previous high of 389.61, which it touched on September 18, 2017. A glance at the chart will show that its price is ranging from highs of around 360 to lows of about 290. Trading ranges can signal indecision as market participants wait for more information to form a definite directional decision on the stock's price.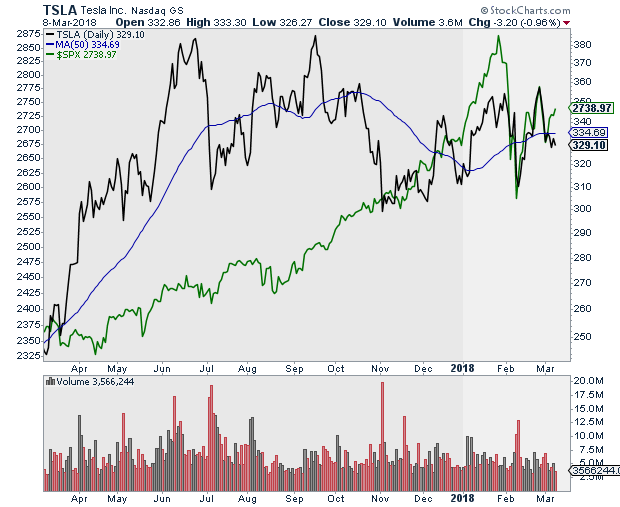 Figure 2. TSLA vs. SPX.
Graphic provided by: StockCharts.com.
A look at the the chart comparing the performance of TSLA to the S&P 500 will show that after outperforming the SPX in 2017, TSLA is underperforming the index (see Figure 2). The weekly chart (not shown) shows price hugging its 50-day moving average. The market appears to be holding its collective breath. Could it be waiting for the outcome of the shareholder vote on the pay package to its CEO, or could the indecision be caused by something more nebulous? Hard to say. Using technicals means that reasons are unimportant. We look to see what the market will do, not what it might do. Wait for the break. It might happen after the shareholder vote, it might not. The fact that TSLA is underperforming the S&P 500 is enough reason to not look for a current entry for a long trade. TSLA may well continue to underperform in the near term.


But do not give up on TSLA just yet. A close look at the pay package which has garnered such negative attention shows that it is tied to very significant performance metrics. In order for the $2.5 billion to fully vest, Musk will have to grow his company more than 10 fold, from its current $55.75 billion to $650 billion in 10 years. This would effectively make TSLA one of the most valuable companies in the world. The ability to achieve such lofty goals may have investors asking not whether the pay package is too costly, but how much is a star performer truly worth? And remember, we will see the results first in the charts. If investors believe that Musk is likely to meet his performance metrics, the chart will tell the story and if on the other hand, it looks increasingly unlikely, the chart will also reflect that collective pessimism.


---
Stella Osoba, CMT
Stella Osoba is a trader and financial writer. She is a frequent contributor to "Technical Analysis of Stocks and Commodities" magazine and "Traders.com Advantage" as well as other financial publications.
| | |
| --- | --- |
| | |
| E-mail address: | stellaosoba@gmail.com |
---
Click here for more information about our publications!
PRINT THIS ARTICLE