The key to successful trading is often to do very little. But this is against our natural inclination. Our nature causes us to often want to do something, anything. Our limbic brain causes us to fight or flight when danger is approaching. In trading, this means impulsive actions, taking trades too early or too late. Entering trades on flimsy evidence or in spite of the fact that we know something is not quite right, like a breakout on low volume. But to be successful we must overcome our natural inclinations and make moves that are planned and carefully thought out. We must only enter trades when the majority of evidence is pointing to the likelihood of success. Stops must be intelligently placed, which is why it is often not a good idea to enter a trade that has moved too far from its natural reaction or breakout.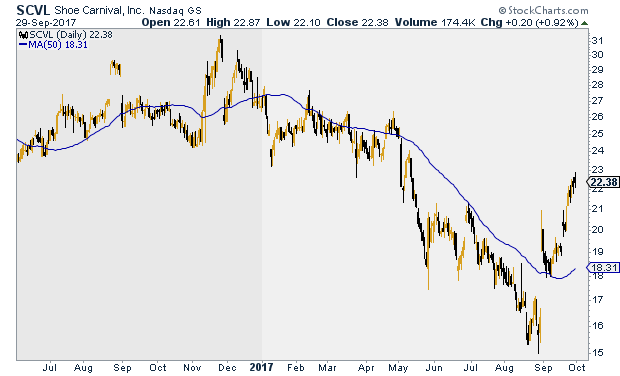 Figure 1. SCVL has formed a head and shoulders top preceding a downtrend.
Graphic provided by: StockCharts.com.
Shoe Carnival, Inc. (SCVL) had been in a downtrend since it completed a head and shoulders top and broke to the downside in March 2017 (see Figure 1). Since most stocks will not go to zero, we know that eventually the pattern would reverse, sideways or to the upside. A trader waiting for a reversal in this stock to enter long would have had to have something resembling the patience of a monk, because it took 5 months for the trend to reverse. But that is trading. Practice studying charts, looking for reversals and noting the time it takes for that stock to complete its move. It's how you will slowly learn to get yourself in sync with the market. There is no reason to see a chart and jump in for fear of missing out. That way of thinking will almost certainly get you in trouble.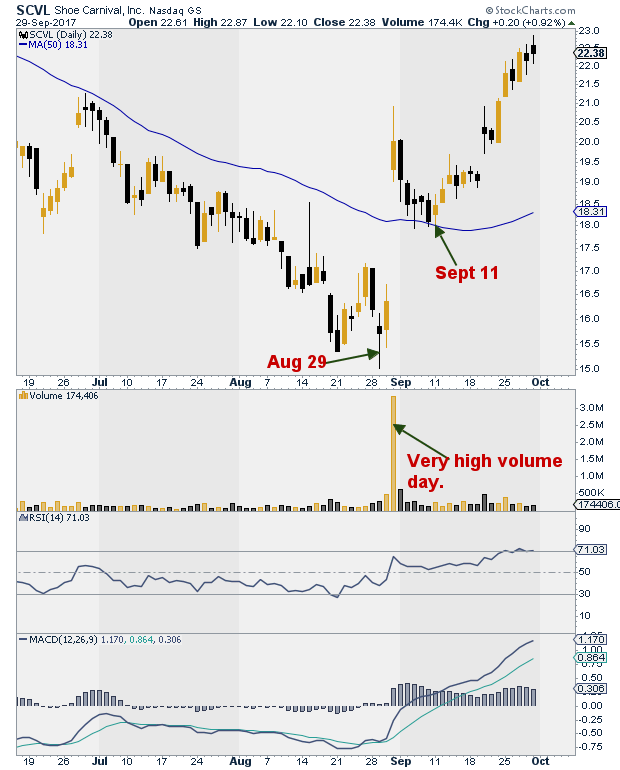 Figure 2. SCVL bottoms and reverses.
Graphic provided by: StockCharts.com.
Back to SCVL, (see Figure 2) on August 29, 2017, price formed a bearish candle with a long tail and a close near the top of its price range. This should have caused us to become alert, because long lower tails are bullish. It means there was buying coming in. The next day, was a bullish candle with a higher close. An aggressive trader might have taken the trade because the indicators below, RSI and MACD, which we will go into in more detail in another article, were showing positive signs, but maybe we wanted more proof that the stock would reverse. So, we continued to watch. The following day came the breakout; a large gap up and a bullish candle on very high volume. If we had not entered the trade the day before, we should not enter it on August 31, the day of the large price move because after such a large price move, there will almost always be a reaction as profit takers sell allowing us to enter later, at a better price.


The reaction comes and takes price down to the 50-day moving average where it finds support. If price does not break below the 50-day moving average, then we can enter long. After 5 days of bearish candles, the candle on September 11, 2017 is bullish. Wait for follow through or a close above the high of the previous candle. The candle on September 12 is bullish with a higher close so we take the trade just before the end of the trading day or at the open on the 13th. At the same time, we place our stop just below the 50-day moving average.


This is how to trade with patience and discipline.