Cocoa futures have been a bull market masterpiece for almost a year. Except for consolidations in December 2001 and March-April 2002, there has been almost no pain for those holding long positions in cocoa. That situation changed dramatically in early October 2002, as cocoa futures (basis March 2003) topped out and fell sharply from a peak just short of 2390 to 1850 in six days, a loss of more than 22%. While those who had been long cocoa futures in the spring of 2002 were still in good shape (March 03 cocoa broke out in May 2002 at 1390), the sharpness of the October declines likely caught those who were late to the cocoa party.


But what about those who weren't playing cocoa, but were simply watching the bull market advance and waiting for an opportunity to go short? The sharp trendline break was the first sign that there might be a short opportunity, but the sharp pullback that began four days after the trendline break is a good reminder that the first breakdown is not always the best move to trade. For example, a short trade initiated on the big gap down on October 18th at 1916 would have suffered a pullback to as high as 2075 by the middle of the following week. This would have been almost 160 points (approximately $1,590 at $10 per point) of pain for the momentum-driven short-side trader. Note also that initial margin requirements for speculation in cocoa futures are in the neighborhood of $1,540.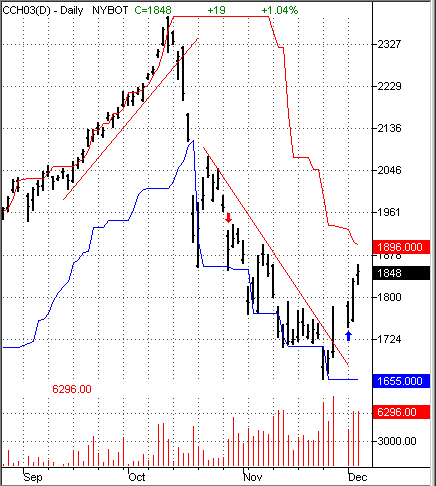 The trendline break on the downside in early October and the trendline break on the upside in late November are examples of initial signals of a trend reversal.
Graphic provided by: TradeStation.
Using the 1-2-3 Trend Reversal method, however, would have provided for a far better trade--without the risk of a margin call. This methodology here would require cocoa futures to make an attempt to regain upward momentum--and fail--before taking any aggressive short trade. Looking at the March cocoa futures contract, we see that there was an attempt to regain some upside in the middle of October and that attempt did in fact fail. There are a number of ways of getting failure confirmation--using candlesticks, other indicators, and so on. One method however looks at the support of the lower 20-day price channel at around 2008, and sees the breaking of that level following the mid-October run-up as an indication that prices were most likely headed lower.


Prices indeed did move lower and, importantly, without a major pullback to the upside. For the next several days, a short initiated in mid-October was a relatively painless ride though almost the entire month of November. The down trendline actually remains intact until the 27th of November. Although the price action on November 27th was not overwhelmingly bullish, the intraday range was certainly wide enough to make prudent shorts cautious about the possibility of yet another reversal--this one back to the upside.


While March cocoa has yet to show the sort of follow through on the upside that would encourage a new long position, the trendline break alone should have been reason enough for profitable shorts to consider taking some "off the table." What would it take in order for a new long signal in March cocoa to appear? In a sense, the same sort of price action that caused the short signal in cocoa back in early October would be what cocoa traders should look for now. By this, I mean a move to the downside, more specifically a dip in prices that draws out fresh buyers, as opposed to simply those covering short positions from October and early November. In this case, such a dip would likely not penetrate the low established by the lower end of the 20-day price channel. But, as with the short side in October, it is prudent to wait for the trendline-breaking move to end first, and then see prices reverse and find support before making an aggressive move on the long side.