PRINT THIS ARTICLE
TECHNICAL ANALYSIS
---
A Look At Amazon
10/31/16 04:32:05 PM
---
by Koos van der Merwe
---
When a share price goes up and up and up, is there an end? Is it worth a buy?
Security:
AMZN
Position:
Buy
Shoppers of the world know Amazon. When you, as a shopper, wants to buy something, you go to your computer and you go to the website of eBay or Amazon or any other website that you have learned to visit to look for a product at a special reduced price. But Amazon appears to be the most popular site simply because the share price has risen dramatically over the years. Of course, the question on everyone's lips is, how high can the share price still go? Is it worth buying the share?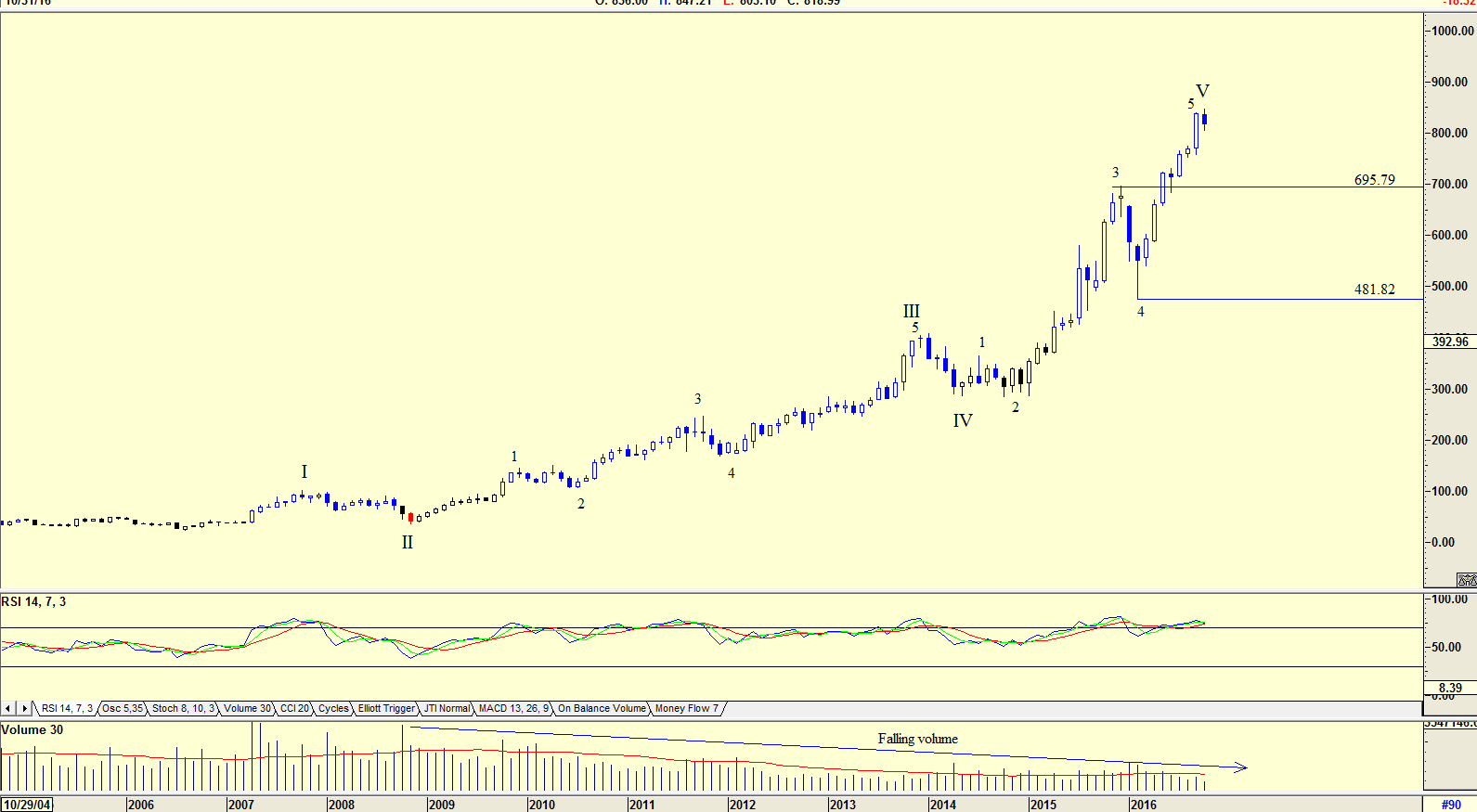 Figure 1. Monthly chart of Amazon.
Graphic provided by: AdvancedGET.
The chart in Figure 1 is a monthly chart with an Elliott wave count suggesting that the share price is completing a WAVE V, and should now start falling to the 4th Wave of lesser degree, somewhere between $695.79 and $481.82. The RSI indicator is at overbought levels, levels it has been at since the year 2007. Volume has been falling as the share price rose, suggesting that fewer and fewer traders having been buying the share as the price rose strongly. With the price presently at $818.99 many traders are wondering whether there will eventually be a share price split.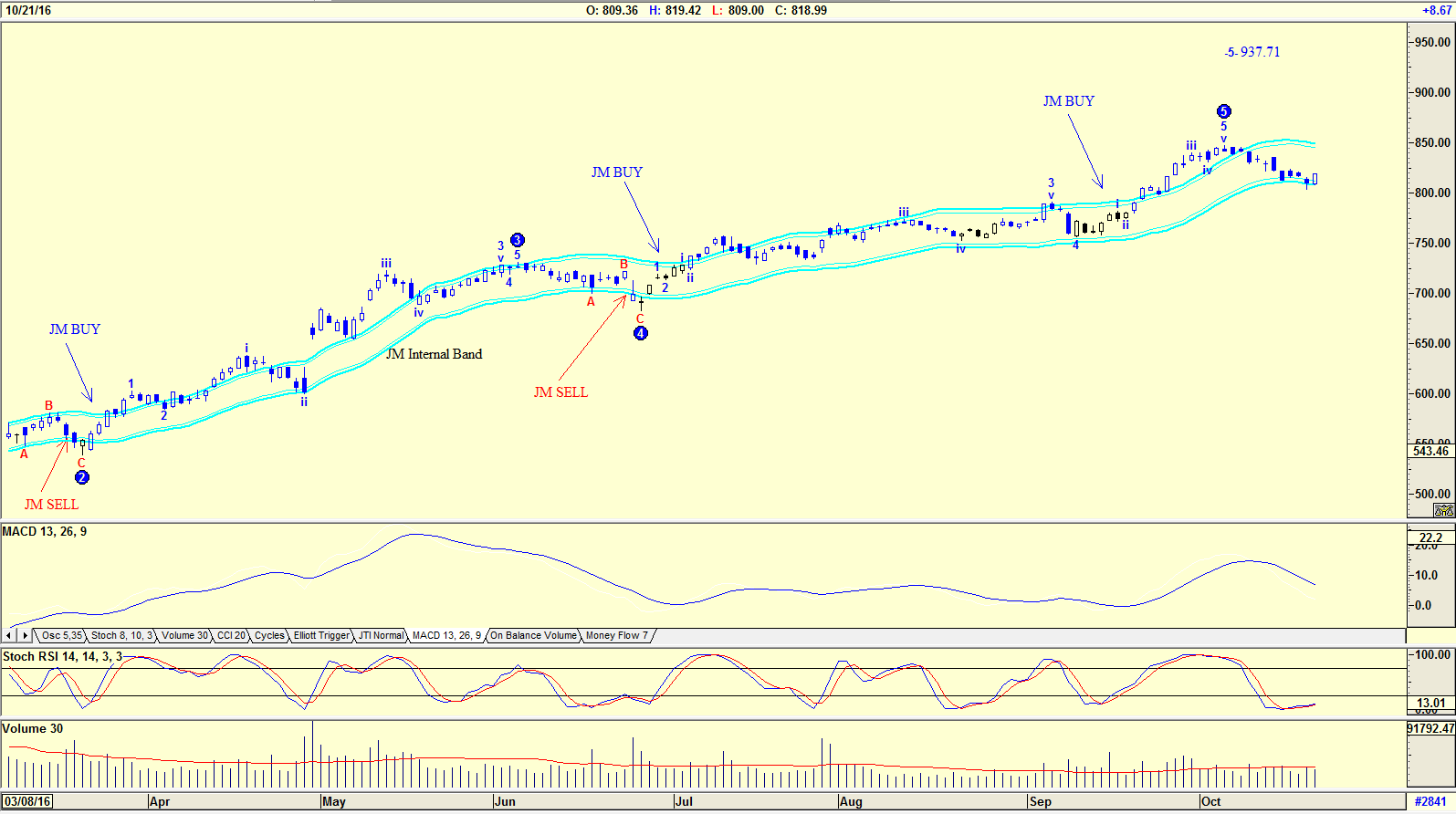 Figure 2. Daily chart of Amazon.
Graphic provided by: AdvancedGET.
The daily chart in Figure 2, has the JM Internal Band indicator which is suggesting that the share price is positive. The Elliott wave count is suggesting that the price could rise to $937.71. This is confirmed by the Stochastic RSI indicator which is at oversold levels, but has not yet suggested a buy. The MACD indicator is also trending down, so in effect, one should wait for a definite buy signal to be given. A JM Internal Band indicator is a 15 period simple moving average offset by 2% positive and 2% negative. A move above the upper band suggests a buy and below the lower band, a sell.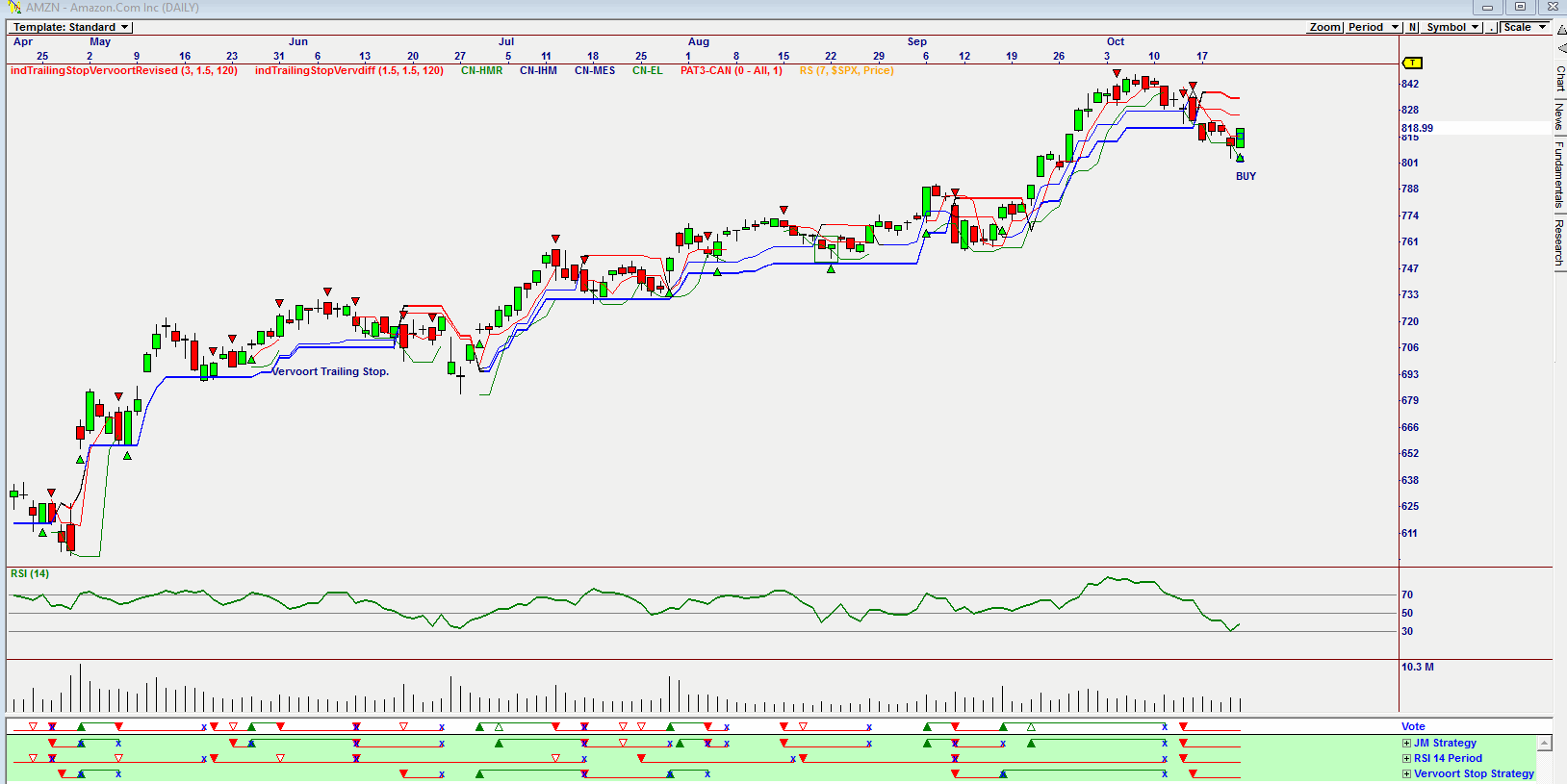 Figure 3. Daily chart of Amazon.
Graphic provided by: Omnitrader.
The chart is Figure 3 is an Omnitrader chart with the Vote line suggesting that the share price is still a sell based on all three strategies shown in green below the Vote line. However, that chart is suggesting a buy as shown by the green up arrow. This is triggered by the fact that the RSI indicator has touched the 30 horizontal level, and has risen strongly.

Buying Amazon shares, even if it is only one share, and hoping for a split sometime in the future is something one can seriously consider.


---
Koos van der Merwe
Has been a technical analyst since 1969, and has worked as a futures and options trader with First Financial Futures in Johannesburg, South Africa.
| | |
| --- | --- |
| Address: | 3256 West 24th Ave |
| | Vancouver, BC |
| Phone # for sales: | 6042634214 |
| E-mail address: | petroosp@gmail.com |
---
Click here for more information about our publications!
PRINT THIS ARTICLE