It's the same scenario, time after time; the financial news media is always the most bullish just as a major stock or stock industry group has already peaked after a massive rally and then as a panic sell-off ensues, they are always predicting the 'end of the world' even as the worst of the selling pressures have abated. Such is the scene we see playing out right now in the iShares China Large Cap ETF (FXI). Here's a closer look now at what to expect in this widely followed ETF over the next few weeks (Figure 1).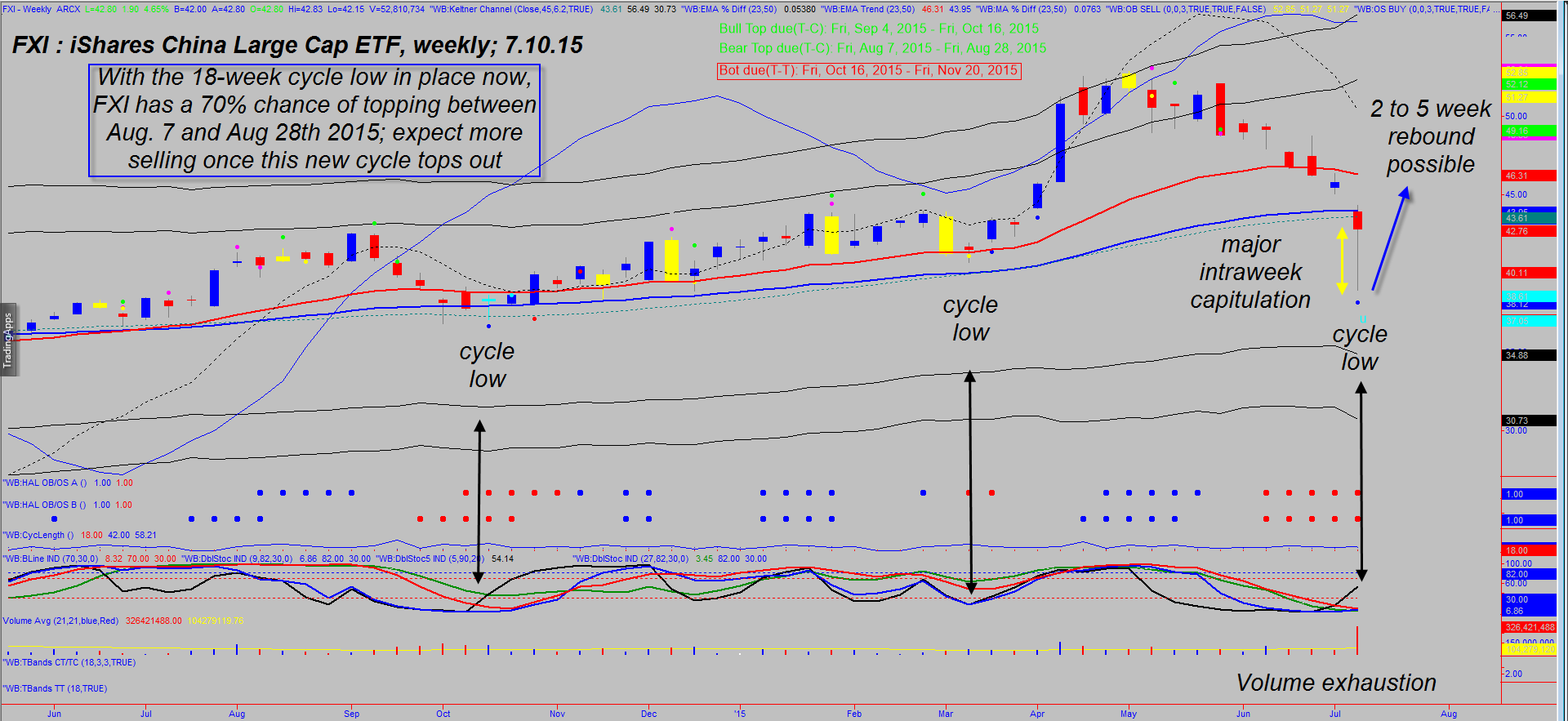 Figure 1. iShares China Large Cap ETF (FXI): A fresh 18-week cycle low is now firmly in place and suggests at least another two to five more weeks of rebound rally ahead before the next cycle high is achieved.
Graphic provided by: TradeStation.
Graphic provided by: ProfitTrader 7 by www.walterbressert.com.
Based on more than 10 years of historical data, the dominant weekly price cycle in FXI averages 18 bars, trough to trough; recent cycle lows have occurred 24, 21, and 17 bars apart. The latest cycle low just occurred the week ending July 10, 2015 and is notable for the following reasons:

1. There was huge volume last week, more than four times the 21-week average.
2. A huge intraweek reversal occurred as the cycle low was made at 38.88.
3. This reversal point occurred as the 62% retracement of the entire rally from July 2013 to April 2015.
4. FXI managed a full 38% retracement of the entire April-July 2015 decline — in just three days of trading action.

Taken as a whole, this indicates that the worst of the selling panic is over for the time being, and that a large Elliott wave ABC-style corrective wave formation is already underway. Cycle analysis reveals that after a major washout low like this is achieved that a two to five bar rally is probable; the analysis tools within ProfitTrader 7 suggest that FXI has a 70% probability of making its next cycle high sometime between August 7 and August 28, 2015. Should FXI gain more bullish traction, however, the next 18-week cycle high may not be achieved until late summer/early fall 2015. What traders in FXI and individual Chinese large cap issues need to do now is monitor them to see how far this rebound goes before signs of a stall occur (specific bearish candle patterns, volume profile resistance levels, and divergence indicators are all important and useful tools to use at such times).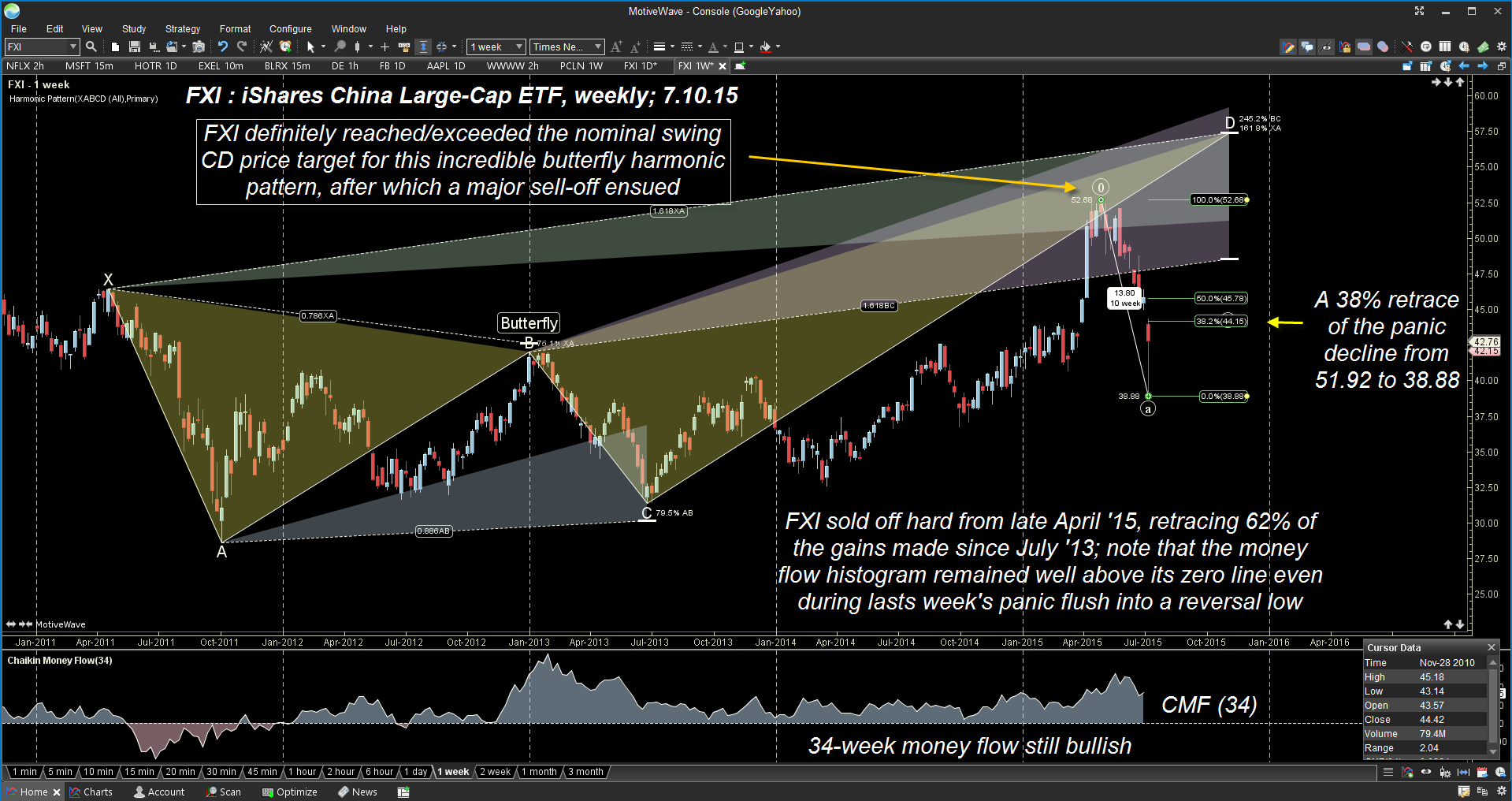 Figure 2. iShares China Large Cap ETF (FXI): This large weekly chart butterfly harmonic pattern did an excellent job of forecasting the April '205 high in this widely followed exchange-traded fund.
Graphic provided by: TradeStation.
Graphic provided by: MotiveWave Ultimate by www.motivewave.com.
Given the amount of wretched financial excesses in the stock and real estate markets of China, it's not a surprise to see their markets making sizable corrections. Whether this is merely the first leg down in a multi-year bear market is anyone's guess, but this might just end up looking like the Nasdaq tech-wreck of 2000-2002 by the time all of this speculation fever is finally rectified by cold hard technical and fundamental factors. The US market still has not had a major sustained correction since the summer of 2011 (Greece and the Eurozone soap opera, Part I) and there could still be plenty of downside ahead for US and global markets as all of the unpayable debts and unkeepable political promises to voters are finally restructured, reduced or just plain eliminated, once and for all. The next five to seven years may see the worst declines in asset values of every type (stocks, precious metals, commodities, bonds, real estate, wages, benefits and entitlements) since the Great Depression of the 1930s.

Start thinking now of how to eliminate unnecessary expenses and to use free or low-cost alternatives for things you do need to use on a regular basis. The cash you save now can help put you in a good position to acquire all kinds of assets at fire-sale prices once the 'Greater Depression' of 2015-???? finally comes to a painful end.

Short sellers of financial assets should find many wonderful opportunities to make money in the next few years, too, but always need to be nimble so they don't get clobbered by ugly short squeeze nightmares.

Trade wisely until we meet here again.