PRINT THIS ARTICLE
CYCLES
---
MAC: Bearish Divergence As Cycle High Nears
01/09/15 03:25:15 PM
---
by Donald W. Pendergast, Jr.
---
Up by more than 36% in the past 14 weeks, shares of Macerich Co. are near an important cycle high.
Security:
MAC
Position:
N/A
Sometimes a technician and/or trader needs to put together the puzzle pieces of evidence on a price chart to see how they all fit together in the big picture; doing so can help those in a winning trade protect open gains and/or alert bears (bulls) to a developing trend reversal situation, allowing them to get positioned before the rest of the herd barrels in. Here's a look at what may soon be proved out as a significant cycle high in shares of Macerich Co. (MAC), with some ideas as to what may unfold for the stock as January progresses.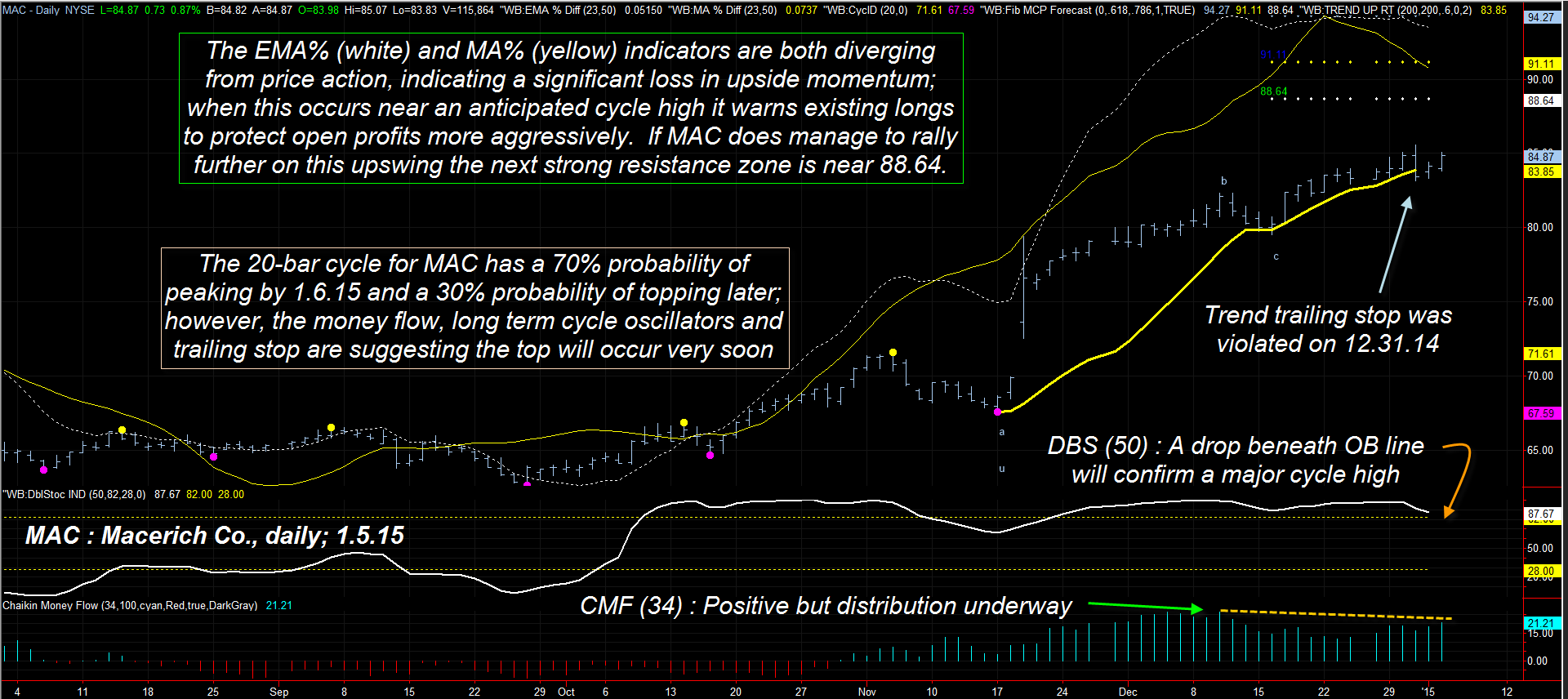 Figure 1. Correction Due? Macerich Co. (MAC) is flashing numerous 'heads up' warnings that its current up cycle is nearing exhaustion, with a correction due.
Graphic provided by: TradeStation.
Graphic provided by: ProfitTrader7 from www.walterbressert.com.
MAC bottomed in late September 2014, nearly three weeks before most other S&P 500 index (.SPX, SPY) components did; this was a combined 20-, 42- and 75-day (bar) cycle low, and the resulting rally from the low of 62.62 has been impressive, with the stock rising as much as 36.6% by the last day of trading in 2014. While at first glance the stock looks like it has plenty more upside, in reality there are numerous technicals that suggest existing longs in MAC should be very careful to protect open gains and for potential buyers of the stock to patiently wait for a more opportune moment to jump in, and here's why:

1. The 20-bar cycle has a 70% probability of peaking by January 6, 2015 and only a 30% chance of peaking at a later date.
2. The 34-day Chaikin money flow histogram (CMF)(34) is confirming that some degree of "smart money" distribution is already underway.
3. The DBS(50) cycle oscillator is still in a confirmed uptrend but as soon as it makes its next daily close below the upper signal line, it will be a high probability confirmation that MAC has made a major swing/cycle high.
4. The trend trailing stop (yellow line) was violated on a daily close on December 31, 2014 and this is another clue that the longer term 42- and 75-day cycles are also peaking.
5. The EMA% and MA% indicators measure moving average-based momentum and both are now in bearish divergences with price action.

Taken together, it doesn't take too much mental Wheaties to arrive at the conclusion that MAC's uptrend is much closer to its end than its beginning and that those still long the stock should be looking for the exits before the market screams 'fire' and traders exit enmasse from this issue.

In the unlikely event that the stock simply consolidates and then runs higher, there is major resistance up near the 88.50-89.00 area as well as the 90.50-91.00 area, FYI.



Figure 2. Relative Performance. MAC has the highest 10-day average directional movement index (ADX) reading among S&P 500 index (.SPX) component stocks.
Graphic provided by: TradeStation.
Graphic provided by: TradeStation 9.1 RadarScreen.
Regardless, this is not a good time to bet the ranch on another tradable move higher from current levels and bulls who like this stock should patiently wait for a decent pullback into the next 42- or even 75-bar cycle low before considering going long. With the broad markets now correcting hard, this is even more of a reason to avoid new long positions until some sort of major support is reached later in this calendar quarter. Trade wisely until we meet here again.


---
Donald W. Pendergast, Jr.
Freelance financial markets writer and online publisher of the Trendzetterz.com S&P 500 Weekly Forecast service.
Title:
Market consultant and writer
Company:
Trendzetterz
Address:
81 Hickory Hollow Drive
Crossville, TN 38555
Phone # for sales:
904-303-4814
Website:
trendzetterz.com
E-mail address:
support@trendzetterz.com

Traders' Resource Links

Trendzetterz has not added any product or service information to TRADERS' RESOURCE.
---
Click here for more information about our publications!
PRINT THIS ARTICLE