PRINT THIS ARTICLE
CYCLES
---
AU: Bullish Cycle Action Into 2015
01/02/15 02:53:38 PM
---
by Donald W. Pendergast, Jr.
---
Shares of Anglogold Ashanti are basing/reversing as a major weekly cycle low finishes bottoming.
Security:
AU
Position:
N/A
The stocks within the perennially volatile gold mining industry group never fail to offer a steady stream of swing/trending trade setups to skilled traders; one of the steadier trending issues within this group is Anglogold Ashanti (AU), a sub-$10 stock now putting in a beauty of a weekly cycle bottom. Here's a closer look at what could be a strong rally candidate heading into 2015.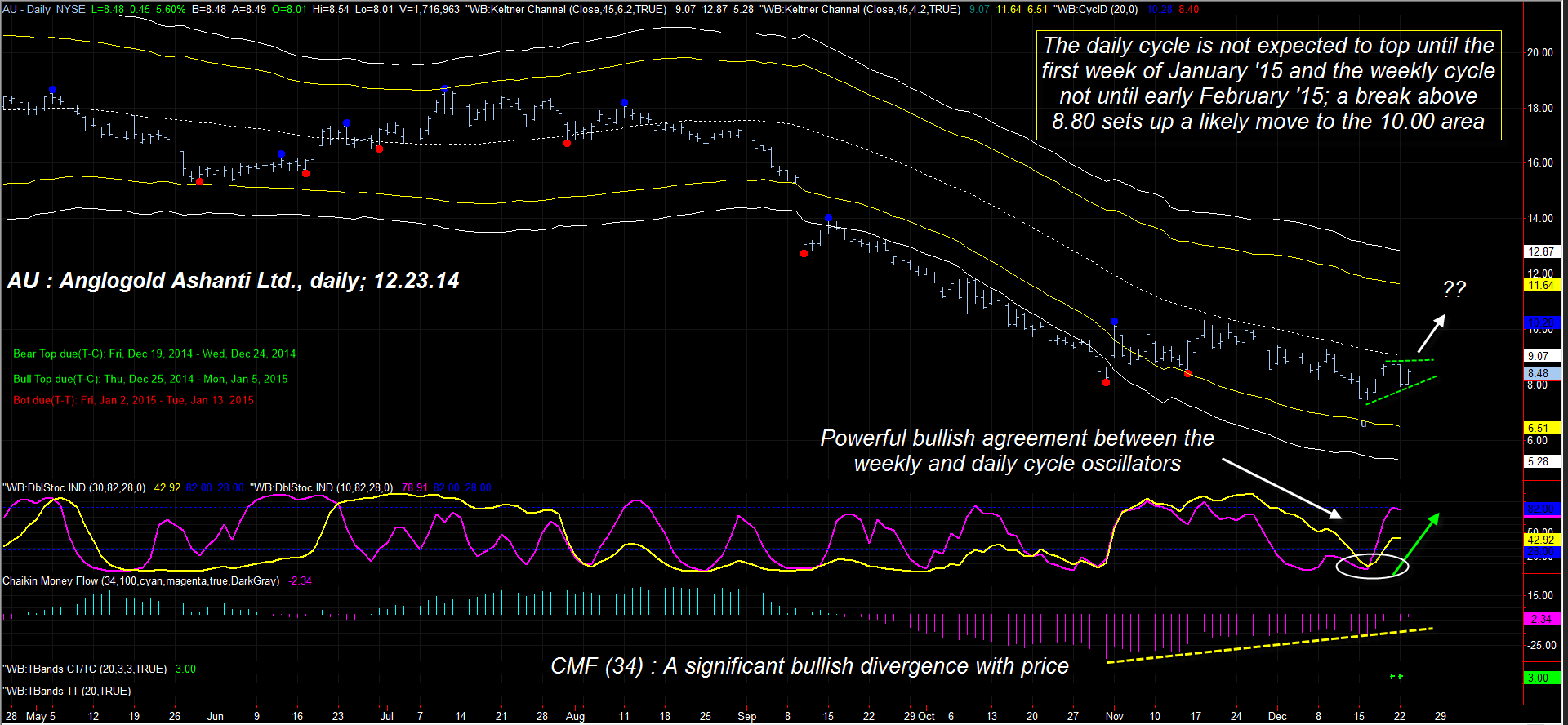 Figure 1.) Anglogold Ashanti (AU) becomes a compelling 'buy' for swing traders once 8.80 is exceeded on a daily close; look for the potential for a move toward 10.00 by early January '15.
Graphic provided by: TradeStation.
Graphic provided by: ProfitTrader7 from www.walterbressert.com.
At times the precious metals miner stocks are choppy and chaotic, but the entire group (best represented by ticker GDX) had a major bearish trend move between early July 2014 to mid-December 2014 with AU down by 60% during that period. However, it now appears that the most ferocious part of the decline is history and that a high probability bullish reversal is already in process. The compelling clues for this are as follows:

1. AU descended beneath - and stayed beneath - both lower Keltner bands for no less than eight weeks during September- November 2014 but has now been trading well above the lower bands for more than a month now. Such a drop in volatility (Keltner bands being derived from a standard deviation calculation) even as prices fall almost always precedes a major bottoming pattern.
2. The final cycle low on the daily (Figure 1) and weekly charts occurred on December 16, 2014, with the cycle oscillators moving sharply higher as a pair over the past week; strong agreement between the cycle oscillators typically presages a significant reversal.
3. The 34-day Chaikin Money flow histogram (CMF)(34) is manifesting a near picture-perfect bullish divergence pattern with price action, confirming that the big institutions are once again interested in building a position in AU.
4. As of December 23, 2014, AU is posting the largest intraday gains among all major gold miners, and this on a day when every single stock in the CBOE Gild index is showing a solid gain. The broad-based rally within the group should also help AU's prospects for a solid rally heading into 2015.
5. The cycles forecast algorithm within ProfitTrader 7 is calculating a cycle high by January 5, 2014 for the daily 20-bar cycle, and a conservative forecast for the weekly 20-bar cycle to top no earlier than February 13, 2015, and possibly later.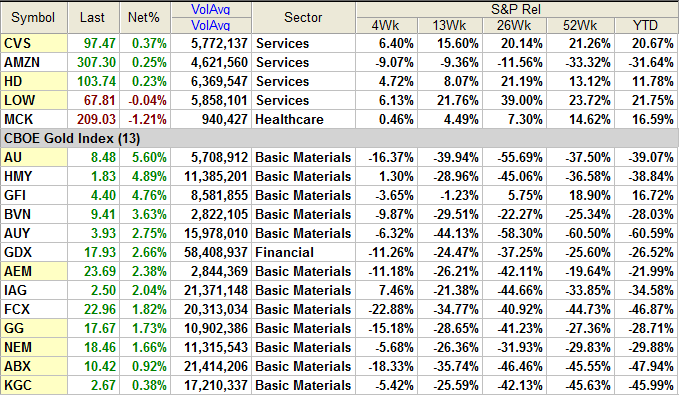 Figure 2.) AU leads the rest of the gold mining gang in early afternoon trading on December 23, 2014.
Graphic provided by: TradeStation.
Graphic provided by: TradeStation 9.1 RadarScreen.
A daily close back above 8.80 now becomes the 'all-clear' buy signal for swing traders looking to capitalize on a high probability bullish swing move in AU going into the New Year. The stock is in a minor 'pause' pattern typically seen after the first thrust up from a major cycle low; if/when 8.80 is taken out, look for a solid four to eight bar upswing into the early January 2015 cycle high time forecast window. Look for this move to run up to at least the 10.00 area before the daily 20-bar cycle peaks and profit-takers begin to cash in. Traders looking to ride the weekly cycle higher should check to see if the 10-day ADX/DMI is kicking into bullish mode near the 10.00 level; if it is, that's a good confirmation that AU is going to run higher throughout the month of January 2015 as the weekly cycle moves closer to its forecasted completion time window. Near-term covered call traders might want to get in on this developing weekly cycle uptrend, too.

Trade wisely until we meet here again, and have a very Happy New Year!


---
Donald W. Pendergast, Jr.
Freelance financial markets writer and online publisher of the Trendzetterz.com S&P 500 Weekly Forecast service.
Title:
Market consultant and writer
Company:
Trendzetterz
Address:
81 Hickory Hollow Drive
Crossville, TN 38555
Phone # for sales:
904-303-4814
Website:
trendzetterz.com
E-mail address:
support@trendzetterz.com

Traders' Resource Links

Trendzetterz has not added any product or service information to TRADERS' RESOURCE.
---
Click here for more information about our publications!
Comments
PRINT THIS ARTICLE