Shares of Diamond Offshore Drilling (DO) finally bottomed two weeks ago (December 1, 2014) after sliding more than 45% in the previous seven months; oil service/contact drilling stocks regularly make powerful trending moves in either direction, it's true, but the most interesting thing about the DO bottom is that it occurred seven to 10 trading sessions ahead of most of its industry group peers. Furthermore, its bottoming pattern is looking more like a classic bullish reversal set up with each passing day, suggesting that most other related energy stocks will soon follow suit. Here's a closer look at DO's daily chart dynamics (Figure 1).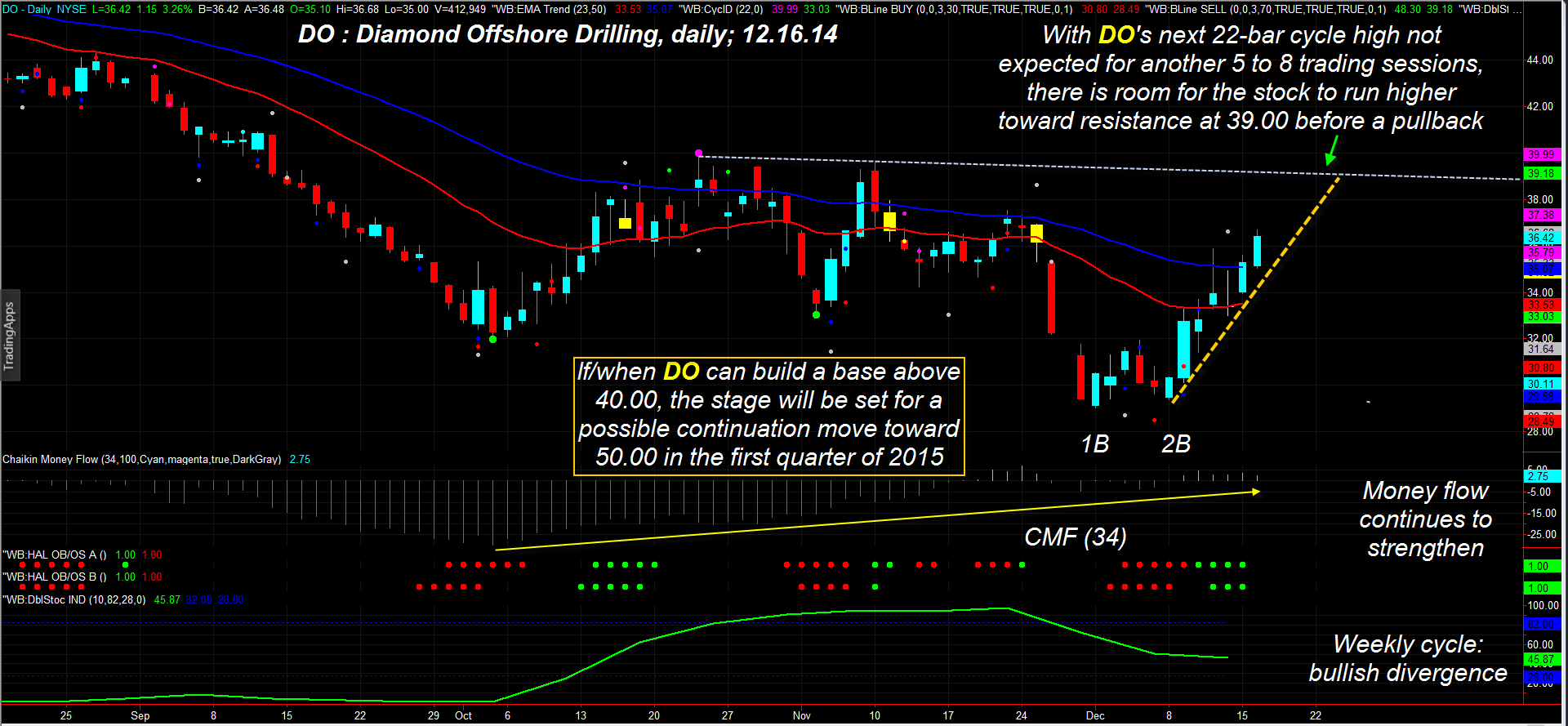 Figure 1. An Upward Move. Diamond Offshore Drilling (DO) has many cycle, money flow, and support/resistance dynamics at work that suggest a run higher toward 39.00 is possible by the last week of 2014.
Graphic provided by: TradeStation.
Graphic provided by: ProfitTrader7 from www.walterbressert.com.
Swing traders — and even trend followers — love the stocks within the highly volatile energy sector, knowing that a tradable price move is bound to erupt sooner rather than later in most of the widely analyzed large cap issues concerned, of which DO is certainly one. One of the best ways to keep one step ahead of a significant bullish reversal is to look for signs of positive price/money flow divergence — particularly at times of extreme negative sentiment (chronic amounts of bad news for the stocks in a particular sector) — which in this case is the energy sector and especially stocks related to crude oil exploration/production. For the last couple of months there has been nothing but negative news surrounding any or everything related to WTI and Brent crude oil price trends, with the news being insanely bearish during the last two weeks. But note that the 34-day Chaikin money flow histogram (CMF)(34) for DO was at its lowest level on October 3, 2014 and that even though the stock went even lower by the December 1, 2014 bottom, the money flow confirmed a substantial amount of "smart money" buying underway. Then these other technical dynamics all fell into place, one by one:

1. A small double bottom pattern printed (1B, 2B)
2. Three cycle buy signals were generated on the wide range rally on December 9, 2014; this session's action also closed the open exhaustion gap that occurred just before the final low was made.
3. This reversal caused the weekly cycle oscillator (green) to form a higher low, confirming the validity and underlying strength of the reversal
4. Cycles analysts would also be aware of the significance of the second cycle low (2B) made in close proximity to 1B; this suggested a high probability rally lasting for one to two weeks after the 2B low was in place.
5. The algorithm within the ProfitTrader 7 software is now calculating that the top of the current 22-bar cycle in DO will occur no earlier than December 18, 2014 and may not top completely until December 29, 2014 (and possibly later, depending on the follow through of the current up thrust); note that the next resistance zone is up around 39.00 and that this gives DO at least $2-$3 more room to run higher. As long as the current up trend line holds, DO looks to have a good chance of hitting 39.00 before this current phase of the bullish daily cycle peaks out.



Figure 2. Sector Performance. DO leads the rest of its industry group peers higher, having just crossed above its key trailing stop line.
Graphic provided by: TradeStation.
Graphic provided by: TradeStation RadarScreen and Fibozachi.com.
With such powerful money flow, cycle, and reversal dynamics hard at work on DO's daily time frame, one of the simplest ways to play the stock on the long side now is as follows:

Wait for the 'mid-cycle pause' (which usually occurs five to eight bars after a cycle bottom (2B)) and look for a pullback on a 30-to 45-minute chart to its 50-period simple moving average; if the average acts as a bullish spring board, jump in there and then use a trailing stop to capitalize on what could be more follow through toward the 39.00 resistance area. If you see plenty of other big name energies like RIG, ESV, RDC and SLB also joining in the party, so much the better. Keep your account risk at 1-2% max (smaller is better, usually) and be prepared to take profits once 38.50 is cleared, by no means holding the stock beyond 39.00. Trade wisely until we meet here again.