PRINT THIS ARTICLE
CHART ANALYSIS
---
Will Nasdaq Gap History Repeat?
10/21/02 08:47:52 AM
---
by Gary Grosschadl
---
These Nasdaq gaps look familiar-- the spring of 2001 showed a similar chart situation. How much of this pattern will repeat?
Security:
N/A
Position:
N/A
The Nasdaq index has a colorful history of gaps and even those "doji rally killers" that I have pointed out several times in the past. These gapping plays often get ahead of themselves but do show very bullish momentum. The chart depicting the 2001 pattern illustrated a very bullish pattern of four upward gaps. These led to a couple of normal retracements before a doji "rally killer" finally appeared warning of a likely downtrend. The impressive feature was an advance of about 700 points since that bottom before the top was hit, including a 300 point advance above the series of four gaps. Of course the longer term outcome did result in each of those gaps eventually being filled to the downside.


Presently the Nasdaq shows a series of three bullish gaps and IF history repeats...this implies enough bullish momentum to carry it further still, at least in the shorter term.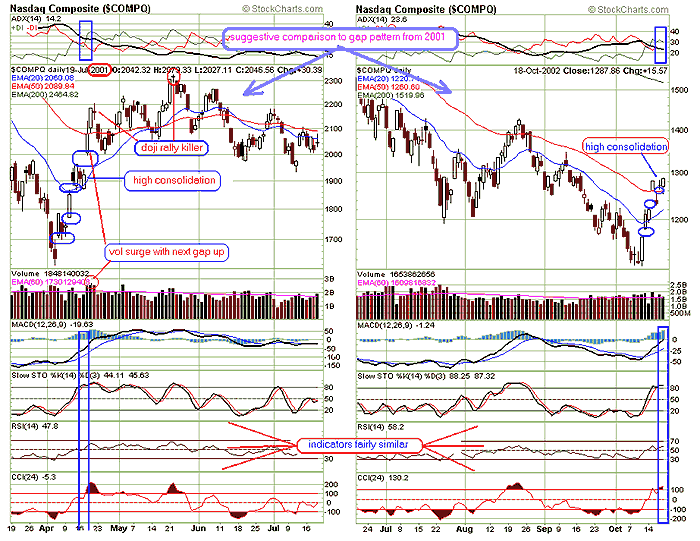 Graphic provided by: stockcharts.com.
Events to watch for going forward are another advance on increasing volume and a normal retracement or two before hitting a top marked by an ominous candlestick warning. This is a bullish view based on the pattern of upside gaps showing some impressive bullish momentum. Traders should remain alert to whatever evolves going forward.


---
Gary Grosschadl
Independent Canadian equities trader and technical analyst based in Peterborough
Ontario, Canada.
---
Click here for more information about our publications!
Comments
Date:
 10/22/02
Rank:
 5
Comment:
Date:
 10/22/02
Rank:
 3
Comment:
Date:
 10/24/02
Rank:
 4
Comment:
PRINT THIS ARTICLE