Knowing in advance where the primary, statistically valid support/resistance levels are in your favorite stocks, ETFs and stock indexes can provide you with a rational basis for understanding Jesse Livermore's famed 'line of least resistance' concept, thus allowing you to stay on the right side of emerging/existing swing and trend moves more often. Here's a closer look at the strengthening downtrend in shares of KeyCorp (KEY) now, using its daily chart.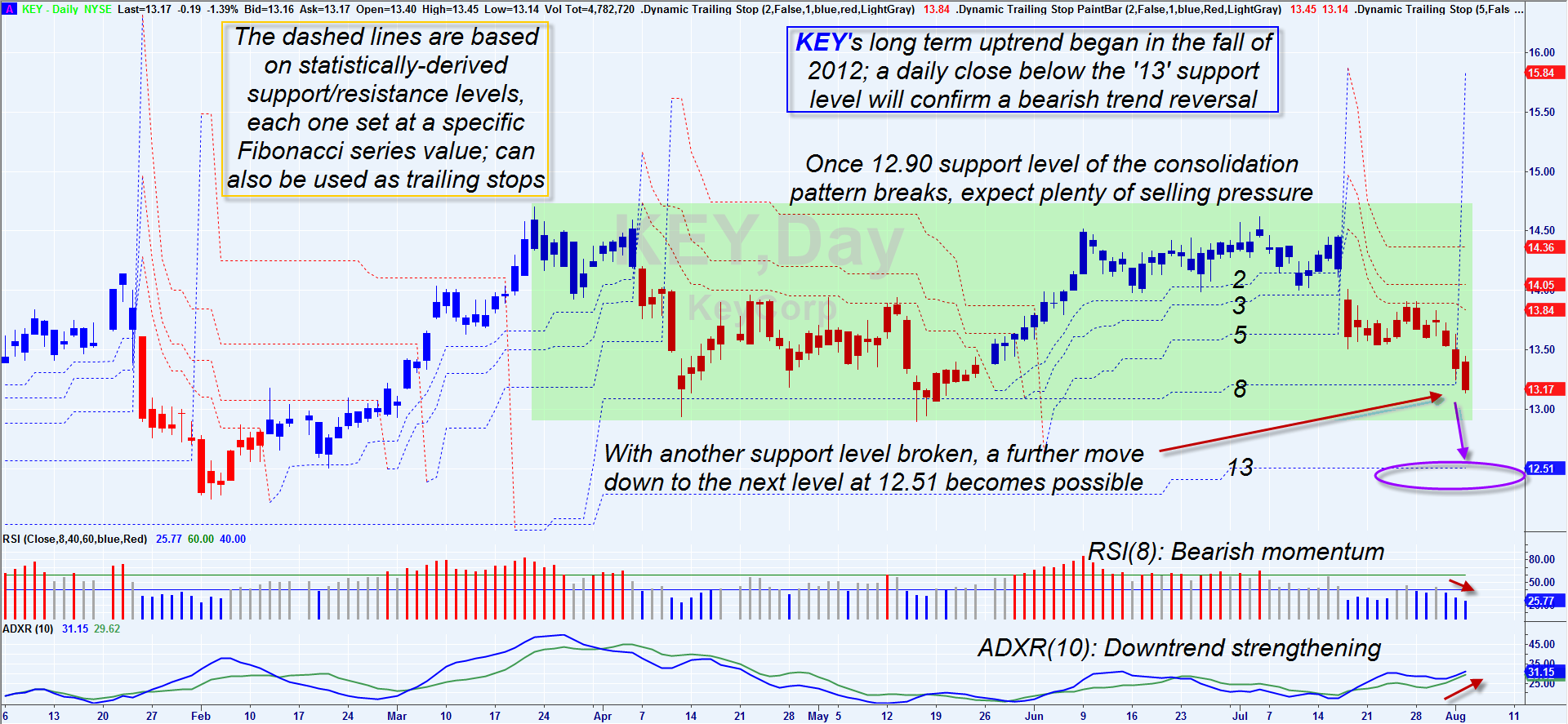 Figure 1. KeyCorp (KEY) continues to break below significant support levels; with the 10-day ADXR rising and the RSI(8) falling, the likelihood of further declines toward the 12.50 area is very high.
Graphic provided by: TradeStation.
Graphic provided by: Dynamic Trailing Stop by Fibozachi.com.
As I have written here in TCA pieces many times since October 2008, a proper understanding of the concept of support and resistance (S/R) is perhaps the most critical skill necessary for long-term success as a trader or investor; some of the methods involved use:

1. Moving averages
2. Significant swing highs and lows
3. Consolidation patterns
4. Linear regression channels
5. Volatility trailing stops
6. Keltner channels
7. Fibonacci retracement levels
8. Intraday/floor trader pivots

Another useful S/R method that can also double as an effective trailing stop involves the use of a standard deviation calculation to determine where significant levels are; layering four or even five of these levels on a chart can provide traders with a highly accurate picture of short-, medium- and long-term trends in most liquid markets. Applying five Dynamic Trailing Stop (DTS) levels to a daily chart of KEY — set at 2, 3, 5, 8 and 13 (all sequential Fibonacci numbers) — reveals the following information:

A. The stock has continuously traded above the DTS 13 level since April 2012 and is up by 53% since then.
B. KEY has traded within a wide consolidation pattern since March 21, 2014 and has just broken below DTS 8.
C. The next major support level for KEY is 12.90, which is the bottom of the large green consolidation pattern.
D. The 10-day ADXR (rate of change for the Average Directional Movement indicator) has taken out its recent peak, and shows that the downtrend in KEY is gaining n strength.
E. The 8-day RSI continues to fall, also indicating strong bearish momentum.

Taken as a whole, the probabilities are that KEY will continue to drop in value toward 12.90, forcing a final support test; should 12.90 be taken out on big volume with the ADXR continuing to rise, expect a continued surge down to at least the DTS 13 level, currently at 12.51. There is another major support at 12.25, which is the February 2014 swing low; if 12.51 fails to reverse KEY higher, then expect an even deeper decline to the lower 12.00 region. Keep an eye on the ADXR; if it keeps increasing, day after day, you'll be able to stay with a strengthening downtrend for the majority of the move. And if the DTS 13 level breaks, it confirms that KEY has made a bearish trend reversal; check and see if other regional banks and financial sector issues have also done the same thing, and you'll be able to better identify promising short sales and long put purchases for what could be an extended period of weakness in such stocks.



Figure 2. KEY has confirmed a break below its DTS 8 trailing stop level. The entire regional banks industry group in under steady selling pressure of late.
Graphic provided by: TradeStation.
Graphic provided by: Dynamic Trailing Stop Radar Screen by Fibozachi.co.
One way to play the short side in KEY here is to buy the December '14 $14.00 put option now and then add more contracts if KEY breaks below 12.90; the bid/ask spread is okay for this put and daily time decay (theta is only thirty cents per day per contract and the delta is -.6091) gives you some staying power to ride out minor rallies prior to further downside. Keep your account risk at 2% or less and be sure to take full/partial profits near the 12.91 and 12.25 support levels are reached, as those could be potential short-covering rally points. Trade wisely until we meet here again.