PRINT THIS ARTICLE
CHART ANALYSIS
---
ZTS: Bullish Continuation Move Launches
08/01/14 02:55:32 PM
---
by Donald W. Pendergast, Jr.
---
Shares of Zoetis Inc. have completed a successful breakout from a bull flag pattern, one that could lead to even more gains soon.
Security:
ZTS
Position:
N/A
Zoetis Inc. (ZTS) common stock is rather tame in terms of the major price swings it typically embarks upon; however, the swings themselves are relatively smooth and tradable and that's why this is a good stock to include in an equity portfolio. Sometimes, the swings turn into major trending moves, and that's where ZTS is right now — potentially at the start of a significant bullish continuation move that could take it up toward 37.00 or higher. Here's a look at this very appealing trade setup, focusing on the daily chart for ZTS.



Figure 1. Zoetis Inc. (ZTS): If/when this stock can close above the pink resistance zone near 33.34, another surge higher becomes a high probability event.
Graphic provided by: TradeStation.
When ZTS bottomed out —along with many other large caps in the S&P 500 index — on April 15, 2014 it marked the convergence of several price cycles in the stock, including its 10-, 20-, 40- and 80-day cycles down near the 28.00 price level. Big rallies typically (but not always) erupt when four or more equally spaced (in percentage terms) price cycles bottom and turn higher simultaneously in a small number of trading sessions, and the 18% rally in ZTS since then has indeed proved that mid-April '14 was a significant intermediate term low for many big caps. In ZTS's case, note how sharp the rise off the cycle low was, along with the steady upturn in the 89-day Chaikin Money Flow histogram; in fact, even after such a long rally, the money flow histogram is still hovering near its 15 month highs, indicating that the big institutional players in this stock are firmly committed to driving its price higher still in the months ahead. Note also the beautiful bullish flag pattern and the successful breakout that has just occurred; the old trader's saw says that 'flags fly at half-mast' and if that adage still holds true today then we should see a continuation of this uptrend up toward the 36.00 to 37.00 area fairly soon.

The pink horizontal line equates to the October '13 swing high of 33.34 and will be the major barrier standing in the way of ZTS if the continuation move is to commence soon; look for a daily close above that level as the 'all clear' signal that should see a fresh influx of buying power into the shares, getting the move underway for real.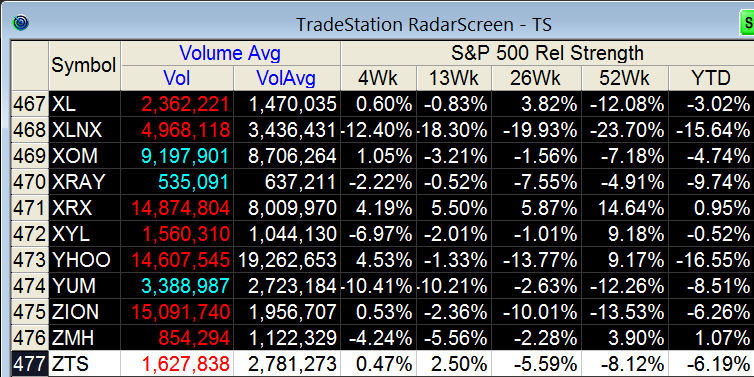 Figure 2. ZTS is up by 18% since mid-April 2013, yet is only barely outperforming the S&P 500 index (.SPX) over the past 13 weeks.
Graphic provided by: TradeStation.
Graphic provided by: TradeStation RadarScreen.
The break and subsequent close above 33.34 is the buy trigger, and the low-risk way to play such a bullish break would be to buy a covered call; however, the bid/ask spread for ZTS options is pretty shabby, meaning that you need to work this as a short put or long swing trade. Since selling puts is not recommended once a stock has already enjoyed a multimonth rally (its best to sell them near multicycle lows near major support levels if possible), that leaves us with a slightly more aggressive swing trade plan, as follows:

1. On a break above 32.97 put on a third of your long position. Use the 21-day simple moving average (SMA) as your initial stop.

2. If ZTS then makes it above 33.23, add on your second third of the position. Keep using the SMA as your trail.

3. On a subsequent break above 33.34, put on your final third and start running a volatility trailing stop set at 3 atr's over a 10 day range for the life of the trade.

The reason for the scaling-in is, of course, the risk that the resistance line at 33.34 poses to this long entry; going long in stages forces the stock to prove its intentions before you buy additional shares. If this is going to be a big continuation move, the slightly higher average cost basis will be more than made up for by yet another surge higher up toward 37.00 or even higher. Keep your trade risk at less than 2% and remember to trade wisely until we meet here again.


---
Donald W. Pendergast, Jr.
Freelance financial markets writer and online publisher of the Trendzetterz.com S&P 500 Weekly Forecast service.
Title:
Market consultant and writer
Company:
Trendzetterz
Address:
81 Hickory Hollow Drive
Crossville, TN 38555
Phone # for sales:
904-303-4814
Website:
trendzetterz.com
E-mail address:
support@trendzetterz.com

Traders' Resource Links

Trendzetterz has not added any product or service information to TRADERS' RESOURCE.
---
Click here for more information about our publications!
PRINT THIS ARTICLE