The Dow is still flirting with the 17,000 level with the SPX standing shoulder to shoulder with its price action revealing that the trend is still firmly under the control of the bulls. Overall, equities are where the action is but the smart money can be found in the strongest sectors of the market. Oil production currently rounds out the top 10 strongest sectors in the stock market with a little known producer climbing higher at a healthy speed. But, even with high relative strength and momentum on its side, it might be smart for the stock to do one thing before you consider trading it.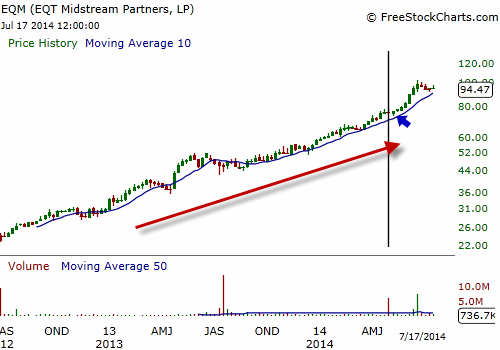 Figure 1. EQM has been on a straight bull run until massive selling entered the stock's daily average on May 2, 2014. The smart money sold off their stock but now the stock has recovered. But, is now the time to enter?
Graphic provided by: www.freestockcharts.com.
EQT Midstream Partners, LP (EQM) provides natural gas transmission, storage, and gathering services in southwestern Pennsylvania and northern West Virginia, including approximately 700 mile interstate pipelines. On the weekly chart in Figure 1, you can see that EQM bottomed in 2009 but has managed to fight its way back. The stock has been riding the wave of demand for energy which took it higher. Technicians could see the stock make a steady series of higher highs and higher lows in its price action signaling that the primary trend was firmly under the bull's control.

Recently, EQM flashed a warning signal on May 2, 2014 (Figure 2) when volume swelled to almost 1,200% of its 20-day average but price still held close to its all-time high. Big investors panicked and sold off shares which you could see with the On Balance Volume (OBV) indicator. In a situation like this, it's better to play it smart and sell off your position or at least part of it rather than take the risk. You can always re-enter the trade once price begins to trend again.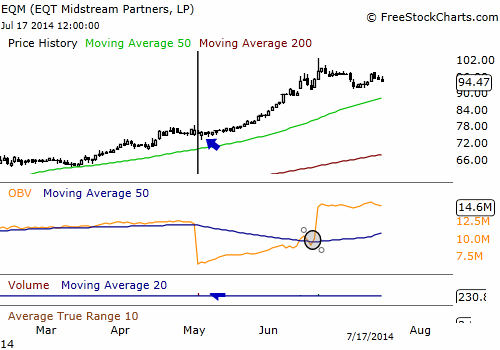 Figure 2. EQM held close to its all-time price high despite massive selling in early May this year but the OBV indicated it was time to sell out. The OBV shows EQM is under accumulation again but the stock needs to trade past its old price before considering an entry. EQM has to "prove" it's ready to make another bull run and only then should you consider taking a position.
Graphic provided by: www.freestockcharts.com.
But, despite the adverse price/volume dynamic, EQM resumed its trend and shrugged off the bears' attempt to take its price down. Later, the OBV indicator crossed higher through its moving average showing that investor's resumed their confidence in the stock and began buying up shares again. Mutual funds and institutional traders began to steadily buy up shares of EQM which pushed the stock's value north.

Despite all the things that EQM has going for it — price movement, undergoing accumulation, sitting in the top 10 strongest stock market sectors, strong technical criteria — this is not the time to trade the stock. The stock's price movement has pushed EQM's trend to parabolic status. This is manic price movement that can end violently, as most stocks enter a correction phase from this point.


The good news is that a 20% correction, give or take, will offer patient traders the opportunity to enter as the position resumes its bullish trend. If it doesn't, then you move on to greener pastures.

For now, sit on the sidelines and adopt a wait-and-see approach to EQM. EQM's price action has pulled back but is still trading above a 45 degree angle. Anything above that, like what it is right now, is a volatile phase that offers more risk than reward.

That said, if it can maintain trading near its all-time high after pulling back less than 20% away from that high, then it might offer the opportunity to ride it as the trend gains footing again.