PRINT THIS ARTICLE
CHART ANALYSIS
---
TSLA: Failure Swing Playing Out?
07/08/14 03:38:03 PM
---
by Donald W. Pendergast, Jr.
---
As expected, shares of Tesla Motors Inc. staged a solid rebound rally from the 200-day average, but the run-up now appears to be out of gas.
Security:
TSLA
Position:
N/A
Tesla Motors Inc. (TSLA) is one of the great stock market stories of the past couple of years, with some traders and investors now envisioning a future where TSLA may yet become the next Apple (AAPL), Google (GOOGL) or Intel (INTC) of our generation. Tesla's long-term business model looks promising, but at the moment the money flow histograms are confirming that the "smart money" interests in the market have been bailing out of their TSLA positions since late February 2014. If you're currently long TSLA, you need to be aware of this important 'big picture' technical dynamic; here's a closer look now.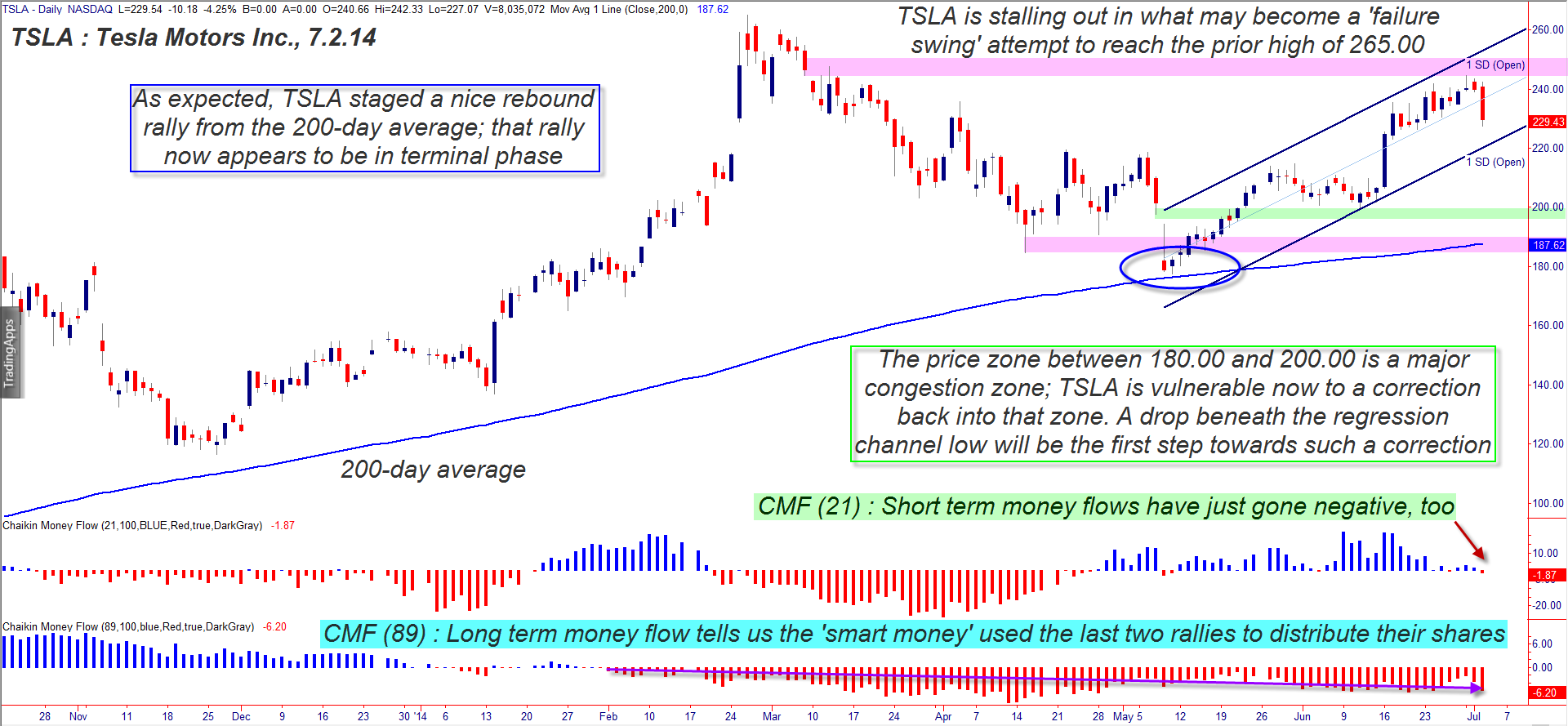 Figure 1. Tesla Motors Inc. (TSLA); whenever you see a sharp intraday reversal in a bullish trend at a time of long term distribution, you have an early warning that suggests that going to cash, running a closer stop or buying protective puts would be a great idea.
Graphic provided by: TradeStation.
The famed 200-day simple moving average (SMA) is one technical tool relied upon by myriads of traders and investors; this average can frequently help market participants locate areas of high probability support and resistance (S/R) and that's exactly what it did on TSLA's daily chart (Figure 1) in early May, 2014. After the stock gradually descended toward the average in a proportional pullback, all it took was a brief touch of it to ignite a fresh round of buying enthusiasm strong enough to carry the stock higher in a $65 rally (a 38% gain) in just seven weeks. TSLA even carved out a nice bullish regression channel during the surge higher from support and is still trading within its boundaries. But signs of trouble are everywhere for the stock, at least on its daily time frame:

1. Long-term Chaikin Money Flows (CMF)(89) are negative since early February 2014; the big institutions have used the two rallies since then to lighten up on their TSLA holdings.

2. Short-term Chaikin Money flows (CMF)(21) have just gone negative again.

3. The sharp intraday reversal on July 2, 2014 takes on a more sinister look, given the distribution patterns that have been well underway for several months.

Several other stocks have also put in scary-looking intraday reversals, hinting that the broad market is ripe again for another sharp correction. Such names as ILMN, FB, and NFLX could also be at risk here, especially after such strong rebounds from key May/June 2014 support levels. This is not so much a 'get ready to go short' warning as it is a 'be prepared to sell and go to cash' heads-up for those who already have nice open gains and wish to hang on to most of them prior to a potentially nasty pullback.



Figure 2. TSLA has been 'killing it' in terms of comparative relative strength versus the S&P 500 index (.SPX) over the past 4-, 26- and 52-week time periods.
Graphic provided by: TradeStation.
Graphic provided by: TradeStation RadarScreen.
A break and daily close below the lower channel line (near 220.00/221.00) will likely bring lots of selling pressure — and a possible fake-out rally prior to even more downside. If you're already long TSLA and have made some gains since May 2014, consider lightening up and or going to cash now; if you're in the stock for the long haul (not an irrational idea) then at least buy some wisely selected put option protection to help you ride out any rough seas that may come your way in the next couple of months as the broad markets get set for their next major move — which could be toward substantially lower levels as the mega-rally since 2009 finally corrects. There hasn't been a 'real' correction in the S&P 500 index since the July/August 2011 Eurozone crisis selloff, and by all measures another correction of the same magnitude — if not larger — is overdue. Be careful if putting on new long positions now, prior to such a high probability event unfolding again.

Trade wisely until we meet here again.


---
Donald W. Pendergast, Jr.
Freelance financial markets writer and online publisher of the Trendzetterz.com S&P 500 Weekly Forecast service.
Title:
Market consultant and writer
Company:
Trendzetterz
Address:
81 Hickory Hollow Drive
Crossville, TN 38555
Phone # for sales:
904-303-4814
Website:
trendzetterz.com
E-mail address:
support@trendzetterz.com

Traders' Resource Links

Trendzetterz has not added any product or service information to TRADERS' RESOURCE.
---
Click here for more information about our publications!
PRINT THIS ARTICLE