PRINT THIS ARTICLE
CHART ANALYSIS
---
SanDisk: Multiple Confirmations Of A Major High?
06/06/14 05:29:46 PM
---
by Donald W. Pendergast, Jr.
---
Shares of SanDisk have been among the better performers in the S&P 500 index since June 2012. Is this rally now near its ultimate high prior to a major correction?
Security:
SNDK
Position:
N/A
When it's time for a big name stock to embark on a major new trend, most traders and investors will almost certainly get in after the big money folks (mutual funds, banks, hedge funds) have already built their initial positions and the move has already attained "liftoff." Many traders are more than happy to ride the smaller four- to seven-day swing moves, looking to take a little piece of the action along the way, but for trend followers, they are simply looking to ride the middle 75% of the full trend in between its ultimate low and high points. Both types of traders had a great set of opportunities with SanDisk (SNDK), starting with the rally out of the June 2, 2012 major cycle low and running all the way through to the current rally high some two years later. Trend followers have loved this run in SNDK, and, depending on the entry/exit parameters of their systems, should have plenty of open and closed profits on the long side so far. But even the most persistent trend will run out of gas and then stage a correction, and that's what it appears is about to happen, according to the key technical indicators applied to SNDK's daily chart (Figure 1); here's a closer look at these right now.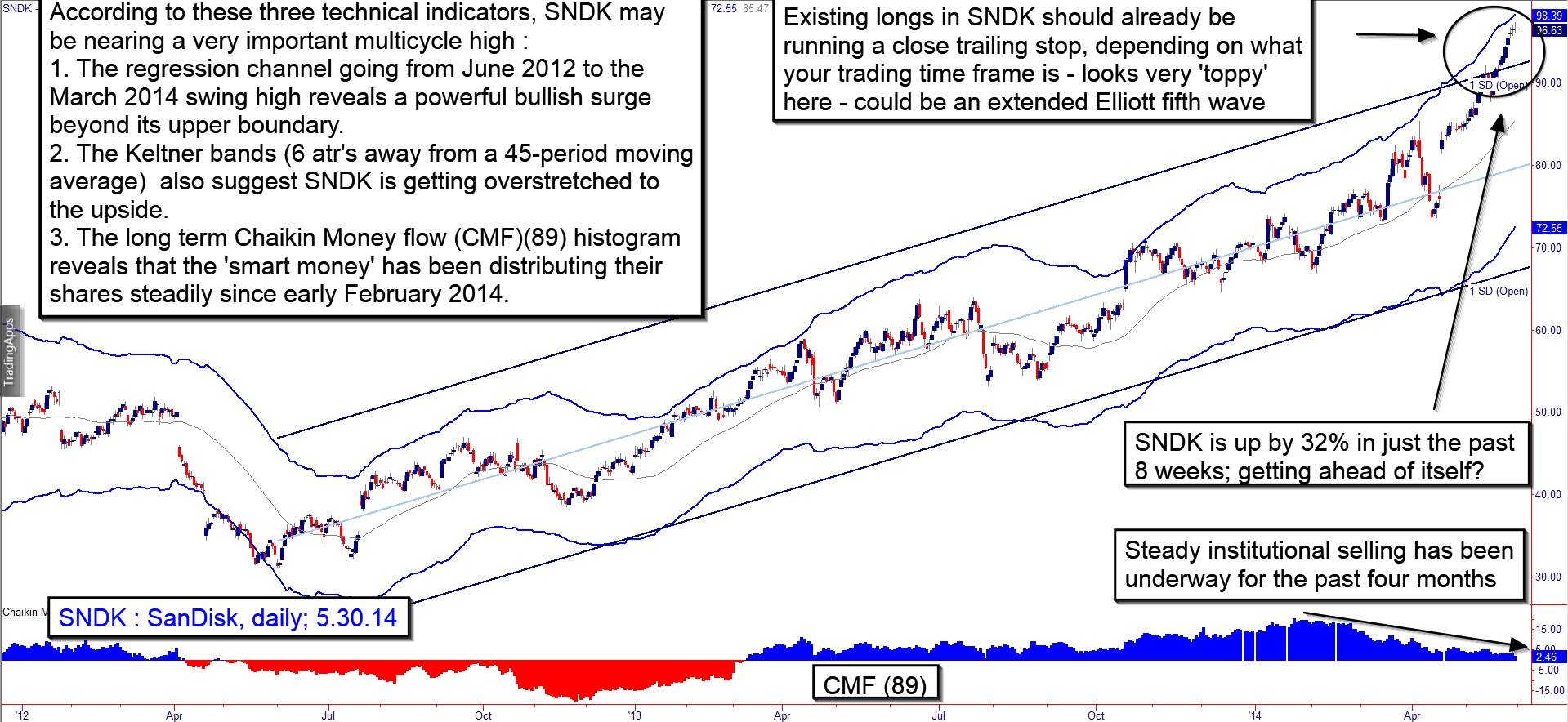 Figur 1. SanDisk (SNDK): Existing longs in this stock need to decide now whether to hold on for even more gains or to take some profits and run a close trailing stop on the balance of their position.
Graphic provided by: TradeStation.
One of the most effective ways to identify an upcoming major top/bottom in a given market is to use several 'non-correlated' indicators to see how much — if any — agreement is present; here are a few that may be useful:

1. Keltner channels
2. Linear regression channels
3. Elliott Wave patterns
4. Cycle analysis
5. Price money flow divergences
6. Price/momentum divergences
7. Fibonacci swing ratios

In the chart of SNDK, I'll use just three of these — the Keltner and linear regression channels along with the long term Chaikin Money flow histogram. The big idea here is not to be so foolish as to attempt to "call a top", but to alert existing longs that the probability of this current eight week, 32% rally in SNDK to continue without a near-term pullback is shrinking every day, and here's why:

A. The recent "melt-up" in SNDK has seen it exceed the upper regression channel line for the first time since the rally began two years ago.

B. This rapid advance — a 32% gain in just eight weeks — is coming at a time when the "smart money" is busily distributing its shares in the stock, just as they have been doing for the past four months.

C. The Keltner channel (set at six average true ranges or ATRs away from a 45-day average) is also suggesting that SNDK is getting way overstretched on this run-up and is due for a correction soon.

For all anyone knows, SNDK could move another $10 higher before finally fizzling out and descending to lower flight levels, but if you're already long the stock, by all means protect your open gains now (with a trailing stop or protective puts) and even consider taking some gains too, selling into strength. This latest surge may actually be part of an extended Elliott fifth wave, and if so, is yet another reason to protect your open gains while you still can.



Figure 2. SNDK has been just killing it over the past two years, far outperforming the S&P 500 index (.SPX) across all key time periods.
Graphic provided by: TradeStation.
Graphic provided by: TradeStation RadarScreen.
Once SNDK does finally peak and retrace, you may want to look for a suitable long re-entry point as long as the (CMF)(89) money flow histogram is still above its zero line. But as it stands now, it looks to be dangerous to put on a new long position in this stock.

Trade wisely until we meet here again.


---
Donald W. Pendergast, Jr.
Freelance financial markets writer and online publisher of the Trendzetterz.com S&P 500 Weekly Forecast service.
Title:
Market consultant and writer
Company:
Trendzetterz
Address:
81 Hickory Hollow Drive
Crossville, TN 38555
Phone # for sales:
904-303-4814
Website:
trendzetterz.com
E-mail address:
support@trendzetterz.com

Traders' Resource Links

Trendzetterz has not added any product or service information to TRADERS' RESOURCE.
---
Click here for more information about our publications!
PRINT THIS ARTICLE