PRINT THIS ARTICLE
DESCENDING TRIANGLES
---
Trading Opportunities in Triangles
10/15/02 10:39:34 AM
---
by Gary Grosschadl
---
Even bearish formations are tradeable as this weekly chart shows via a descending triangle.
Security:
PANL (Nasdaq)
Position:
N/A
Universal Display Corp. has been a volatile trader since its big breakout move in late 1999. Now you can see a multi-year pattern in the form of a bearish descending triangle. Those that spotted this pattern had the opportunity to make two exceptional trades - a short in early summer and a recent long position three weeks ago, as shown on chart.


The shorting opportunity came at the upper trendline touch where the candlesticks were dubious with their long upper shadows (tails) while short-term stochastics and longer term CCI (commodity channel index) both flashed overbought signals. The patient shorter was handsomely rewarded with a short at $10 and a cover around $5 over 10 weeks.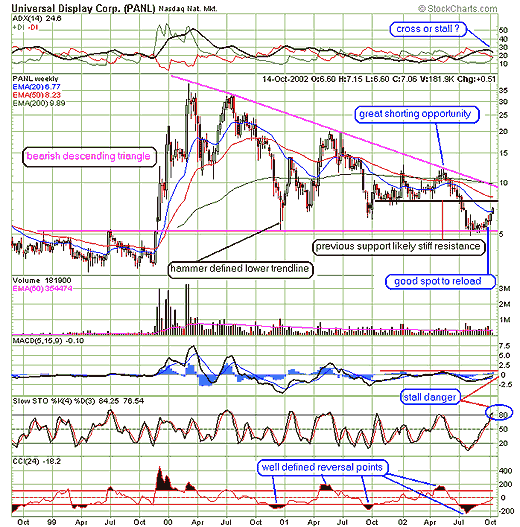 Graphic provided by: stockcharts.com.
The next good opportunity came a few weeks ago for traders looking to go long. The stock did a basing period for two months and observant traders would have noted that the previous big hammer candle from late 2000 marked a good lower trendline. Also note how the short-term MACD indicator did show a bullish divergence (it did not set a new low with the stock price), hinting at a coming upleg.


So where do we stand now? It's likely too dangerous to go long now (unless you are very aggressive and switch to a daily chart) as it looks like a stall zone is approaching. Note the very high stochastic indicator and the resistance level marked near the $8 level (previous support likely future resistance).


The more prudent action would be to wait for the reversal that may very soon materialize forcing the stock back down to the $5 zone. Since this is a bearish formation, traders should also watch for any eventual weakness below $5 as this could attract shorters and you may be able to profit with them. The lesson here is that large triangle formations are very tradeable even from a weekly perspective.


---
Gary Grosschadl
Independent Canadian equities trader and technical analyst based in Peterborough
Ontario, Canada.
---
Click here for more information about our publications!
Comments
Date:
 10/15/02
Rank:
 4
Comment:
Date:
 10/16/02
Rank:
 1
Comment:
Date:
 10/19/02
Rank:
 5
Comment:
 i like the article.
Date:
 10/22/02
Rank:
 5
Comment:
Date:
 10/22/02
Rank:
 5
Comment:
PRINT THIS ARTICLE