PRINT THIS ARTICLE
TRITOP/TRI BOTTOM
---
CSX: Triple Top Buy Setup Triggers
05/29/14 10:36:29 AM
---
by Donald W. Pendergast, Jr.
---
The late triple top buy setup in shares of CSX Corp. has taken more than four months to materialize, but for patient traders it may prove to be well worth the wait.
Security:
CSX
Position:
N/A
Since rising from the ashes of the major March 2009 lows, CSX Corp. shares (CSX) have remained in bullish mode, despite a big correction during 2011/2012. Since late 2012, CSX has resumed its bullish way, up by more than 57% over the past 18 months, rising to all-time highs in the process. A major new buy signal has just been triggered, and with the major US stock indexes now rallying again, CSX looks like a fairly low risk long entry here. Here's a closer look now.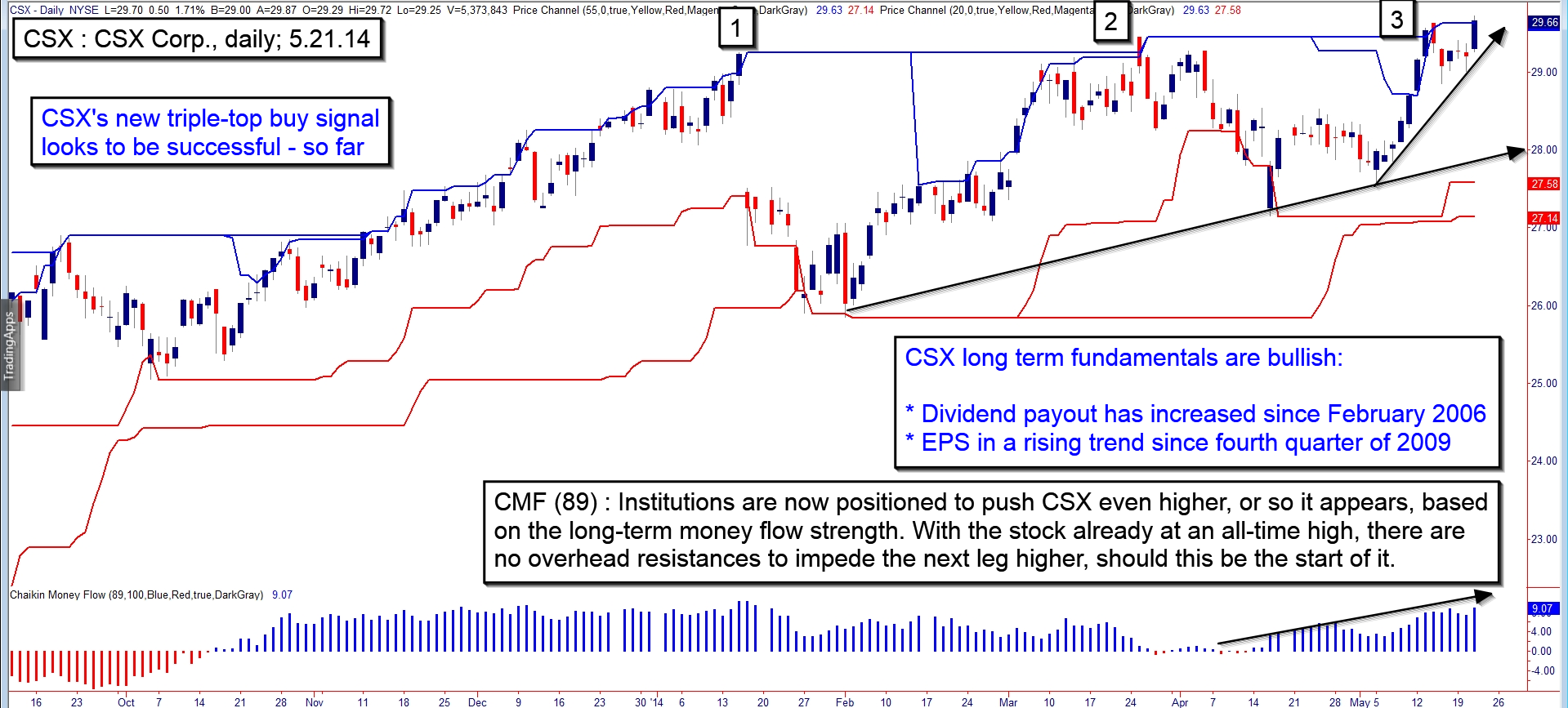 Figure 1. CSX Corp's. (CSX) daily chart reveals a high probability triple top buy setup; note the bullish long-term money flow trend, which suggests the "smart money" is already on board.
Graphic provided by: TradeStation.
The broad US markets have shown us remarkable staying power recently — especially among large cap issues — and it's little surprise to see stocks like General Dynamics (GD), CSX, AON, IPG, LRCX, NSC and RAI also powering higher after triggering major buy signals. As you can see in Figure 1, CSX's selloff that commenced in January 2014 was fast and nasty, but the buyers soon stepped back in to scoop up shares; long-term Chaikin Money Flow (CMF)(89) remained bullish during the decline and has been above its zero line more than 90% of the time since mid-October 2013. Three major swing highs printed since late 2013:

1. 1.15.14 @ 27.51
2. 3.25.14 @ 29.45
3. 5.21.14 @ 29.72

Of special note is that the long-term money flow histogram has strengthened so rapidly since the major cycle low was made on April 15, 2014; even now, as the triple top buy was triggered (at 29.46) the money flow remains incredibly robust. While no one knows how much higher CSX will go on this swing, it's pretty plain to see that the "smart money" is confident that this stock still has a good shot at running significantly higher over the next few months; for this reason, CSX looks like a great covered call play.

CSX's industry group peer, Norfolk Southern (NSC) has also broken out and is surging higher, yet another confidence builder for those wishing to go long the rails here.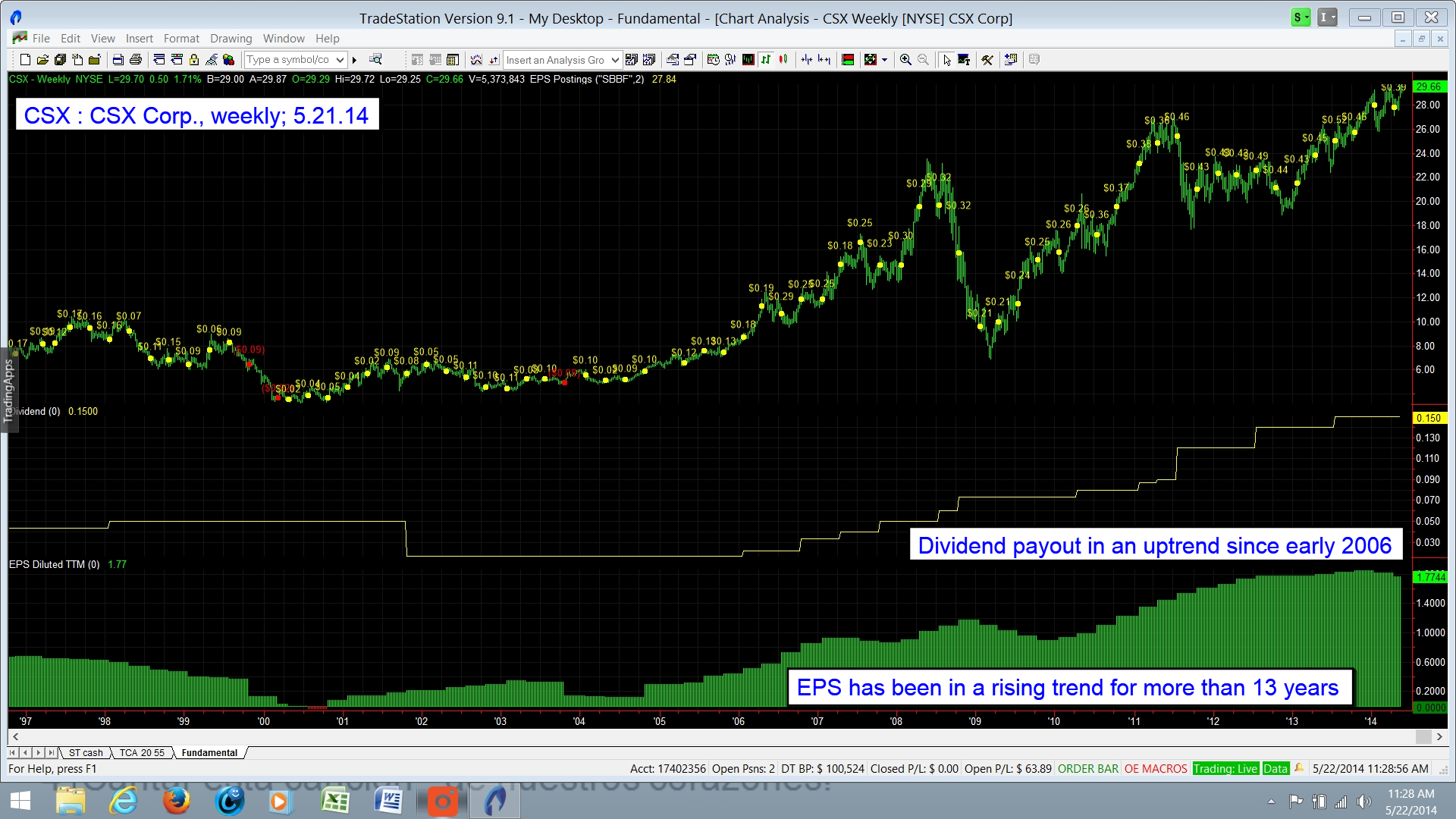 Figure 2. CSX has a steady trend of earnings and dividend payout growth in recent years.
Graphic provided by: TradeStation.
Selling one June 2014 $30.00 call option for every 100 shares of CSX purchased looks like the best way to play the covered call route; the bid ask spread is small, liquidity is good and the upward momentum in the stock gives you a bit of a head start toward a hopefully profitable trade outcome. As long as CSX closes in the money (30.01 or higher) at June options expiration, the shares will be called away and you will keep all of the option premiums; savvy traders might want to wait for a pullback on the 30-60 minute chart and then put the trade on once CSX shows new strength; this will really confirm that the big boys are all aboard and may give you more confidence to pull the trigger on this high probability triple top buy setup. Risk no more than 1-2% of your account value on this setup and remember to trade wisely until we meet here again.


---
Donald W. Pendergast, Jr.
Freelance financial markets writer and online publisher of the Trendzetterz.com S&P 500 Weekly Forecast service.
Title:
Market consultant and writer
Company:
Trendzetterz
Address:
81 Hickory Hollow Drive
Crossville, TN 38555
Phone # for sales:
904-303-4814
Website:
trendzetterz.com
E-mail address:
support@trendzetterz.com

Traders' Resource Links

Trendzetterz has not added any product or service information to TRADERS' RESOURCE.
---
Click here for more information about our publications!
PRINT THIS ARTICLE