Amazon.com (AMZN) is one of the great Internet retail success stories of the past 15 years; the company's sales growth rate has dwarfed that of Wal-Mart Stores (WMT) for more than 10 years straight and may surpass WMT in gross sales by the early part of the next decade; investors bid up AMZN shares by 90% from November 2012 to January 2014, fully aware of the bullish outlook for the e-commerce giant. However, the intermediate-term trend got a bit ahead of itself and now AMZN is enmeshed in the sharpest percentage point selloff since 2000/2001. Here's a look at what the "smart money" is up to as AMZN continues to fall toward a key support level (Figure 1).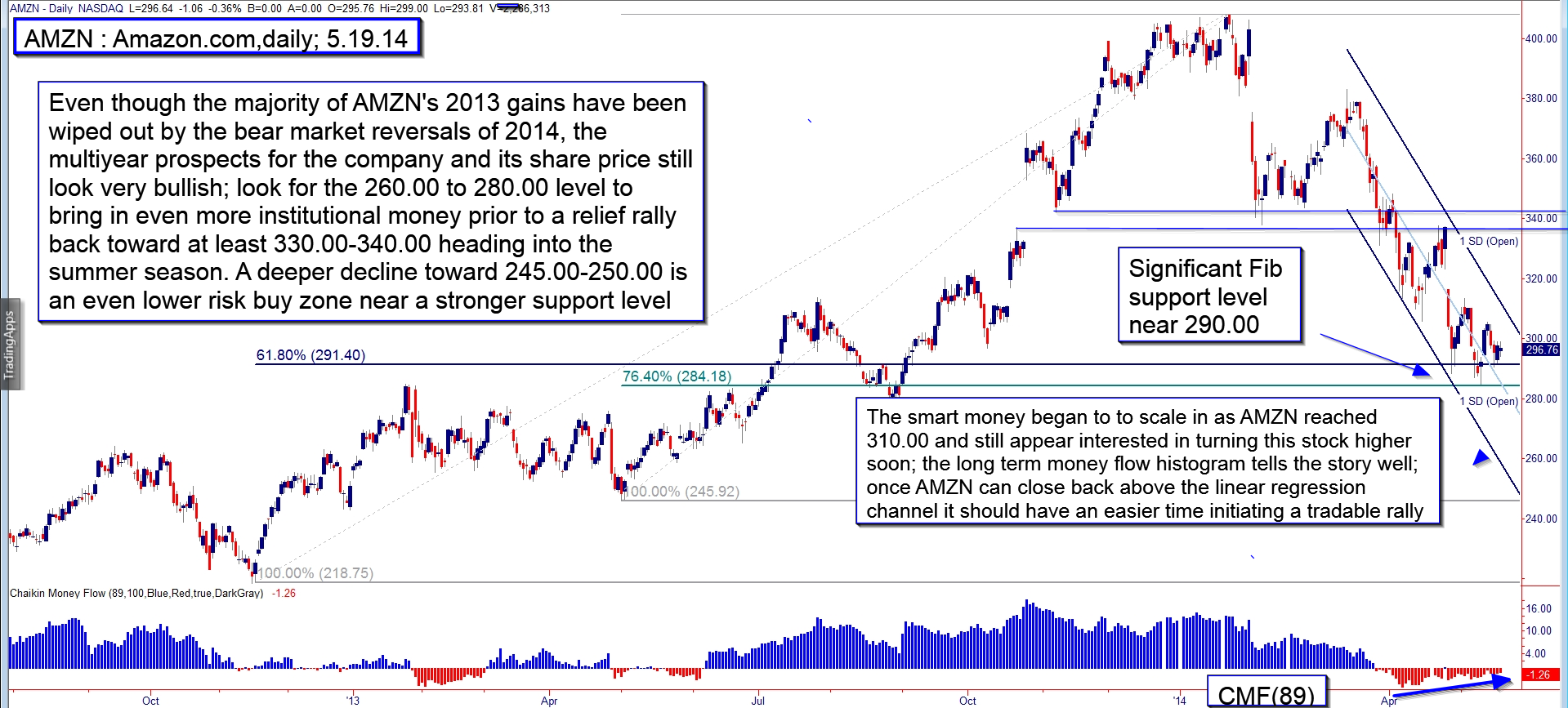 Figure 1. Amazon.com (AMZN): The deeper this decline goes, the higher the probability of a powerful short squeeze; these become more likely near strong support areas, particularly when the stock is showing signs of accumulation.
Graphic provided by: TradeStation.
AMZN's substantial rally coming out of the market-wide cycle low of mid-November 2012 was indeed good for a 14-month, 90% surge — one that kept the massive uptrend since late 2001 going strong. But, as TCA readers already understand, every powerful trend is going to have corrections along the way (at various degrees, depending on the time frame being reviewed). Well, as scary as the current selloff in AMZN has been over the past four months, when viewed against the backdrop of a monthly price chart, the plunge from 408.06 to 284.38 does not seem all that horrible — that's if you've been a holder of AMZN for more than five years, of course. If you bought in at $300, $350 or $400 on the way up and failed to take profits, well, that's another story! Right now, however, AMZN appears ready to retest the 280.00/284.00 level again, close to the zone where the 62%/76% Fibonacci retracements of two powerful prior upswings are located. And at the same time, the 89-day Chaikin Money flow histogram (CMF)(89) is revealing that the big institutions have begun to take new positions in the stock, starting at about the 310.00 price level. Heavy bearish trends like this can take time to turn around, it's true, but when you see accumulation underway (especially on a longer term time frame) just above key support levels, you need to be prepared for a potential relief rally, because:

A. Short squeezes become more likely the further down a large cap stock (especially one with a great long-term sales growth trend like AMZN) is beaten.
B. It can take some time for all of the shorts to cover, with the result being the launch of a powerful relief rally.



Figure 2. AMZN has been severely underperforming the .SPX across all key time periods during the past year.
Graphic provided by: TradeStation.
Graphic provided by: TradeStation RadarScreen.
Presently, it looks far too risky to short AMZN, given its proximity to the major support near 280.00; however, savvy put sellers might want to start looking at the daily chart to see if or when the following attributes present themselves:

1. A successful retest of 284.00, followed by a wide-range, bullish reversal bar on daily volume two to three times greater than its 50-day average.
2. A daily close above the top line of the linear regression channel (set at one standard deviation).
3. Bullish price action in the Nasdaq 100 (QQQ) and S&P 500 (SPY) indexes.

If all of this appears simultaneously, look for AMZN to have a good shot at recovering to the 320.00/340.00 level within a relatively short time (two to four weeks), after which another corrective wave should manifest. Selling June '14 puts with a strike price of $270/275/280 could be a wise choice on such a rally; the bid-ask spreads are good, time decay is rapid and the liquidity is excellent in all these strikes. Sell the puts as the stock breaks above the upper channel (after a retest of 280/284) and then try to hold on until the options wither in value by 60 to 70% — then buy them back and run for the hills, profits in hand. If the relief rally fails, by no means let the option increase in value by more than 30 or 40% before covering and taking a modest loss. Risk no more than 1% of your account value on this or any other short put setup and remember to trade wisely until we meet here again.


Comments
Date:
 05/28/14
Rank:
Comment:
 Hi Donald Thanks for the technical analysis on Amazon. I wonder if you have similar analysis on Facebook progress currently. Thanks
Date:
 05/28/14
Rank:
Comment:
 Hi Donald My apologies...you do have a series on Facebook. I will refer to those. Please ignore my last query. Thank you also for the excellent articles in S C. Thomas
Date:
 05/28/14
Rank:
 4
Comment: