Other than bonds and real estate, gold traditionally has been a place where investors fleeing declines in the equities markets have found themselves huddling for shelter. While this was demonstrated during the gold mania of 1979-1980, investors worldwide have frequently sought to hold the "barbaric relic" when major economic problems--often anticipated by major equity declines--appeared on the horizon. As a non-interest bearing asset, gold is truly the investment of last resort. Only when all other asset classes--bonds, common stocks, real estate--appear to be suffering, does gold truly begin to shine.


Such explains both the 20-year bear market in gold and gold stocks since the early 1980s, as well as the more recent gains in gold and gold stocks since a bottom in gold appeared to develop in the fourth quarter of 2000. As measured by the Gold Bugs Index or $HUI (an index of gold production and mining companies that do not engage in hedging; i.e., selling gold short), owners of gold stocks have seen their holdings appreciate by as much as 330% from the $HUI's low in November 2000 to its recent high in May 2002. Even with the widespread sell-off in equities that took place in late July/early August--a sell-off that dragged gold stocks down with the rest of the market--buyers of Gold Bugs Index type stocks were still up 200% from the Q4 2000 bottom and up some 95% in 2002.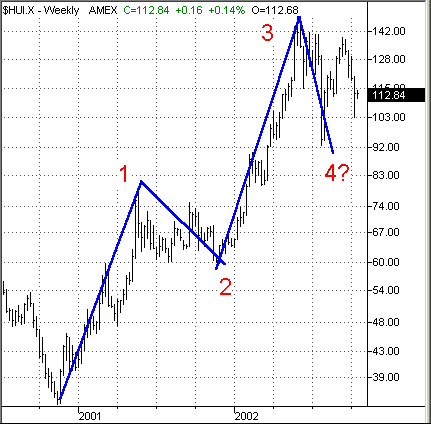 If the July/August lows represent a Elliott wave four bottom, then the Gold Bugs Index should be due for new highs.
Graphic provided by: TradeStation.
But the recent sell-off--combined with perennial gold bashing--has done some damage to the confidence of many a gold bull. The idea that, when the market is falling, stocks are just stocks and gold stocks will get killed along with tech, retail and other stocks, is a nightmare for the gold bull just looking for exposure to gold through the stock market. However, in late July, that is exactly what happened. From its peak in May 2002, the Gold Bugs lost some 36% going into October.


There is reason for gold buyers to take heart. Not only did the July/August declines set up a support point that should (at a minimum) slow any October descent in the $HUI, but also the July/August correction appears to have taken place during a bearish fourth wave in Elliott Wave terms. Because one of the tenets of Elliott Wave analysis suggests that a fourth wave decline will not enter the territory of wave one (November 2000 to May 2001) that preceded it, there is every reason to believe that the current declines in $HUI will end, if not at the point of the July/August correction low at 96, then at least before entering the price territory of wave one, which ends at 81.


Should the wave four bottom develop where expected (between 92 and 81), then a rally in the Gold Bugs Index should take $HUI back to a test of new highs at about 150--at a minimum. At this point, however, there is likely to be more longer-term trouble for $HUI. If, in fact, there is a fifth wave advance from nearby levels, then gold bulls will likely have to suffer through a largely bearish a-b-c correction of the same magnitude as the previous five-wave advance from November 2000 to the present day. "Magnitude" is meant in both the classic technical analysis (i.e., size and scope) and Elliott Wave senses. With regard to the latter, "magnitude" refers to cycle type; if the waves as denoted in Figure 1 represent waves of primary degree (as I suspect they do) then the correction that follows will be similarly of primary degree and similarly sizable. Even if such an a-b-c corretion is only (as it should be) a pause before the Gold Bugs Index's next primary-degree leg up, those owning gold stocks may decide prudently to sit the coming correction out.