PRINT THIS ARTICLE
TRADING SYSTEMS
---
Halliburton: New System Buy Signal
03/18/14 05:11:11 PM
---
by Donald W. Pendergast, Jr.
---
Shares of Halliburton are surging higher after finding support on a proportional pullback.
Security:
HAL
Position:
N/A
In the December 2013 issue of Technical Analysis of STOCKS & COMMODITIES (TASC) I detailed the key ingredients for constructing a simple but potentially profitable swing trading system that relies on only three indicators and several visual confirmation guidelines; the system continues to produce profits on Citigroup (C), which was the stock used for testing and research purposes. This same system has now fired a new long entry signal for Halliburton (HAL), one that could also turn out to be a winner. Here's another look at the system and its current long signal in HAL on its daily chart (Figure 2).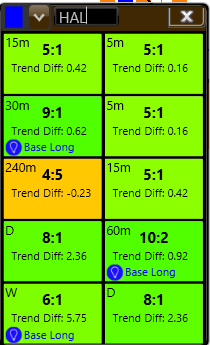 Figure 1. Halliburton (HAL) has bullish trend scores on most — if not all — of its key trading time frames.
Graphic provided by: KnowVera Research LLC.
"Keep it simple, stupid" (KISS) and its nearly identical twin "Keep it stupid, simple" (KISS 2.0) are two pithy, wisdom-laden trading system guidelines that every aspiring trading methodology developer needs to keep in mind when formulating and applying their trading concepts in the real world of trading or investing. And the "Swing Trading with Three Indicators" system is about as simple (stupid?) as they come. With this method, all you're doing is buying or shorting breakouts that are in the direction of the intermediate trend in large cap stocks that have a good track record of making regular (and fairly smooth) swing or trending moves. With STWTI, there's no more need to rely on cycle forecasts, wave counts, oscillators or even the talking heads on the financial news outlets, which can greatly streamline a trader's daily workload.

In this new long signal (see the December 2013 issue of TASC for full system code and rules) with HAL we find that the stock is still above its rising 50-bar exponential moving average (EMA), that it has completed a successful test of support, and that all conditions necessary to trigger a new long trade entry have been fulfilled. The hypothetical entry price was 56.12 and the initial stop loss for aggressive traders is 55.41, while conservative traders would use the previous session's lower channel minus five ticks (.05) with an initial stop of 54.97. Will this trade produce profits? No one knows, but successful system traders take every valid system signal and keep their emotions out of the way, letting the charts and system code call the shots. It's not easy to put your emotions aside when trading, but profitable system trading requires it, trade after trade.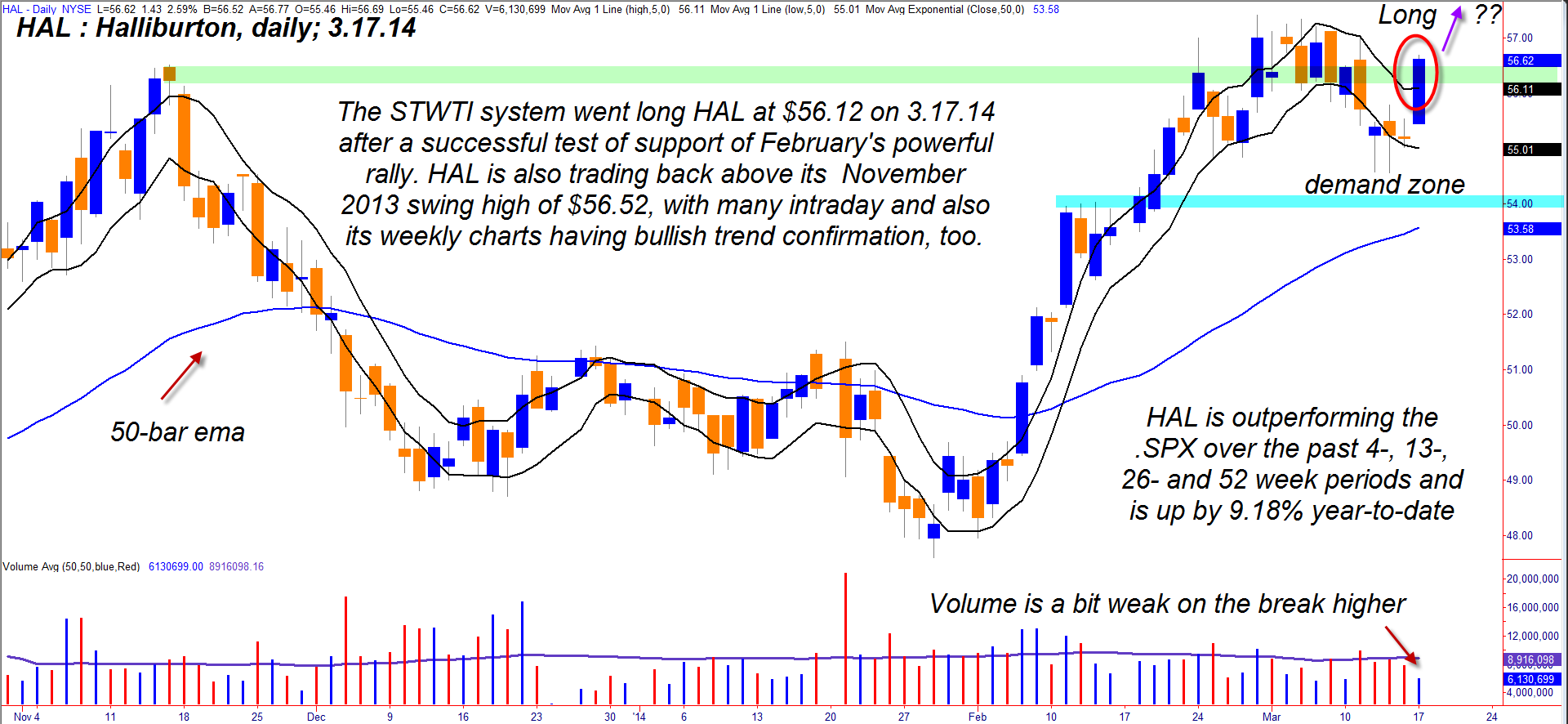 Figure 2: HAL's daily chart reveals that a new long STWTI trade entry was triggered on March 17, 2014 at a hypothetical entry price of 56.12.
Graphic provided by: KnowVera Research LLC.
If we look at the KnowVera Research (KVR) 'single monitor' trend score window for HAL (Figure 1), we find that it has bullish scores on its 5-, 15-, 30- and 60-minute time frames along with bullish scores for its daily and weekly time frames. The KVR system algorithms are proprietary (black box) but to know they are also in general agreement with the new STWTI buy signal on HAL's daily chart is a major plus; multiple system confirmation is also a technique used by pro traders and institutions and that's what we have going here right now with HAL. HAL is also easily outperforming the S&P 500 index (.SPX) over the past year (on multiple time spans ranging from four to 52 weeks) and that's another big plus for this new long signal. One item of concern is the lack of major volume on the latest daily bar, but hey, no trade setup is every truly "perfect." You just have to trust the probabilities and go with whatever your proven system tells you to do. Trade wisely until we meet here again.


---
Donald W. Pendergast, Jr.
Freelance financial markets writer and online publisher of the Trendzetterz.com S&P 500 Weekly Forecast service.
Title:
Market consultant and writer
Company:
Trendzetterz
Address:
81 Hickory Hollow Drive
Crossville, TN 38555
Phone # for sales:
904-303-4814
Website:
trendzetterz.com
E-mail address:
support@trendzetterz.com

Traders' Resource Links

Trendzetterz has not added any product or service information to TRADERS' RESOURCE.
---
Click here for more information about our publications!
Comments
PRINT THIS ARTICLE