PRINT THIS ARTICLE
KELTNER CHANNELS
---
TRIP: About To Fall?
03/10/14 04:10:40 PM
---
by Donald W. Pendergast, Jr.
---
Up by nearly 50% in just five weeks, shares of TripAdvisor Inc. are once again meeting a strong resistance barrier.
Security:
TRIP
Position:
N/A
Learning to identify repetitive, high probability chart patterns and technical dynamics can be a profitable investment of a trader's time; the wise use of Keltner Channels as a measure of extreme overbought/oversold conditions can often be relied upon to identify those stocks, ETFs, forex, and futures markets that are most ripe for a bearish or bullish reversal. Here's a look at one such potential reversal in the making in shares of TripAdvisor, Inc. (TRIP).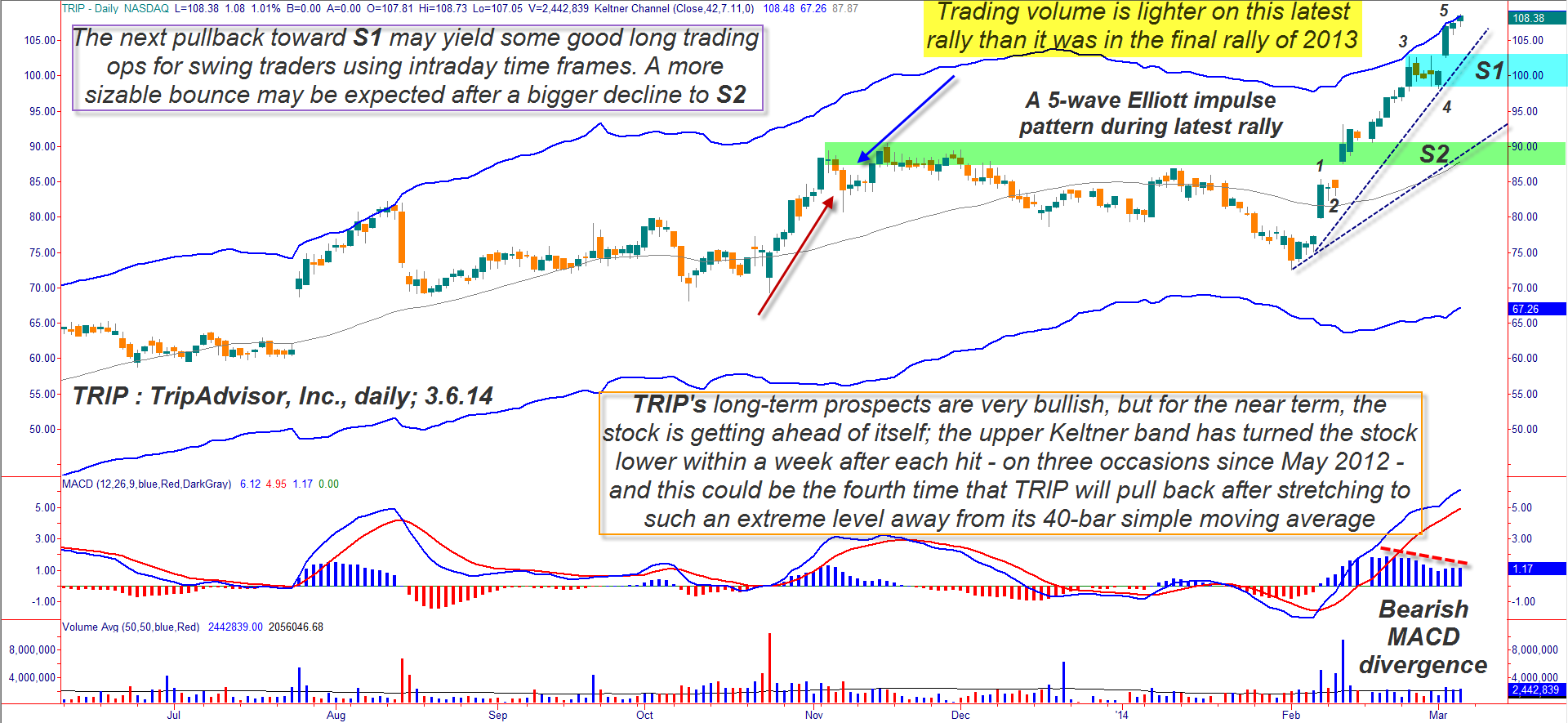 Figure 1. A maturing five-wave Elliott impulse pattern and a powerful Keltner channel resistance barrier may be suggesting that TRIP may soon be headed for a fall.
Graphic provided by: TradeStation.
Wow, there is a lot to look at here on TRIP's daily chart in Figure 1, so here it goes:

1. TRIP is now hitting its upper Keltner Channel (set at seven average true ranges (ATR) beyond a 40-bar simple moving average) for the fourth time since May 2012; in the three prior instances, the stock quickly lost upward momentum, stalled, and then pulled back after hitting or rising above the band.

2. Trading volume on the latest rally (up 49% in just five weeks) is noticeably lower than it was during the last strong rally in late 2013; this suggests some measure of distribution, with the smart money using this new upsurge to sell out of some of their long positions — to latecomers.

3. The daily and 78-minute chart MACDs are confirming a significantly bearish divergence with price.

4. Although not picture-perfect, there is a basic 5-wave Elliott impulse pattern evident in the current rally (starting on February 3, 2014), with the rise into the upper Keltner band being the fifth wave of the pattern.

Taken as a whole, it appears that there is limited upside potential for TRIP on its daily time frame before a proportional correction kicks in. The current wave 5 is 55% as long as wave 3 and could terminate at any time but if the stock rises a bit more before peaking, look to see if it finally runs out of gas at the .618 or .786 length of wave 3 which would be near the 110.60 and/or 112.90 levels. Current swing trade longs in TRIP need to be tightening their trailing stops and/or doing some profit taking here and long term buy-and-holders should consider buying puts as a protective measure.



Figure 2. Of all 500 S&P 500 index component stocks, only TRIP is currently trading above its upper Keltner band (7 ATR's above its 40-bar simple moving average).
Graphic provided by: TradeStation.
Graphic provided by: TradeStation RadarScreen.
After a 5-wave Elliott impulse pattern comes the inevitable ABC corrective wave sequence, so once you see TRIP top out somewhere between the 109.00 to 113.00 level, expect a strong A-wave pullback; support near S1 may or may not be the bottom for the wave so check for confirmation of a tradable bullish bounce before putting on short term long swing entries in that zone. If a large scale ABC correction is ahead, then expect the C wave (typically very bearish) to possibly terminate in or around the S2 area — which is a massive chart/trading volume support barrier in this stock. The long term bulls will likely be aggressive buyers near S2 (87.00 to 90.00) and you don't want to be short once this area is approached — if it is approached at all. TRIP's long term fundamentals and earnings growth potential are outstanding, so use plenty of discretion if considering short positions in this institutional favorite. Trade wisely until we meet here again.


---
Donald W. Pendergast, Jr.
Freelance financial markets writer and online publisher of the Trendzetterz.com S&P 500 Weekly Forecast service.
Title:
Market consultant and writer
Company:
Trendzetterz
Address:
81 Hickory Hollow Drive
Crossville, TN 38555
Phone # for sales:
904-303-4814
Website:
trendzetterz.com
E-mail address:
support@trendzetterz.com

Traders' Resource Links

Trendzetterz has not added any product or service information to TRADERS' RESOURCE.
---
Click here for more information about our publications!
PRINT THIS ARTICLE