PRINT THIS ARTICLE
CHART ANALYSIS
---
CLF: Trendline Break And ABCD pattern
01/13/14 10:44:20 AM
---
by Donald W. Pendergast, Jr.
---
After rising in a bear market rally, shares of Cliffs Resources Inc. have broken a key trendline to the downside.
Security:
CLF
Position:
N/A
The commodities boom that lasted from about 2000 until peaking between 2008/2011 saw many big winners in the stocks of companies in the materials/natural resources sectors; one of the most notable gainers among such stocks was that of Cliffs Natural Resources (CLF); the stock rose relentlessly from 2003-2008, gaining as much as 5600% (not a misprint) by July 2008. After a massive correction in 2008/2009, CLF took off again, blasting higher by 800% as it made its final attempt at the 2008 highs of 121.95. Since April 2011, however, the stock has been in a major decline, one that now sees it trading at only 23.48. With a key trend line now broken to the downside, CLF appears to have heavy downside pressure behind it, one that may soon drive the stock down into a low-risk buy zone. Here's a closer look now.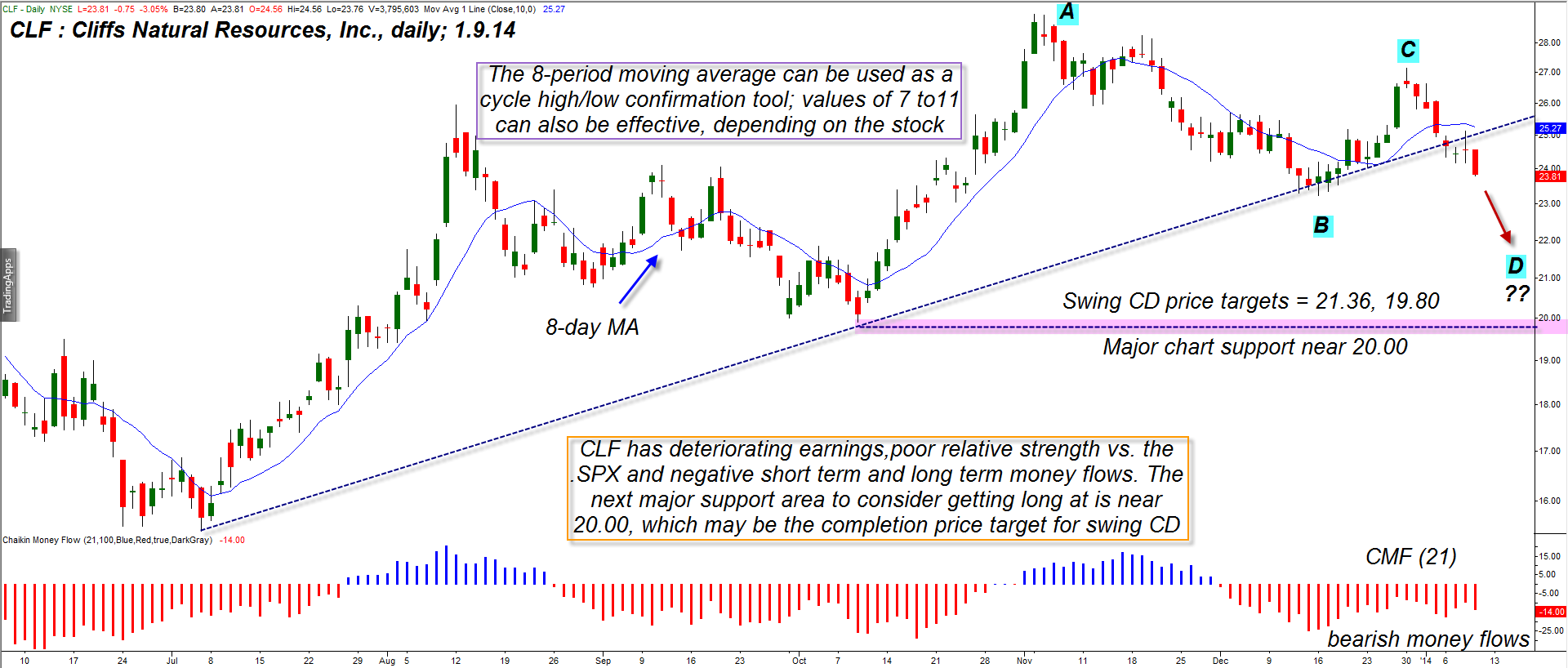 Figure 1. With CLF now trading beneath a major uptrend line, swing CD is much freer to expand down toward its next price targets of 21.36 and 19.80.
Graphic provided by: TradeStation.
There are many factors at work now in CLF, and the vast majority of them appear to confirm that more downside is likely for this key materials sector stock:

1. Earnings growth rates are lackluster.
2. The stock is underperforming the S&P 500 index across several time frames.
3. Short-term and long-term money flows remain in negative territory, based on the 34- and 89-day Chaikin Money flow histograms (CMF).
4. CLF is well into its CD swing phase, one that has a nominal (AB=CD) price target of 21.36, followed by another one at 19.80. This lower target takes on more significance because of the major chart support located just below the 20.00 area.
5. Although not a leading indicator like Fibonacci or swing ratio price targets, the downward curve of the eight-day simple moving average (SMA) also confirms that the swing high at 'C' was significant and that the near-term momentum is bearish. You would never trade on the basis of a single moving average alone, but when combined with all of the other technicals and fundamentals, it becomes useful.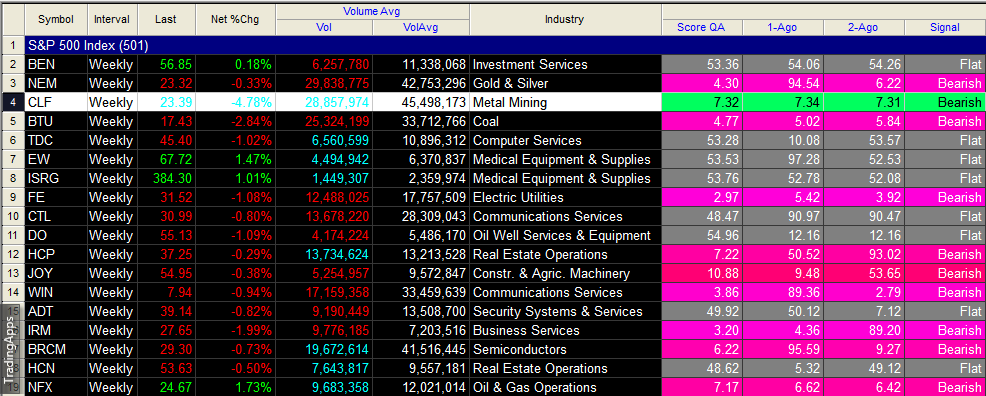 Figure 2. CLF has a very bearish earnings per share score and also has poor relative strength vs. the S&P 500 index (.SPX).
Graphic provided by: TradeStation.
Graphic provided by: Fundamental Score Indicator from TradeStation 9.1.
Even though CLF has moved quite a bit lower from swing high C, there is still a great long put play to be had here, and one that offers a good risk to reward ratio; based on today's price action, there is strong resistance near 24.60, a short entry trigger price of 23.18 and a nominal price target of 20.00 — and that's a risk to reward ratio of about 2.37 to one. Even using the smaller price target of 21.36 still yields an RR of better than 1.45 to 1 so this looks like a great long put play for conservative and aggressive swing traders alike. Here's one way to play the emerging bearish CD swing in CLF:

1. If CLF breaks below 23.20 soon, consider buying the April '14 CLF $23.00 put option; the bid/ask spread is very close and the daily time decay (theta) is only $1 day/per contract. Open interest is healthy at 1,245 contracts.

2. If the stock declines, consider taking half profits near 21.36 and then let the rest run with a trailing stop down toward the 19.80 target previously mentioned. Take all profits on the trade at or around that 19.80 target price.

3. Use Thursday's high of $24.56 as your initial stop loss and use a three bar trail of the daily highs for the life of the trade.

Since the trade has already a "head start", keep the trade risk at no more than 1%, despite the obvious bearish bias of this particular short setup. Trade wisely until we meet here again.


---
Donald W. Pendergast, Jr.
Freelance financial markets writer and online publisher of the Trendzetterz.com S&P 500 Weekly Forecast service.
Title:
Market consultant and writer
Company:
Trendzetterz
Address:
81 Hickory Hollow Drive
Crossville, TN 38555
Phone # for sales:
904-303-4814
Website:
trendzetterz.com
E-mail address:
support@trendzetterz.com

Traders' Resource Links

Trendzetterz has not added any product or service information to TRADERS' RESOURCE.
---
Click here for more information about our publications!
PRINT THIS ARTICLE